SHANGHAI (Reuters) - China stocks fell more than 3 percent on Thursday, led by small-caps, as investors took profits from a solid rebound over the past month and awaited policy messages from Chinese and other global leaders gathering in Shanghai for a G20 meeting.
The blue-chip CSI300 index (CSI300) tumbled 3.4 percent to 3,005.23 points by lunch time, while the Shanghai Composite Index <.SSEC> lost 3.6 percent to 2,823.06.
The bearish sentiment spilt over into Hong Kong, where the benchmark Hang Seng index (HSI) dropped 1.2 percent and the Hong Kong China Enterprises Index (HSCE) was off 1.7 percent.
China stocks have rebounded roughly 10 percent from 14-month lows hit in late January, fuelled by a global market recovery, central bank efforts to stabilise the yuan and hopes that Beijing will unveil more stimulus for the slowing economy.
It also follows a typically bullish pattern ahead of an annual meeting of China's top legislature, which starts on March 5 this year, but traders say the thematic rebound could end earlier this time.
"Market confidence is still fragile and economic prospects remain gloomy, so investors could be taking profit earlier than in previous years," said Wu Kan, head of equities trading at Shanghai-based investment firm Shanshan Finance.
"The market may go up again if the government announces policies that far exceed expectations."
G20 finance chiefs and central bankers will meet on Friday and Saturday. Current market turmoil and a global economic slowdown are expected to be key topics of discussion.
The chairman of Industrial and Commercial Bank of China <601398.SS> (HK:1398), told a forum on Thursday there was no basis for continued depreciation of China's yuan, echoing previous remarks by central bank governor Zhou Xiaochuan.
But many traders believe the yuan will remain under downward pressure as long as economic growth continues to cool.
Sentiment was not helped by a statement from the Ministry of Industry and Information Technology on Thursday saying Chinese exports and the yuan face strong pressure from a complex global environment.
Shares fell across the board in China and Hong Kong.
Small-caps were among the biggest casualties on the mainland, with Shenzhen's start-up board ChiNext <.CHINEXC> slumping 5.7 percent.
In Hong Kong, energy (HSCIE) and resources (HSCIM) shares were among the biggest decliners as they gave up some gains from the strong rally over the past sessions.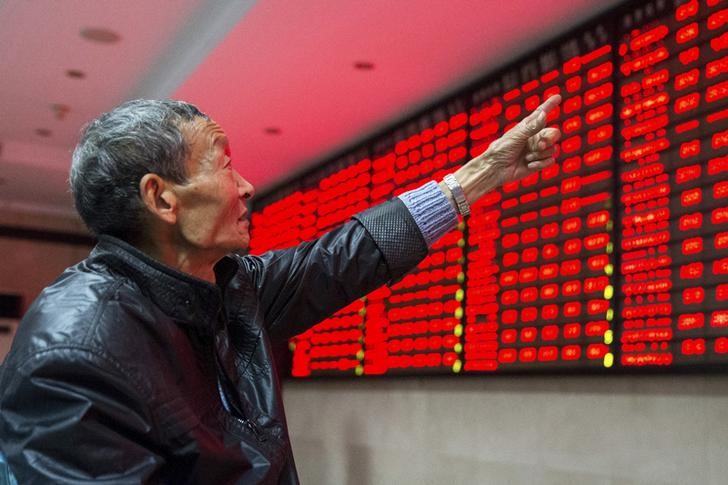 Shares of Agile Property Holdings Ltd (HK:3383) declined 7 pct, after the developer warned of a 70 percent tumble in 2015 profit.