U.S. futures, European shares rally on improved market sentiment and stimulus prospects
U.S. yields post forceful rebound
Gold drops on new-found risk on
Bitcoin surges, defying its safe-haven connotation
Key Events
Futures on the S&P 500, Dow and NASDAQ 100 jumped with global stocks and Treasury yields this morning after U.S. President Donald Trump dismissed recession warnings and struck a positive tone on trade negotiations. Global stimulus signals also helped markets higher, ahead of a Fedspeak-filled week that may shed more light on the U.S. central bank's willingness to further ease its rate policy.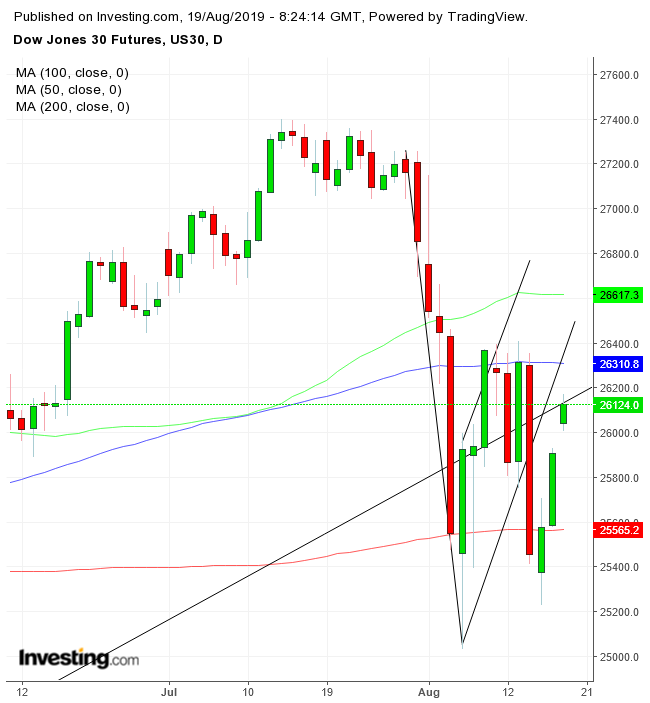 Contracts on the Dow Jones gained about 0.85% in the early European session—from a technical perspective, however, that merely marked a return move after they completed a rising flag, bearish after the near 8% plunge over six days in early August.
The STOXX 600 leaped forward with the German DAX, which was propelled higher by Deutsche Bank (DE:DBKGn), amid reports the group's supervisory board chairman Paul Achleitner will step down before his due term.
The U.K.'s FTSE 100 surged toward 1.00 after opening 0.75% higher, boosted by energy stocks after a Yemeni separatists' attack on a Saudi oil facility spurred oil prices higher.
The earlier Asian session also saw an upbeat stock rally, with China's Shanghai Composite (+2.10%) and Hong Kong's Hang Seng (+2.17%) leading the region higher after weekend news that Beijing will reform its interest-rate system and reduce borrowing costs.
Regional shares also took their cue from Friday's U.S. equity charge as investors navigated President Donald Trump's trade rhetoric: on the one hand he showed some willingness to resume talks with China; on the other, he questioned reports that the Commerce Department will extend a reprieve given to Huawei Technologies to do business in the U.S..
Global Financial Affairs
However, what really pushed U.S. shares higher on Friday were stimulus hopes from Germany, the European Central Bank and China—though these tailwinds fell short of sparing stocks from a third consecutive weekly loss, amid heightened levels of volatility.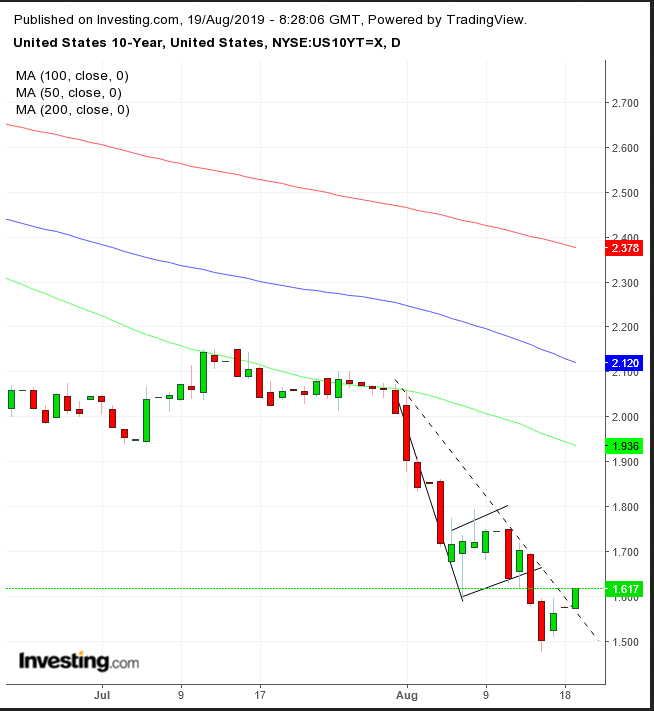 The yield on 10-year Treasurys rallied ahead of bond auctions, as stimulus hopes prompted investors to rotate out of debt and into equities—outpacing the driver of a lower interest rates outlook. Technically, yields crossed the downtrend line this month amid a return move to a completed bearish flag—similarly to what seen in the Dow futures chart above.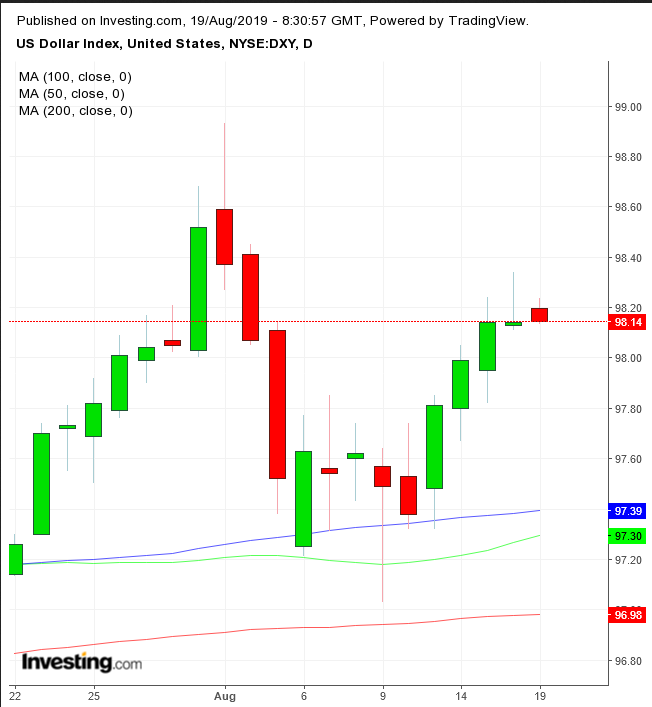 The dollar was little changed, paring an earlier advance, after reaching the highest level since May 2017. Technically, the greenback may have found resistance after Friday's—extremely—upper-shadowed shooting star, which challenged a high to beat the Aug.1 peak.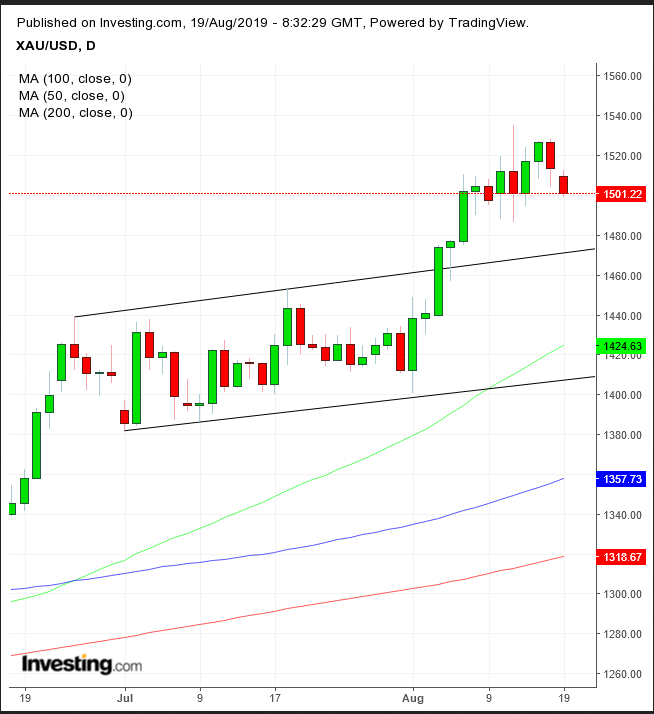 Gold dropped for a second session despite the flat USD. Technically, the yellow metal is pulling back toward the rising channel top it broke two weeks ago.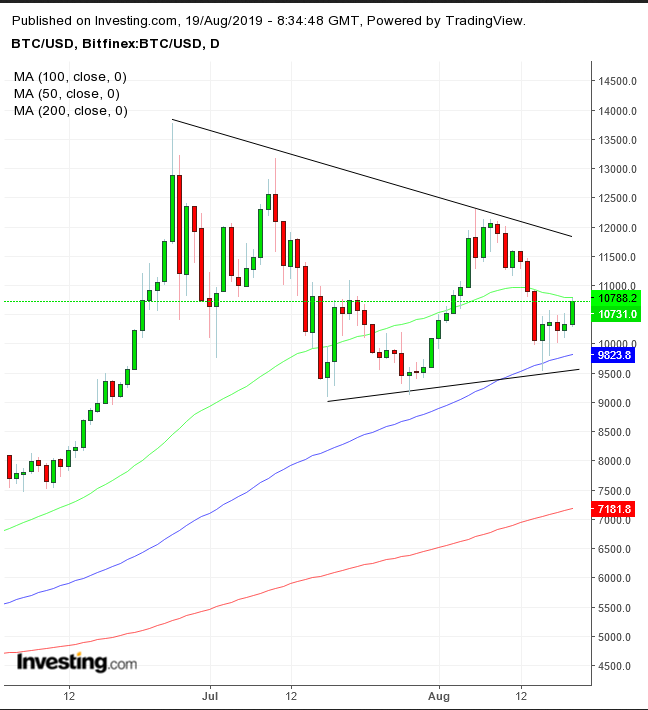 Bitcoin continued to defy its safe-haven status as it advanced on a risk-on day. Technically, it is extending a rally after bouncing off the bottom of a symmetrical triangle consolidation.
Oil climbed for a second day after the Saudi oil field attack, and on hopes global stimulus would boost fuel demand. Technically, however, we consider it just a short upward correction before WTI resumes its downtrend along a falling channel. The price already pared session highs for the second straight day below the 200 DMA.
Up Ahead
of the Fed's July meeting, due on Wednesday, will provide details on the discussions leading to the first interest-rate cut in a decade.
Kansas City Federal Reserve Bank hosts its annual central banking symposium in Jackson Hole, Wyoming, starting on Thursday. Fed chair will give remarks on Friday.
Flash PMIs are out for the euro area on Thursday.
Also on Thursday, the Bank of Indonesia is scheduled to decide on, followed by a press conference with Governor Perry Warjiyo.
Market Moves
Stocks
The U.K.'s FTSE 100 gained 1%.
Germany's jumped 1.3%.
The increased 1%.
Currencies
The Dollar Spot was little changed.
The was steady at $1.1095.
The declined 0.2% to $1.2129.
The was little changed at 106.39 per dollar.
Bonds
The yield on 10-year Treasurys climbed three basis points to 1.58%.
The yield on Treasuries increased three basis points to 1.50%.
Britain's yield gained less than one basis point to 0.469%.
Germany's yield rose one basis point to -0.68%.
Commodities
West Texas Intermediate crude climbed 1.5% to $55.71 a barrel.
Gold declined 0.4% to $1,507.23 an ounce.

Written By: Investing.com