Market Brief: AU Employment Is The Highlight Of The Session
City Index | Oct 17, 2019 08:33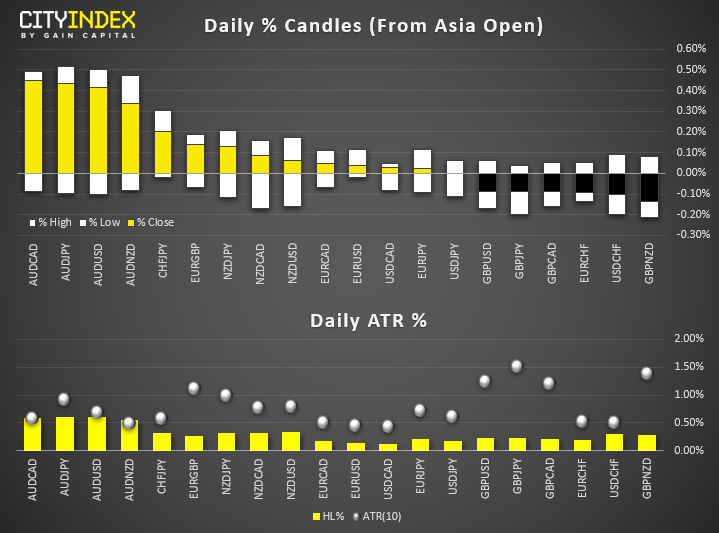 FX Brief:
AUD is the strongest major after AUD unemployment fell unexpectedly to 5.2%, which will be a relief for RBA. temporarily hit a 4-day high before paring gains, broke out of compression, and broke out of its bullish flag.
Negotiations are underway to nail down phase 1 trade deal between the US and China, according to Steven Mnuchin, who added he's willing to go to Beijing for more meetings if necessary.
Singapore's exports fell -9.5% YoY, making it the 7th consecutive month of declines.
BoE's Mark Carney doesn't see negative rates as part of the central bank's toolkit.
and are the only pairs to meet or exceed their typical daily ranges, making them less appealing for an extended move. reached 88% of its typical ATR, so for extended gain, we'd need to see a catalyst for a weaker USD.
Of the remaining currency pairs, they have averaged just 32.1% of their typical daily ranges, which leaves potential 'meat on the bone' should the correct catalyst arrive. , , and have moved around 16-17% of their typical daily ranges, which we're sure will change as Brexit headlines begin to flow (and retail sales is also on tap).
remains just off yesterday's 1-month high; continues to consolidate around 108.70, above 108.47 support. remains steady at around 7.10.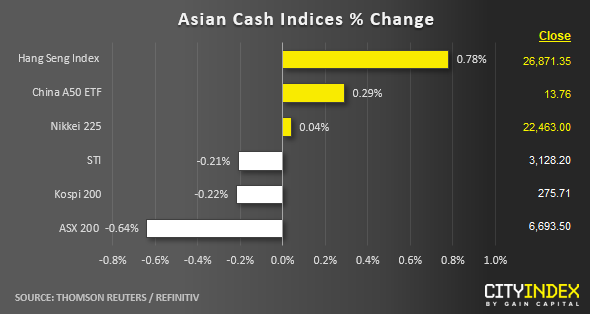 Equity Brief:
Asian stock markets are trading in a mixed fashion so far in today's Asia mid-session after 3-days of gains.
Hong Kong's has continued to extend its up move after 2-days of consolidation, where it has rallied by 0.78% despite rising political tension between the U.S. and China over Hong Kong. Leading U.S. senators have voiced support on a bill that backs Hong Kong's pro-democracy movement and wants Senate to start the voting process quickly. China has continued to issue "retaliatory" remarks over the bill.
Also, the Hong Kong SAR government has announced one of the boldest housing policies to address rising home prices by taking back large tracts of land held by major developers and create more public housing. Other measures include public-private partnership scheme to build housing and to relax the property value cap for mortgages where such measures have boosted the shares prices of Hong Kong property developers that are leading the on-going rally in the . New World Development, Sun Hung Kai Properties, and Henderson have rallied between 3% to 5%.
Over at the other end of the spectrum, Australia's has underperformed where it has declined by -0.64% led by key mining stocks over concerns on plunging iron ore prices. The price of iron ore has tumbled by more than 3% to hit a 6-week low yesterday after China's top steelmaking city of Tangshan issued a smog alert that requires mills to limit operations further. Share prices of BHP and

Rio Tinto

(LON:) have declined by -2.5% and -2.1%, respectively.
The S&P 500 E-Min futures are almost unchanged in today's Asian session as it has traded in a tight range of 7 points, holding above yesterday's low of 2984.
Up Next
UK retail sales are expected to recover to 3.2% YoY after falling to 2.7% last month on weaker online sales. Monthly retail sales are expected to dip -0.1% versus -0.3% previous. Naturally, Brexit headlines are going to be the bigger driver for GBP crosses, although worth noting that cable did fall 80 pips following a slew of weak data yesterday, where CPI, PPI, and retail prices. Whilst we may not see the same reaction with a miss today, it would add further weight to the weaker data.
(MS) US building has surged since the Fed cut rates (up 15.5% YoY) and is considered a leading indicator to the broader economy, given it feeds into construction, mortgages, and therefore consumer sentiment. It may not be a huge market mover, but something to consider as markets are heavily expecting further cuts from a Fed who don't sound overly dovish. (KW) U.S Housing data for Sep. After a dismal U.S. Retail Sales print yesterday that has indicated a negative growth m/m, housing data will be monitor closely to gauge the health of another significant component of the U.S. economy. The consensus for Building Permits and Housing Starts is expected to come in at 1.35 million and 1.32 million, respectively, where the trend has been rising steadily over the past 2-months since Jul 2019.
U.S. Industrial Production for Sep, where consensus is expecting a decline of -0.1% m/m from 0.6% m/m/ recorded in Aug. A worse than expected print reinforces the view that manufacturing activities have continued to face downside pressure from trade tension, and the U.S. administration may see an urgency to get the partial trade deal with China signed off.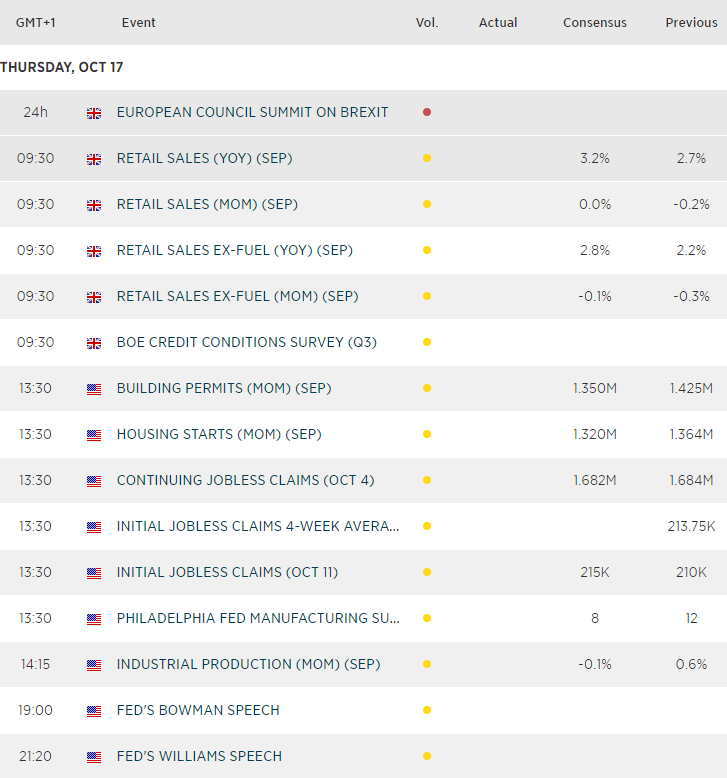 "Disclaimer: The information and opinions in this report are for general information use only and are not intended as an offer or solicitation with respect to the purchase or sale of any currency or CFD contract. All opinions and information contained in this report are subject to change without notice. This report has been prepared without regard to the specific investment objectives, financial situation, and needs of any particular recipient.
Any references to historical price movements or levels are informational based on our analysis, and we do not represent or warrant that any such movements or levels are likely to reoccur in the future. While the information contained herein was obtained from sources believed to be reliable, the author does not guarantee its accuracy or completeness, nor does the author assume any liability for any direct, indirect or consequential loss that may result from the reliance by any person upon any such information or opinions."

Written By: City Index