After a powerful rally in chip manufacturer shares since the March dip, there's now little room for these companies to make any mistakes. Investors have built a strong bullish case for the sector, hoping the segment will emerge unscathed from the coronavirus-induced recession.
The Philadelphia Semiconductor Index, which includes some of the world's largest chipmakers such as Intel (NASDAQ:INTC), NVIDIA (NASDAQ:NVDA) and Advanced Micro Devices (NASDAQ:AMD), has surged about 55% since March, far exceeding the S&P 500's 37% rise during the same period.
The latest signal from some of the sector's top players is that this rally might pick up additional steam in upcoming weeks.
Both Micron Technology (NASDAQ:MU) and Xilinx (NASDAQ:NASDAQ:XLNX) provided strong sales forecasts on Monday, when each released their quarterly earnings results on June 29. Their reports suggest other top semiconductor companies could experience a similar revival in demand as parts of the global economy emerge from the pandemic lockdown.
Micron, the largest US memory chipmaker, said revenue in the current period will be $5.75 to $6.25 billion, well ahead of Wall Street estimates.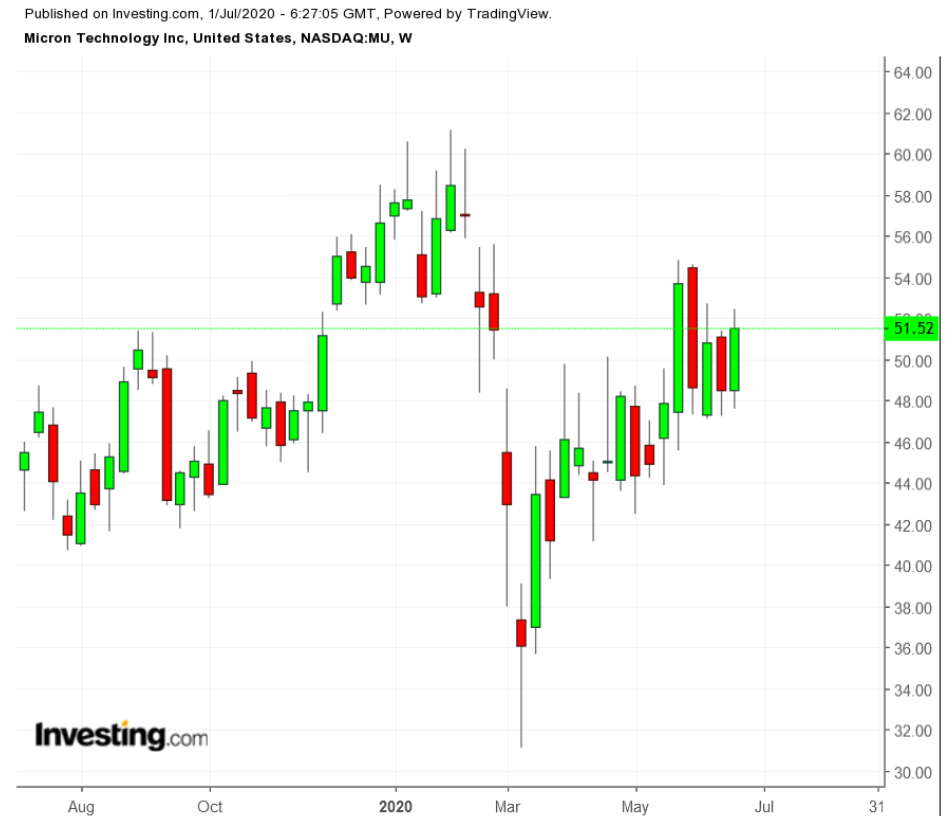 The report pushed Micron shares higher by more than 6% in the past two days. The stock closed at $51.52 on Tuesday, up almost 5% for the day.
Micron makes memory chips for personal computers, as well as for those that store data in smartphones. Despite the COVID-19 pandemic, which has slowed some hardware sales, the company is benefiting from those areas where stay-at-home orders are creating new demand, such as greater use of e-commerce, online gaming and streaming entertainment.
Xilinx, which makes programmable chips for wireless networks, reported higher preliminary revenue for the fiscal first quarter or 2020, helped by more sales of chips that handle online commerce. The company is also benefiting from investment to build new fifth generation, or 5G, wireless networks, which remains a major headwind for the industry.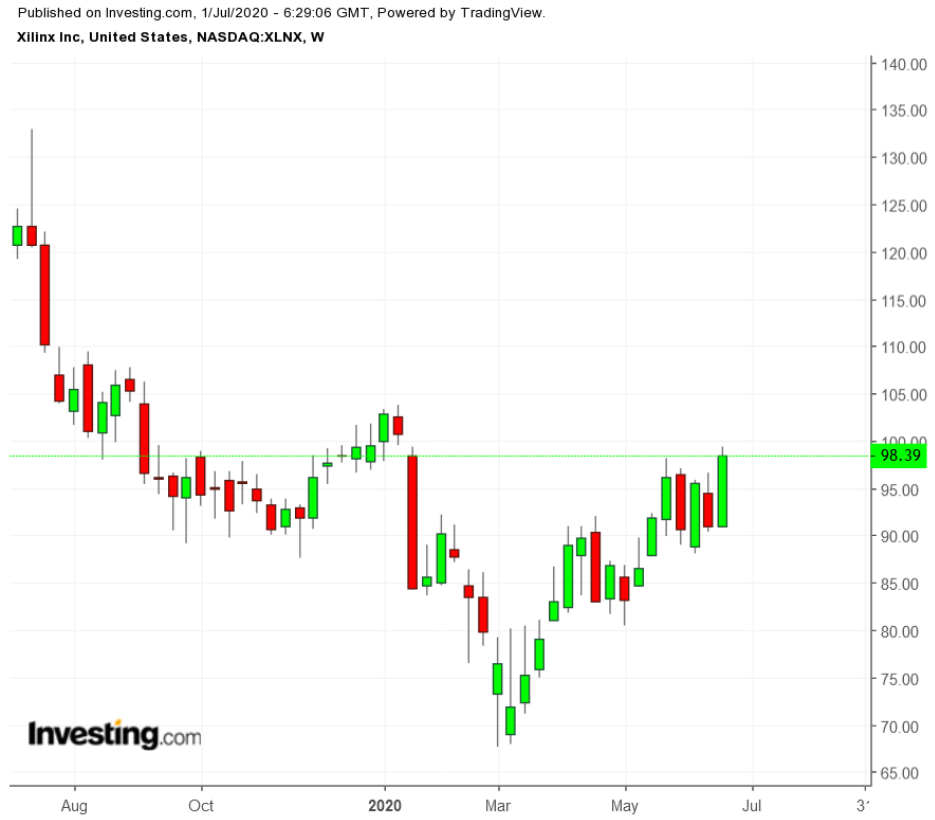 The stock closed at $98.39 on Tuesday up 7%.
"Longer-term we believe semis will play a critical role in the new digital economy which is built on the processing, storing and networking abilities enabled by this very profitable, consolidated and disciplined sector," Bank of America research analyst Vivek Arya told clients in a recent note carried by CNBC.com
China Risks
With this bullish outlook, however, the US-China trade dispute is one of the biggest risks to chip producers in the days to come. The US Commerce Department last month restricted chip makers globally who use US technology from supplying semiconductors to Huawei Technologies Co., a rule that covers virtually all builders of high-end chips.
China consumes about 35% of global chip supply. US manufacturers, on the other hand, generate a major chunk of revenue from China. Intel, for example, pulls in nearly 30% of its revenue from the country.
The US trade war with China and the Trump administration's actions against the Chinese smartphone giant continue to add to uncertainty, Micron's CEO Sanjay Mehrotra said on the conference call with analysts this week, adding that Huawei ban is "impacting our opportunity in the near term."
The Chinese government has vowed to protect its national champion, with threats of retribution against US companies that depend on China such as Apple (NASDAQ:AAPL) and Boeing (NYSE:BA).
But, according to Bank of America, China's leverage in semis is "very limited." The Asian country is hugely reliant on the technology owned by the US and its western allies. According to Arya:
"This is why we have not seen (and likely won't see) any major retaliation by China even as its tech champion (Huawei) continues to face more US restrictions." 
Bottom Line
Investing in chip stocks after the powerful rally this year may no longer seem tempting to many investors, especially when US-China trade tension is brewing again. But the economic fundamentals suggest demand for chips will remain strong, fueled by the build-out of 5G networks and compatible devices, as well as by providers of cloud computing services.
In our view, barring geopolitical risk, chip stocks are still attractive.

Written By: Investing.com