Stocks - Apple. GM Lag, Diamond Offshore Plummets in Premarket
Investing.com | Apr 27, 2020 14:09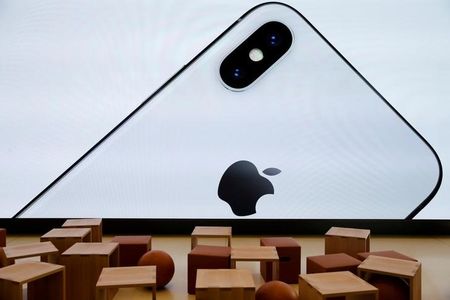 By Geoffrey Smith 
Investing.com 
Apple (NASDAQ:) stock was up 0.2%, underperforming the broader market, after reports saying it will delay mass production of the new iPhone models slated for this year.

Tyson Foods

(NYSE:) stock was up 1.5% amid growing concern about the availability of meat supplies in the light of lockdowns forced on many meat processing plants.
""As pork, beef and chicken plants are being forced to close, even for short periods of time, millions of pounds of meat will disappear from the supply chain," Tyson Chairman John Tyson wrote in a full-page ad in the New York Times.

Deutsche Bank

(DE:) ADRs rose 10.9% after the bank released partial earnings three days ahead of schedule because the pretax profit it reported was out of line with recent media speculation.
Germany's largest bank still raised its loan loss provisions by 500 million euros. It also said it expects the impact of Covid-19 to be temporary but warned its capital ratio may dip below target as a result of the coming recession. The bank left its targets unchanged, nonetheless.
General Motors (NYSE:) stock fell 1.2% after the company said it will suspend its buyback program and its quarterly dividend. It has also extended a $3.6 billion revolving credit facility to 2022.
The measures aim to help the company preserve liquidity against a backdrop of slumping sales.
Regeneron stock fell 0.2% after it said the pharma company, together with partner Sanofi (PA:), said they will bring an early halt to tests to see whether their arthritis drug Kevaara could treat people with Covid-19.
The companies said the drug appeared not to help any but the sickest patients (for whom a pared-down trial will still continue).

Diamond Offshore

Drilling (NYSE:) stock fell by 61% after the company filed for chapter 11 bankruptcy protection over the weekend.
Boeing (NYSE:) stock was up 1.2% after the company walked away from a deal to buy the regional jet assets of Brazil's Embraer for $4.2 billion at the weekend. The Brazilian company has filed suit with an arbitration tribunal.
Written By: Investing.com