Forex - U.S. Dollar, Mexican Peso Fall on Trump Tariff Threat
Investing.com | May 31, 2019 15:50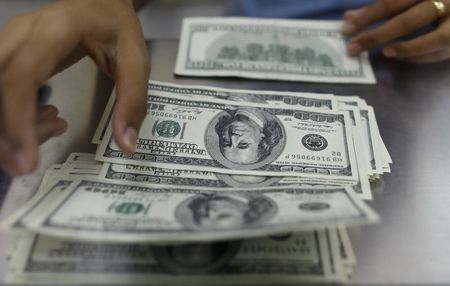 Investing.com - The U.S. dollar fell, while the Mexican peso continued to slump, after U.S. President Donald Trump threatened to impose a 5% tariff on all Mexican goods if Mexico did not crack down on migration.
The U.S. dollar index, which measures the greenback's strength against a basket of six major currencies, lost 0.4% to 97.667 by 10:41 AM ET (14:41 GMT), while USD/MXN jumped 2.7% to a nearly five-month high of 19.6689.
Trump said via Twitter that he will impose the tariff on June 10 and that it will last and increase until illegal immigration is stopped.
Meanwhile, the greenback was also held back by data showing a rise in inflation, supporting the case for the Federal Reserve to keep interest rates unchanged.
The personal consumption expenditures (PCE) price index increased 0.3% last month, the biggest gain since January 2018. The core PCE rose 0.2%. Separate data showed that consumer spending is slowing after a temporary boost during the first quarter.
The dollar was lower against the safe-haven Japanese yen, with USD/JPY falling 0.9% to 108.61
Elsewhere, the euro surged on the weaker dollar, with EUR/USD up 0.4% to 1.1173, while cable rose 0.2% with GBP/USD at 1.2630
Written By: Investing.com