By William Schomberg and David Milliken
LONDON (Reuters) - The Bank of England said on Thursday it was likely to raise interest rates sooner and by more than it thought only three months ago, because Britain's slow-moving economy is getting a boost from the global recovery.
The BoE's rate-setters gave themselves time to assess how Britain is coping with the approach of Brexit by voting unanimously to hold Bank Rate at 0.5 percent, as expected.
But Governor Mark Carney and his colleagues said they saw a growing need to keep a grip on inflation, echoing other central banks which are moving towards tighter monetary policy a decade after the financial crisis.
Rate futures showed investors now saw a nearly 70 percent chance of a BoE rate hike in May , up from under 50 percent before Thursday's announcement.
The BoE said it wanted to return inflation to its 2 percent target over "a more conventional horizon", which would mean curbing price growth within two years rather than three.
"Were the economy to evolve broadly in line with the February Inflation Report projections, monetary policy would need to be tightened somewhat earlier and by a somewhat greater extent over the forecast period than anticipated at the time of the November Report," the Monetary Policy Committee said.
Sterling jumped by more than a cent against the U.S. dollar <GBP=>, although it later reversed most of that increase. British government bond prices fell and the BoE-sensitive two-year yield (GB2YT=RR) rose to its highest since late 2015.
WAGE GROWTH
Britain's economy slowed after the 2016 Brexit vote but has fared better than many investors expected at the time of the referendum, thanks largely to a strong rebound in the United States, Germany and other key trading partners.
Although British inflation has been running well above its 2 percent target, due in large part to the fall in sterling after the Brexit vote, the BoE has raised rates only once so far since the 2007-09 financial crisis - in November - while the U.S. Federal Reserve has raised them five times.
The BoE expects the world economy to grow by 4 percent in 2018, one of its best performances in years.
Economists said the chances of a BoE rate hike in May now depended largely on whether pay growth picks up and whether Prime Minister Theresa May can soon secure a transition deal for the two years after Brexit.
Andrew Sentance, a former BoE rate-setter and senior economic adviser to accountants PwC, said it was possible that the BoE could raise rates two or three times in 2018.
But economists at Bank of America (NYSE:BAC) Merrill Lynch predicted inflation would fall faster than the BoE has forecast and its stance might in fact be a sign that it does not want to fall too far behind the U.S. Fed and its rate hikes.
"We are left with the impression than the BoE wants to squeeze in a hike before the summer, come what may," the economists said in a note to clients.
The BoE nudged up its economic growth forecasts for Britain to show an average annual expansion of 1.75 percent over the next three years with growth this year now seen at 1.8 percent, up from its previous forecast of 1.6 percent.
That is a long way below Britain's pre-financial crisis average of about 2.9 percent, but the BoE says the economy can now only grow by around 1.5 percent a year without overheating.
The BoE linked the sluggish British outlook to slower growth in the labour force, as fewer immigrants come to Britain after Brexit, and to the country's ageing population.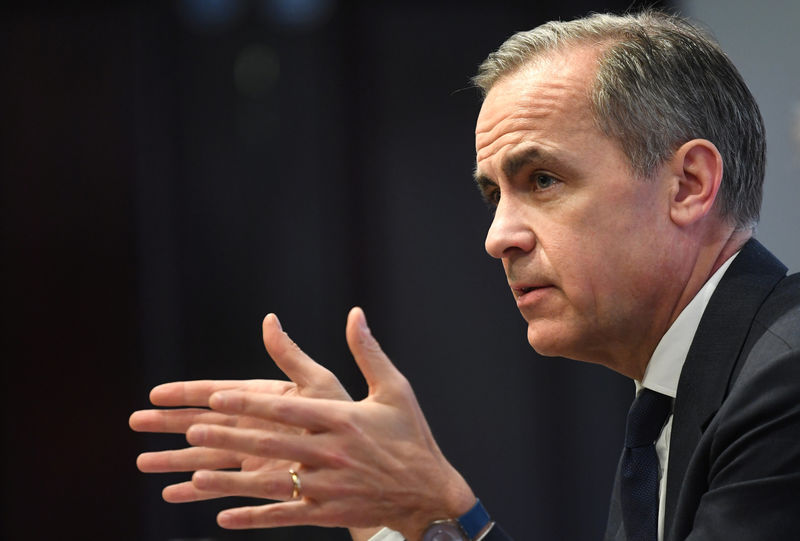 Annual wage growth is expected to pick up to 3 percent by the end of 2018, in line with previous forecasts, but the BoE has often been too optimistic about wages.