The probability that Britain will crash out of the European Union on October 31st, without settling its future relationship with its current continental partners, continues to increase. Otherwise known as a 'no-deal' Brexit, the event could leave national economies, market sectors and a variety of businesses reeling.
After years of unsuccessful, often frustrating negotiation between the two sides, positions have become more entrenched. Britain's new Prime Minister Boris Johnson said the U.K. will exit the EU in two month's time with or without a deal and insisted the EU remove the Irish backstop, designed to prevent a hard border in Northern Ireland, from any withdrawal pact.
Germany now considers a disorderly Brexit "highly likely," according to a leaked finance ministry document, which also said it was "inconceivable" Johnson will soften his position. It added that it was important the EU stick with the line it followed until now. The EU has rejected reopening the withdrawal agreement reached with former British PM Theresa May.
Should Britain leave the EU single market without appropriate agreements in place, customs union and other institutions that ensure the free movement of goods, services people and capital within the bloc would revert to the rules of the World Trade Organization regarding such things as tariffs and border checks. Of course, this eventuality would also mean lots of additional paperwork.
Automotive Sector Hit
One of the key sectors that would be hit if the U.K. were to leave without an agreement is the car industry. This is true on both sides of the Brexit divide.
In Germany 100,000 jobs could be lost under this scenario.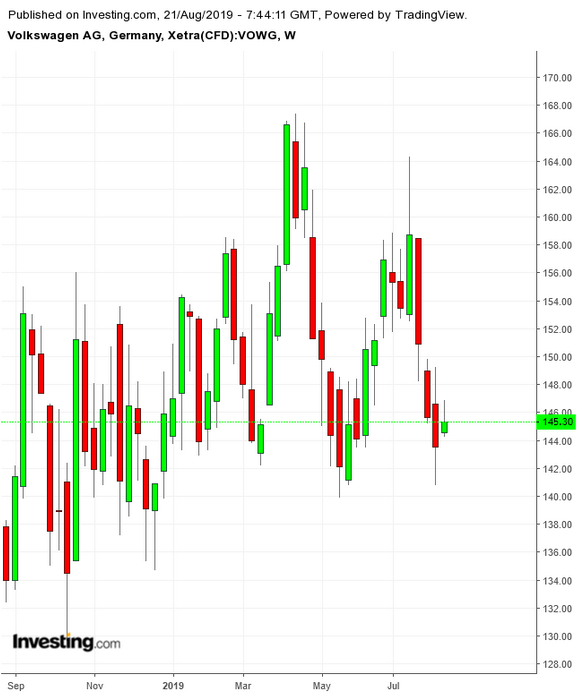 Worst hit would be factories belonging to Volkswagen (DE:VOWG) and BMW (DE:BMWG), according to a February report by the Halle Institute for Economic Research.
Right now the U.K. is the single largest export market for German automakers by far. According to VDA, the German association for the car industry, the country last year exported 665,573 vehicles to the U.K., down 13.4% on sluggish demand. The U.S. came in second, where 470,474 cars were sent.
"The consequences of a 'no deal' would be fatal," the VDA said earlier this year. BMW, Volkswagen and Daimler (DE:DAIGn), which manufactures Mercedes-Benz vehicles, have all urged the British government to avoid this worst-case scenario and ensure that tariff-free trade could go on. BMW chief executive Harald Krueger urged Johnson to abandon a no-deal Brexit, adding that it would be a "lose-lose" scenario.
And though most of the famous British car makers are now foreign-owned—BMW produces Minis, Indian giant Tata (NS:TAMO) makes Jaguars and Land Rovers and Volkswagen manufactures Bentleys—many are still assembled in the U.K.; of those vehicles, 80% are exported. Indeed, automotive exports make up 14.4% of all British exports.
As well, the industry employs 168,000 people and directly pays 82 billion pounds ($99 billion) into British state coffers. This could amount to an even harder hit to the U.K. versus counterpart losses on the continent should any deal that introduces tariffs come into effect.
Manufacturers in the U.K. are already reducing production, with some moving it elsewhere. Earlier in the year, BMW warned it might shift production of its Mini cars and engines out of the U.K. Some companies, which are at once based on the contintent but also support a significant British unit, will likely be hit twice. Therefore, the industry has been consistent and united—"a 'no deal' Brexit would have a devastating impact on the sector and the hundreds of thousands of jobs it supports," the Society of Motor Manufacturers and Traders (SMMT) said in July on its website.
Airlines To Suffer
Another large industry that's bound to suffer is aviation. The EU passed rules earlier this year as the original Mar. 29 Brexit deadline loomed, allowing the continuation of flights between the U.K. and EU destinations until March 2020. Britain reciprocated.
While that means flights won't be grounded, the temporary arrangement only applies point-to-point, meaning airlines, such as British Airways parent, International Airlines Group (LON:ICAG), EasyJet (LON:EZJ) and Ryanair (LON:RYA), won't be able to fly on within the EU or take new passengers from EU airports to outside destinations.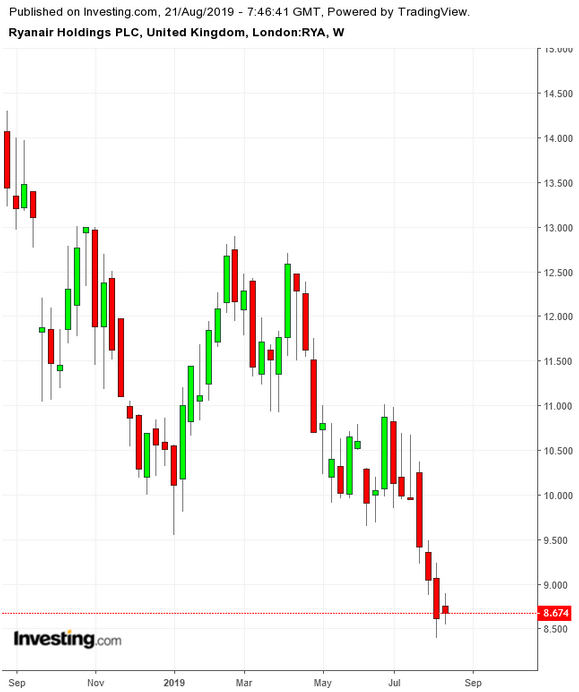 "The increased likelihood of a no-deal Brexit at the end of October would damage Ryanair's bases in the U.K. and Ireland," Ryanair chief executive Michael O'Leary said in a video message earlier in August as he unveiled plans to cut staff and aircraft, not purely for reasons related to Brexit.
Financial Services Companies Lose Too
Under a no deal scenario, Britain's financial services companies would lose their "passporting rights" that allow them to operate anywhere within the single market.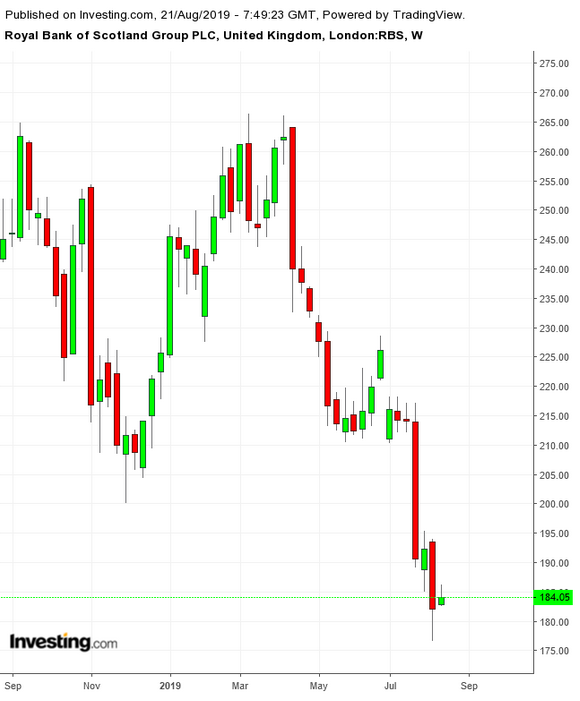 Banks, including Barclays (LON:BARC), HSBC (LON:HSBA) and RBS (LON:RBS), are thought to be better prepared than non-financial companies since they were in regulators' crosshairs for fear of significant disruption they could cause to the financial system.
Even so, "the substantial amount" of planning for a disorderly Brexit hasn't offset the serious issues the sector still faces, Michael Cole-Fontayn, the chair of the Association for Financial Markets in Europe, reportedly warned last month at a conference.
The largest European banks, including Deutsche Bank (DE:DBKGn), BNP Paribas (PA:BNPP) and Credit Agricole (PA:CAGR) have said they are prepared for all Brexit outcomes.
Deutsche Bank chief executive Christian Sewing said in January his bank is well prepared for all Brexit scenarios, including a no-deal, Reuters reported. A disorderly Brexit would push Britain into recession for at least two years. It would also shave a half percentage point off economic output in the rest of the EU, Sewing said according to the report.
"The distortions would be too great for trade, financing conditions and investor confidence."
In the event of Britain crashing out of the EU, some temporary rules will apply, to ensure that financial transactions can continue. Clearing houses will have temporary access until March 2020 and central securities depositories will be able to settle trades for 18 months.
The lobby group has urged regulators to provide extensions for more certainty. The European Securities Markets Authority is worried about how share trading will be carried out in a no-deal scenario and called on its U.K. counterpart to immediately set out plans.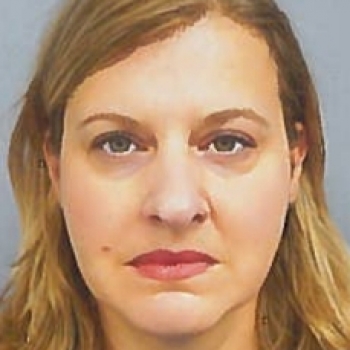 Written By: Agnes Lovasz/Investing.com