As part of a diversified portfolio, investors typically buy consumer staples stocks— companies that manufacture or sell a wide range of goods, from food and drinks, to household and personal hygiene products.
There is an equally wide range of US-based companies in the consumer staples sector whose shares are trade publicly. Alternatively, an exchange-traded fund (ETF) would enable market participants to invest in a basket of such stocks. Therefore today, I'd like to discuss two such consumer staples ETFs that might possibly be appropriate for long-term portfolios.
Following The Consumer
Earlier in June, the National Bureau of Economic Research announced that the US economy is officially in recession. A recession is generally defined as two straight quarters of declines in gross domestic product (GDP). If an economy contracts over six months, then it is said to be in a recession.
Consumer staples stocks tend to do better during recessions. Consumers cannot typically cut their budgets much by not buying these products, which are, generally essential for basic living. In the past few months, demand for non-essential products worldwide has declined on a relative basis.
On the other hand, demand for consumer staples remains robust. For example, many grocery chains both in the US and elsewhere have seen a considerable uptick in business since the start of the coronavirus pandemic.
Such non-cyclical stocks may help investors protect their capital and still get acceptable returns, especially in times of economic uncertainty. If they also provide robust dividends, it's the icing on the cake. Receiving regular dividends gives investors a constant stream of passive income.
With all that in mind let's take a closer look at today's ETFs.
1-Vanguard Consumer Staples Index Fund ETF
Current Price: $158.60
52-week range: $120.70-$164.90
Dividend Yield: 2.56%
Expense Ratio: 0.10% per year, or $10 on a $10,000 investment.

The Vanguard Consumer Staples Index Fund ETF (NYSE:VDC), seeks to track the investment performance of the MSCI US IMI (LON:IMI) Consumer Staples 25/50 index, which is a benchmark of large-, mid-, and small-cap US stocks in the consumer staples sector.
VDC has 94 holdings. The most important sectors (by weighting) are, Household Products, Soft Drinks, Packaged Foods & Meats, Hypermarkets & Super Centers. In total, these four sectors make up around 76% of the fund.
The top ten holdings make up 64.50% of total net assets, which are close to $6 billion. VDC's top five companies are Procter & Gamble (NYSE:PG), Pepsi (NASDAQ:PEP), Coca-Cola (NYSE:KO), Walmart (NYSE:WMT), and Philip Morris (NYSE:NYSE:PM).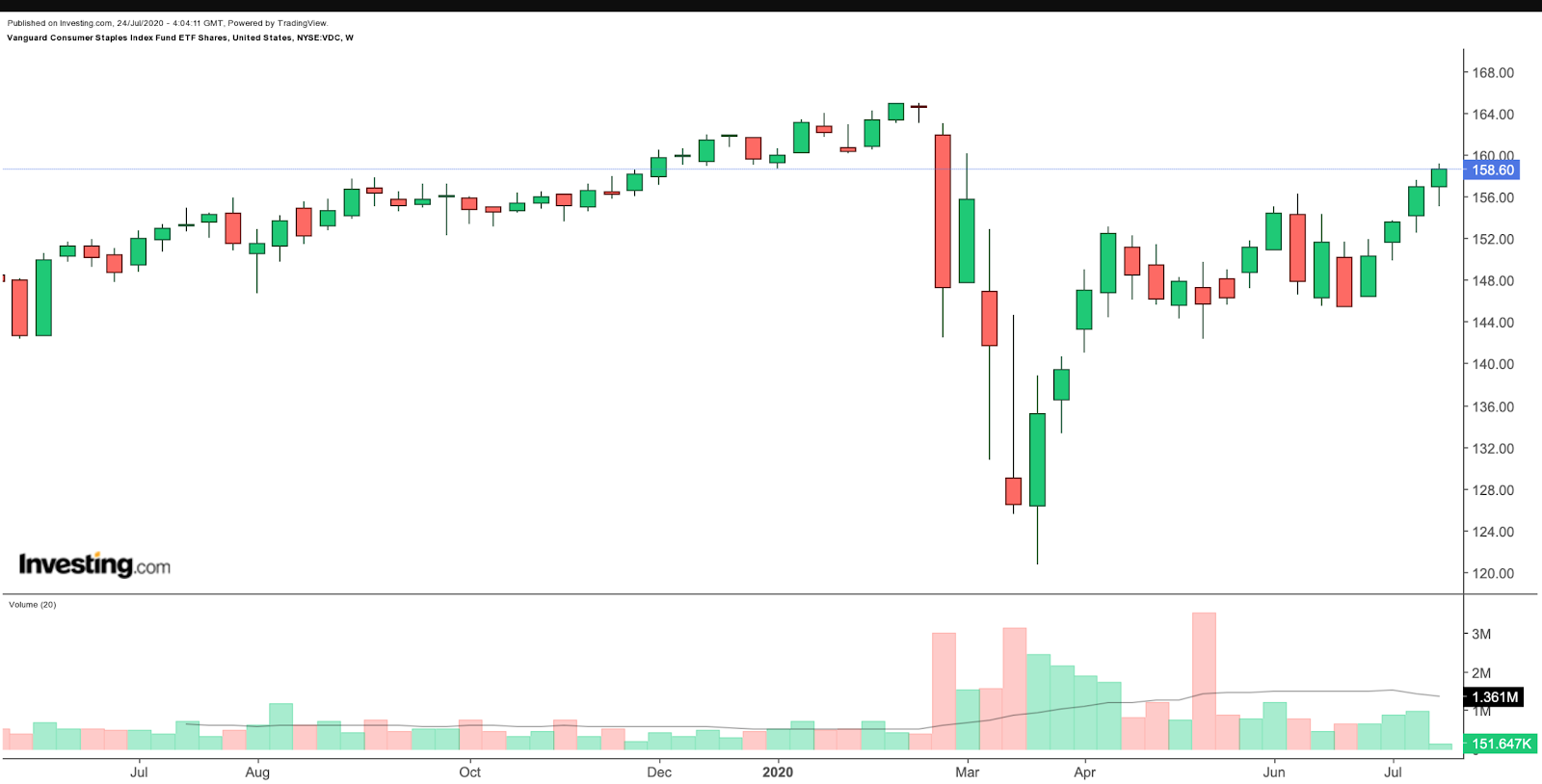 Year-to-date (YTD), VDC is down about 1.6%. However, that number tells only half the story. In March 2020, the fund hit a 52-week low of $120.70. Since then, VDC is up around 30%. Put another way, an investment of $1,000 in VDC in early spring would be worth about $1,300 now.
Finally, the YTD return does not account for the dividend yield. In case of short-term profit taking, especially during the current busy earnings season in the US, the price is likely to find support around the $150-level.

2. iShares Global Consumer Staples ETF
Current Price: $54.42
52-week range: $41.93-$56.50
Dividend Yield: 3.28%
Expense Ratio: 0.46% per year, or $46 on a $10,000 investment.
The iShares Global Consumer Staples ETF (NYSE:KXI) allocates nearly 52% of its weight to US consumer staples funds. Businesses based in ten other countries, including the UK, Switzerland, and Japan, are also part of the fund.
KXI, which has 93 holdings, follows the S&P Global 1200 Consumer Staples Sector Capped index. The three sectors in the fund are: Food, Beverage & Tobacco (52.96%), Household & Personal Products (27.85%), and Food & Staples Retailing (18.52%). Cash and derivatives products account for 0.67%.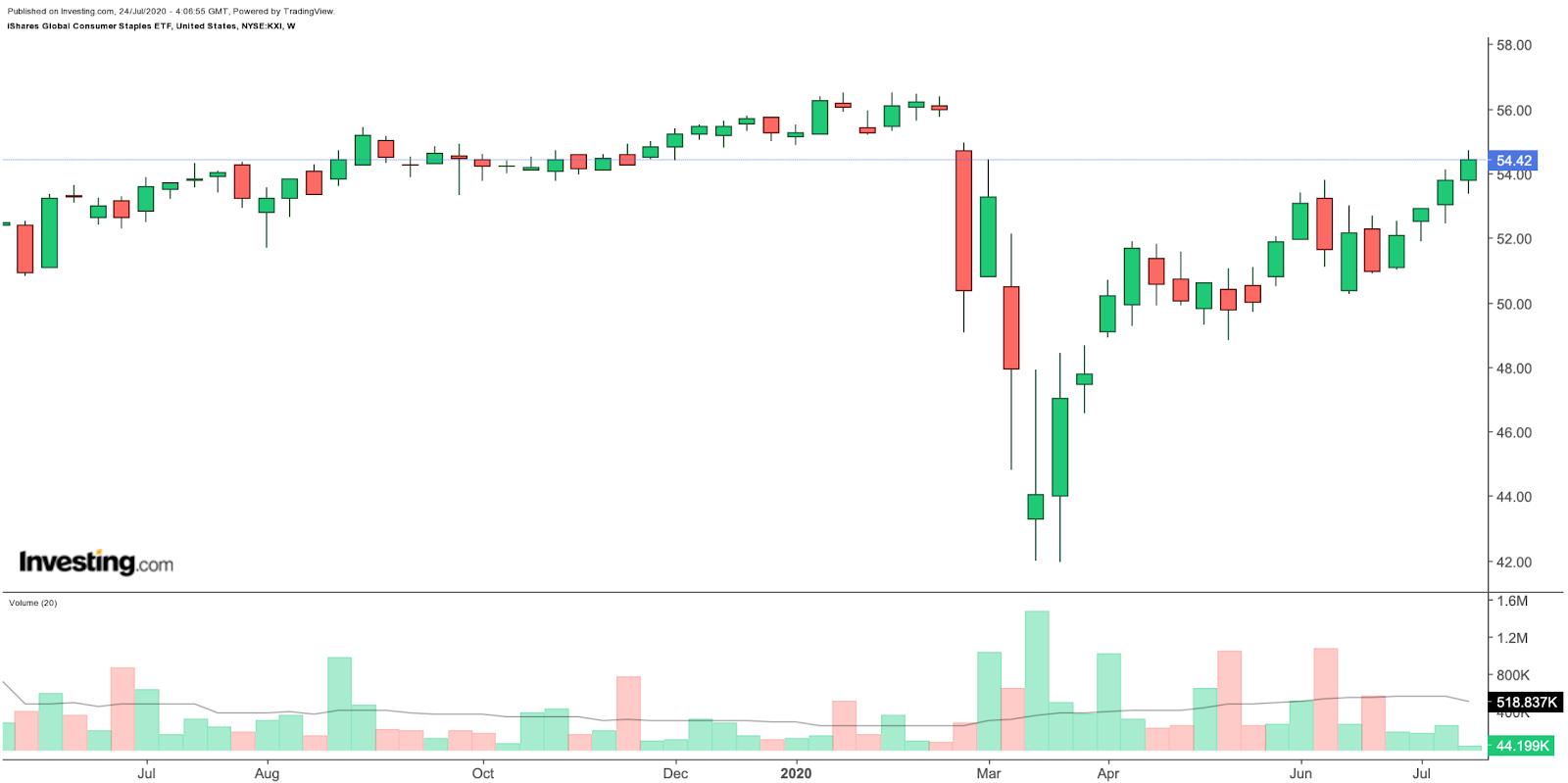 The fund's top five companies are Nestle (OTC:NSRGY), Procter & Gamble, Walmart, Pepsi and Coca-Cola. Other non-US companies Investing.com readers would be familiar with include UK-listed drinks manufacturer Diageo (NYSE:DEO), French cosmetics and fashion company L'Oreal (OTC:LRLCY), and Anglo-Dutch household goods producer Unilever (NYSE:UL).
Year-to-date, KXI is down about 1.9%. However, similar to VDC, since late March KXI is also up around 29%.
Bottom Line
Demand for consumer staples is likely to stay constant, even if the US, or the global economy, sputters. Although there may be some short-term profit taking around the corner in these funds, the sector is likely to do well in the coming months. Consumer staples ETFs may offer market participants diversified investment exposure to a range of companies that are likely to be leaders in their respective sectors.

Written By: Investing.com