When a stock rises more than 500% in a year, it's not a bad time to think about a safe exit. Investors in Tesla (NASDAQ:TSLA), may have been making this kind of calculation lately, after the spectacular rally in the shares of the electric carmaker over the past 12 months.
After hitting a record high of $1,794.99 on July 13, Tesla stock has lost about 17%, raising speculation that this pullback could be the beginning of a bigger correction that many top analysts had warned against recently. Tesla stock was trading at $14,84.57 at writing, down about 4% on the day.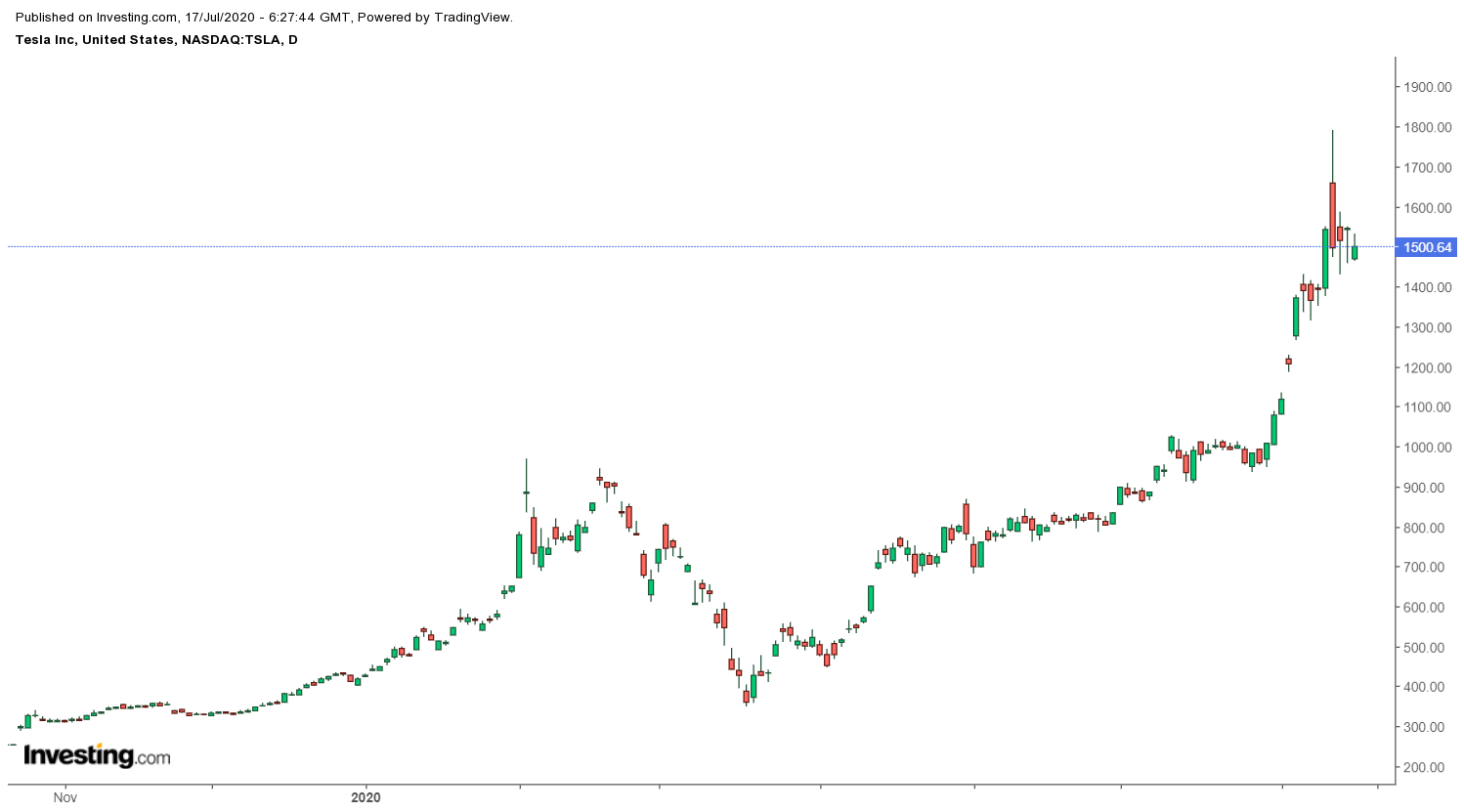 The recent runup, which has seen the value of the stock more than double in three months, got an extra boost from a few encouraging updates from CEO Elon Musk this month. 
First, the company's quarterly sales data showed Tesla delivered 90,650 cars to customers in the three months ended in June, exceeding analysts' average estimate for about 83,000. Tesla managed to achieve that impressive performance even when its main California plant was shut by the pandemic for much of the spring.
After these sales numbers, investors are expecting Tesla to report another positive result when it unveils its earnings on July 22, which would make this its fourth profitable quarter in a row.  If that happens, Tesla could become eligible for inclusion in the S&P 500, the world's most tracked index. That possibility prompted another mad rush to load up on Tesla stock before all the index-trackers are forced to buy it.
At least $1.6 trillion of mutual and exchange-traded funds track the S&P, according to Morningstar Direct data. A company must report an accumulated profit over four consecutive quarters to be included in the index. Tesla's profits over the past three quarters have marked its longest run of profitability so far.
A Speculative Frenzy?
Going forward, the big question for Tesla lovers is this: what other sources of news could continue fueling that rally?
According to some analysts, these might include: an announcement to enter the Indian market, a launch of an electric mini-car and its possible entry into the S&P 500. But the problem is these possibilities are already factored into the stock's current valuation. Tesla shares now trade at 182 times estimated 12-month earnings, versus 10 times for General Motors (NYSE:GM).
Tesla's recent surge puts gives it a market value of above $275 billion, which is more than Ford (NYSE:F), GM and Fiat Chrysler (NYSE:FCAU), combined.
These numbers clearly show that Tesla is in the grip of a speculative frenzy and a small negative surprise could trigger a large move to the downside. Shorting Tesla has proven to be the worst nightmare for many investors this year, but there is still a huge crowd out there looking for a drop in the stock.  The value of bearish bets against Tesla has swelled to nearly $20 billion.
Adam Jonas, Morgan Stanley's widely-followed auto analyst, said Friday that "the days of Tesla's virtually unchallenged dominance may be numbered." He has an underweight rating on the stock and a $740 price target, which is 52% below where the stock closed on Thursday.
In our view, Tesla's valuation remains impossible to justify by any standard metrics and and clearly shows the herd mentality in play by both retail and institutional investors. There is no doubt that this strategy has produced huge rewards, but it's prudent to roll back some risk and enjoy the gains.
Bottom Line
Shorting Tesla has proved to be a losing bet this year, but investors should note that the company's stock is now likely priced to perfection. As such, it's not a bad idea to take some risk off the table before the company's 2Q earnings.
Remember, Tesla's journey to its current level hasn't been a straight line higher. Since 2018, there have been two waves of selling, each of which pummelled investors, as the stock fell by around 50% every time.

Written By: Investing.com