The ongoing COVID-19 crisis could prove to be the straw that breaks the camel's back for struggling companies in the cannabis sector. Two Canadian growers were constrained to seek bankruptcy protection in the last week, while a U.S.-based firm was forced yesterday to default on interest payments.
Embattled CannTrust Seeks Protection From Creditors
CannTrust Holdings (NYSE:CTST), (TSX:TRST) filed for bankruptcy protection March 31. The embattled grower is the first of the ten largest cannabis licence holders in Canada to obtain protection under the Companies' Creditor Arrangement Act.
Some might argue that the good news is that what ultimately led to CannTrust's demise was not simply a lack of operational viability, but rather the class-action suits it was slapped with in the wake of the scandal that engulfed the pot producer after it was discovered the company had been growing weed in unlicensed rooms in its greenhouse facility in Pelham, Ont. in 2019.
But that holds small consolation for the few remaining stock holders and the list of creditors that are out a total of C$3,744,483.15 (US$2,669,729.95.)
Under the terms of the protection, CannTrust will be able to continue to finalize its remediation plan to ensure the licences for its greenhouses in Vaughan, Ont., are upheld and to reinstate its licences for other facilities in Vaughan and in the Niagara region.
In a statement issued by CannTrust, the company said it "hopes to exit CCAA protection well-positioned to rebuild its stakeholders' trust" and restart its operations. But that is a bet that most investors would not want to take.
CannTrust was forced to halt its operations after Health Canada suspended its permits following an investigation into reports it was growing marijuana in unlicensed rooms. It was also forced to destroy US$54.6 million (C$77 million) in inventory stock.
The company subsequently fired its CEO and was forced to layoff part of its workforce. It has not filed any financial reports since mid 2019.
And the ongoing COVID-19 crisis only complicates the procedure to reinstate its licences.
Shares of CannTrust have been halted on both the S&P/TSX Composite in Canada and the NYSE. And it is widely expected that both exchanges will delist the company now that creditor protection has been secured. The stock stopped trading on March 30.
James E. Wagner Cultivation Also Seeks Bankruptcy Protection
Another Canadian-based pot grower, the James E Wagner Cultivation Corp (OTC:JWCAF), (TSXV:JWCAh), also filed for bankruptcy protection last week. According to the creditor protection filing dated April 1, the Ontario pot grower, which used a proprietary aeroponic platform called GrowthSTORM, said it had $41 million in liabilities. It traded on the TSXV in Canada and the U.S. OTC Market in New York and was halted yesterday.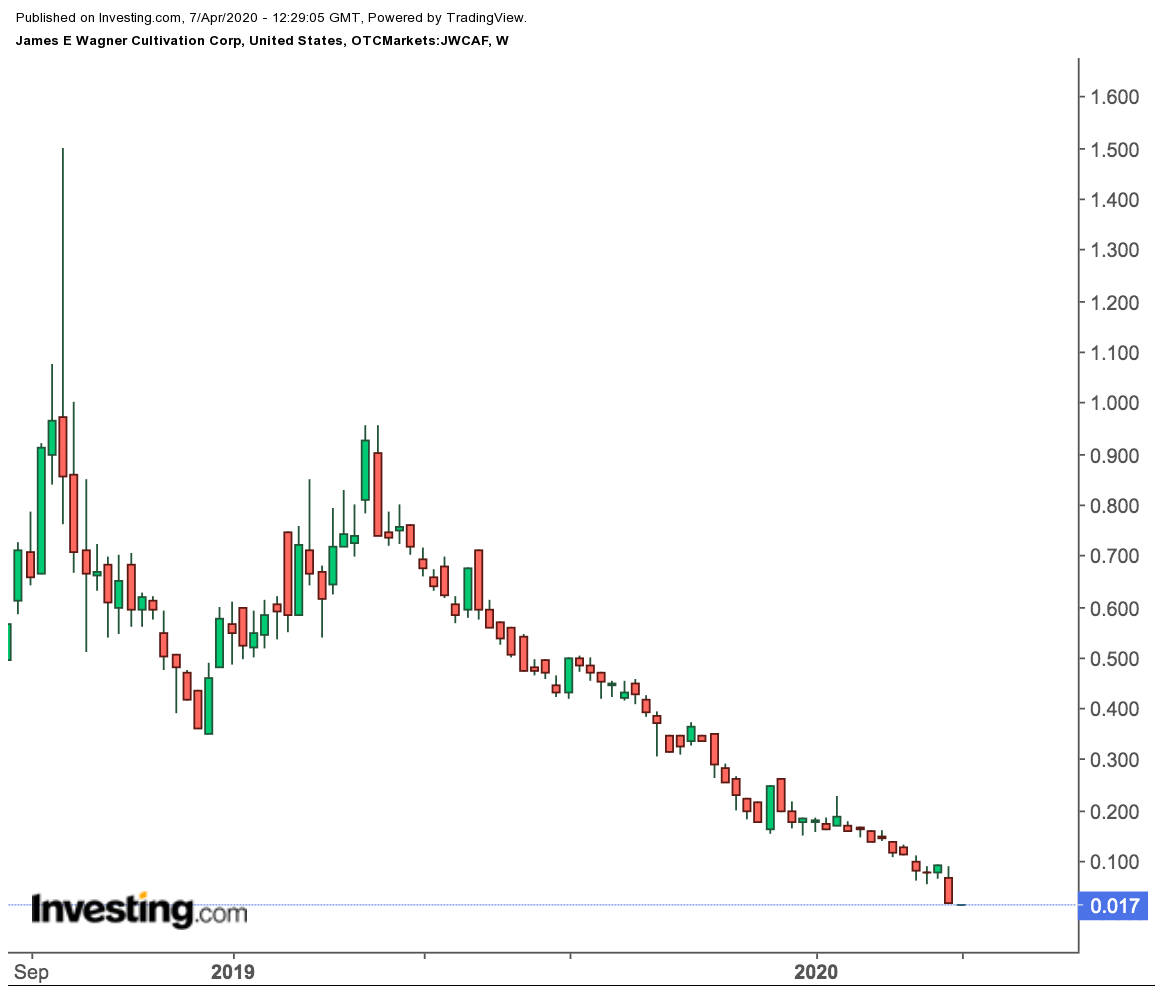 The company's shares have lost 97.56% of their value in the last year.
U.S. Pot Grower Defaults On Payments
On Monday, U.S.-based cannabis operator iAnthus Capital Holdings (OTC:ITHUF), (CSE:IAN) issued a statement saying it would default on interest payments totalling US$159.2 million (C$223.3 million), including US$97.5 million (C$136.8 million) on secured debentures, US$60 million (C$84.2 million) on unsecured debentures and US$1.7 million (C$2.4 million) on "other debt obligations." The company pointed to liquidity issues stemming from the COVID-19 pandemic as being among the causes for its default on the payments.
"It was a difficult decision to not make the interest payment when it was due, but management and the board decided it was in the best interest of the company and our stakeholders to spend our cash to maintain the inherent value of our business operations," said Hadley Ford, CEO of iAnthus in the statement.
"Despite the challenging conditions, the company will continue to pursue expansion opportunities in retail, cultivation and manufacturing, as well as further development of its retail and product brands," the statement continued.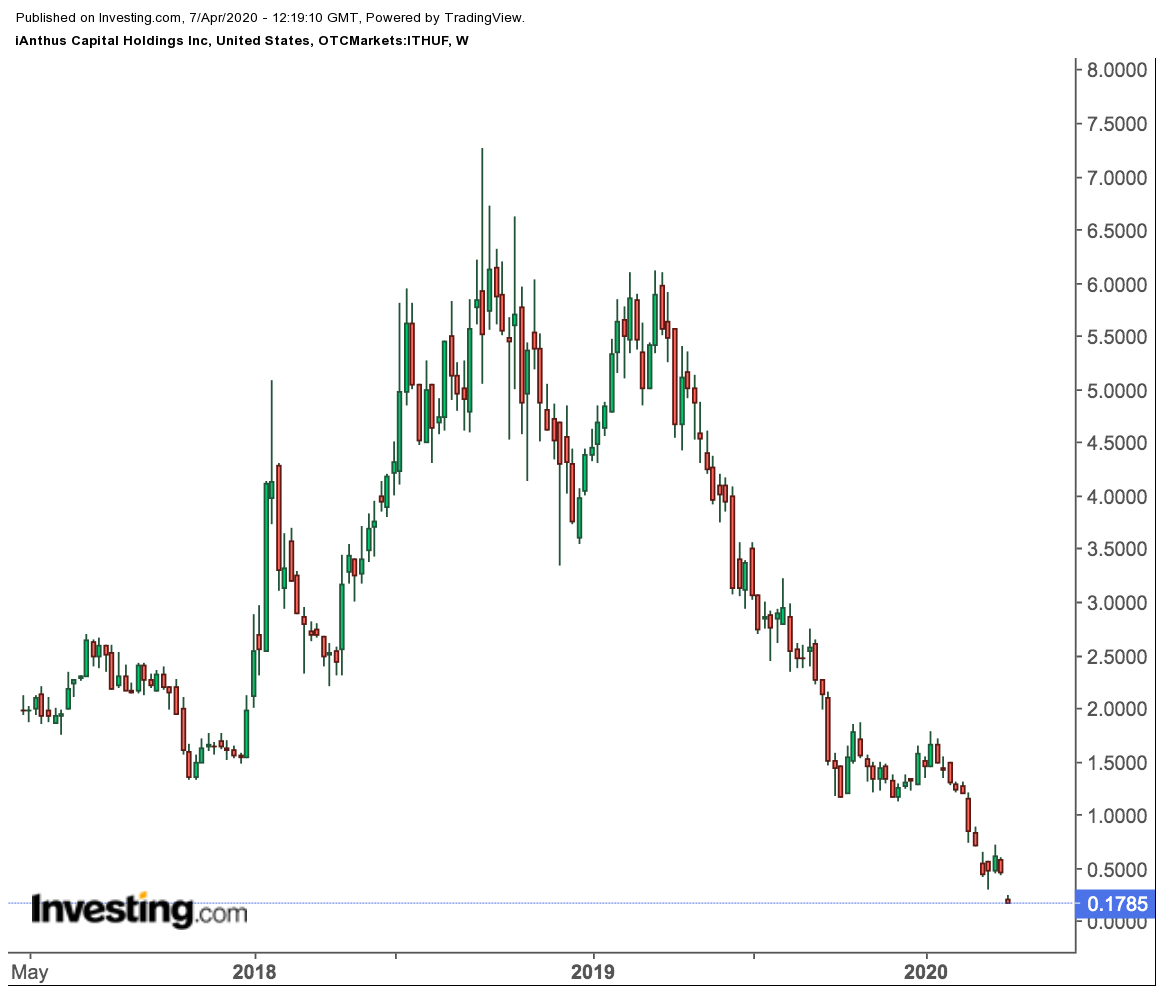 iAnthus also announced it would delay filing its fourth-quarter and year end results for the period ending Dec. 31, 2019, but did not say when these financials would be presented.
The news sent shares of iAnthus off a cliff Monday, dropping almost 62% to close at US$0.1785 on the U.S. OTC Market and C$0.24 on the Canadian Stock Exchange. In the last year, the company's shares have shed almost 97% of their value.

Written By: Investing.com