Yesterday, after the results of Tuesday's US midterm elections were released, the S&P 500 vaulted higher. The benchmark saw its best close in nearly a month, up 2.12 percent.
Since the outcome of the voting likely met trader expectations, the sense of a return to stability seems to have fueled sentiment and a market environment agreeable to investors. When there's a divided government, in which Democrats control the House and Republicans hold sway in the Senate, fiscal policies are likely to remain in place, as both sides of the aisle lock horns.
Could this mean the benchmark index will keep going higher?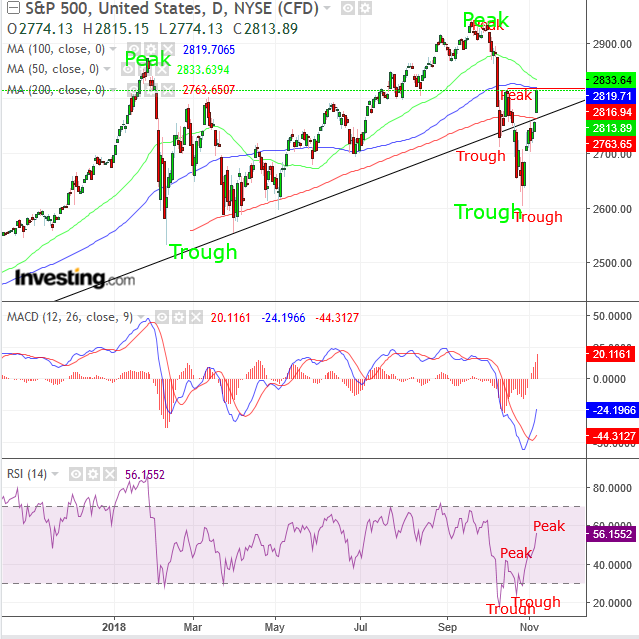 Technically, the benchmark is at a crossroads. In short, the midterm downtrend is in question. It may in fact rejoin the longer term uptrend. However, even the long-term trend, which continues to point higher, has now shown signs of weakening.
The SPX jumped back over both the uptrend line since its last double-digit correction in early 2016, passing the 200 DMA as well. Although it closed only 0.06 percent off the top of the session —demonstrating that bulls were in control—it stopped below the 100 DMA, backed up by the 50 DMA, which are closely followed by trend traders.
More important, it closed 0.11 percent from the previous peak of 2,816.94 posted October 17, forming a wall of resistance where a barrage of supply may be waiting to be triggered. Meanwhile, the 8 percent rally from the 2,600 level in late October followed the most oversold condition for the index since August 2015, during the double-digit correction preceding the January 2016 correction. Since then, the RSI has formed an ascending peak-trough pattern, and the MACD provided a buy signal.
Although the S&P 500's September 21 peak was higher than the January 26 peak, it was only greater by about 2 percent, thus not very convincing after rallies since the 2009 bottom went up at least to double digits high. Similarly, the October trough was less than 3 percent higher than the February through, showing a lack of buying interest.
The resulting pattern may be a massive H&S top.
Trading Strategies
Conservative traders must wait for a new peak to secure both long and midterm uptrends.
Moderate traders may risk a long position, should the price close above the October peak.
Trade Sample:
Entry: 2850
Stop-loss: 2830
Risk: 20 points
Target: 2910
Reward: 60 points
Risk-Reward Ratio: 1:3
Aggressive traders might take a bearish position, counting on the resistance of the October peak.
Trade Sample:
Entry: 2820.00
Stop-loss: 2820.0 above the October peak
Risk: 20 points
Target: 2600, the October low
Reward: 220 points
Risk-Reward Ratio: 1:11

Written By: Investing.com