Lately, the equity market has been going through a major shift. Investors are refocusing their portfolios, moving away from stocks for stay-at-home services that allow a pandemic-pressured world to continue working, shopping or connecting with friends or loved ones.
The technology sector was the beneficiary of this recent normal, but Pfizer's (NYSE:PFE) 90%+ effective COVID vaccine, announced last week, followed quickly by immunizations of equal efficacy from Moderna (NASDAQ:MRNA) and just this week AstraZeneca (NASDAQ:AZN) have sparked a rotation into sectors that have previously been hammered by the virus.
Among this woebegone group: energy shares—the worst performers this year. Because of lockdown restrictions worldwide, cars have remained parked and planes grounded along with industrial slowdowns requiring lower levels of crude oil usage. While the tech sector added 31% of value YTD and communication services grew by 19.20% thus far in 2020, energy shed more than 36%, making it the clear sector laggard.
But that also makes it the sector that could provide investors with the highest potential value as the possibility of a reopening economy increases, in tandem with vaccine availability.
A second theme that has also sharpened investor risk-appetite is yesterday's sort of concession from US President Donald Trump, which has officially set in motion the transition process for President-elect Joe Biden's administration. That has reduced a great deal of uncertainty, something the markets always hate. As well, Biden has tapped former Fed Chair Janet Yellen for Treasury Secretary, a familiar and very well-respected face that has also gone a long way toward easing market jitters.
As such, the price of oil has continued to accelerate today, trading toward $44 at time of writing, which should be bullish for the beaten-down shares of oil and gas supermajors. In this analysis, we'll focus on Exxon Mobil (NYSE:XOM), since the stock appears to have recently bottomed.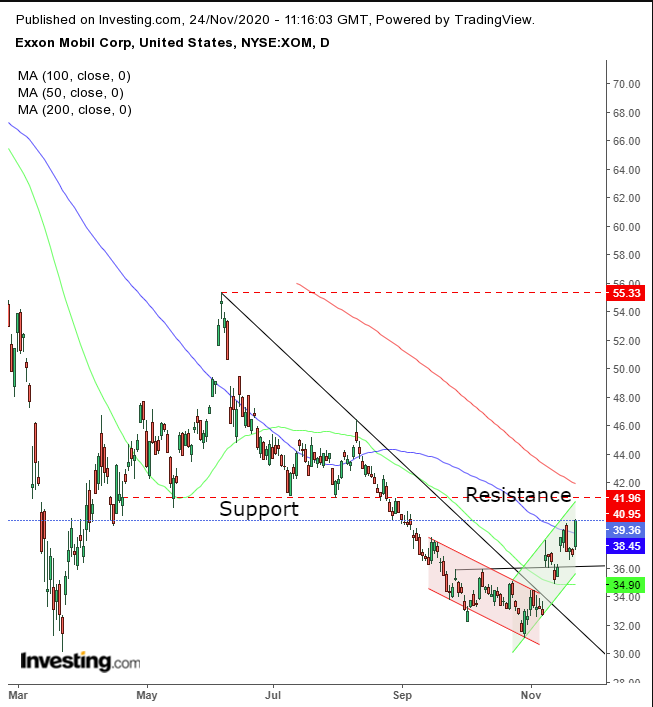 Between late September and late October, the stock began forming what appeared to be a H&S bottom. While the troughs got lower, the peaks retested previous highs.
However, as vaccine progress escalated, bulls began losing patience. Therefore, rather than the gradual short-term shift in the trend, which tends to develop a H&S, they charged in fast and hard, leaving behind the left half of a H&S bottom, followed by an upside breakout.
Now, however, the stock is retesting its April-August lows, which have presumably become resistance, as traders recall the 23% death-dive that occurred in late August, the last time the price was at these levels.
Note how the 200 DMA just happened to appear. The major moving average may serve as a signpost for important technical pressure points. If the price makes it through the $42 level, the next major resistance would be the June 8, $55 peak.
If investors clear the supply at those levels, we will have a massive double-bottom since the March lows on our hands. Its implied target would return XOM back above $100.
Trading Strategies
Conservative traders would wait for a decisive penetration of the $42 level, followed by a return move that shows evidence of support at that level.
Moderate traders would wait for either the same $42 penetration or for a dip toward the $36 level, where the neckline of the H&S might have been.
Aggressive traders may enter a long position at will, provided they understand the risk of being whipsawed of contrary themes dominating headlines, on both the coronavirus and political fronts as Trump continues to flog his, as yet unsubstantiated election fraud claims. Therefore, the money management element of this trade is perhaps more crucial than the analysis. Here's an example of a trade plan:
Trade Sample
Entry: $38
Stop-Loss: $36
Risk: $2
Target: $46 – August highs
Reward: $8
Risk:Reward Ratio: 1:4

Written By: Investing.com