BP (LON:BP) has popped over 4% higher in early trade on Monday.
What's behind the price increase?
Oil prices soared over 20% to over $70 per barrel, the biggest percentage spike in over three decades, following an attack on Saudi Arabia's oil infrastructure over the weekend. Whilst the price of oil has eased back to $65.50, higher oil prices are beneficial for oil majors, increasing their profit margins.
Will oil price remain elevated?
Geopolitical risk in the Middle East is nothing new. However, what we are seeing is a physical disruption to supply, as the attacks over the weekend cut half the county's oil production. This equates to a disruption on as much as 5% of global oil production.
We can expect oil prices to remain elevated whilst production is disrupted. As production returns, we can expect the price of oil to start declining back towards $61.50. That said, not all the gains will be pared, as the price will need to represent the increased geopolitical risk premium. However, today's jump in the oil price is more of a reflection of the impact on supply rather than a significantly higher risk premium.
Let's not also forget that the demand picture isn't great right now which will dampen the oil price quickly. Most recently China's industrial production figures disappointed overnight. Last week, OPEC lowered global growth expectations to just 3% for 2019. Furthermore, this is a bearish time of year for oil, as the driving season comes to an end. These factors should also help bring the price of oil lower.
More upside for BP (LON:BP)?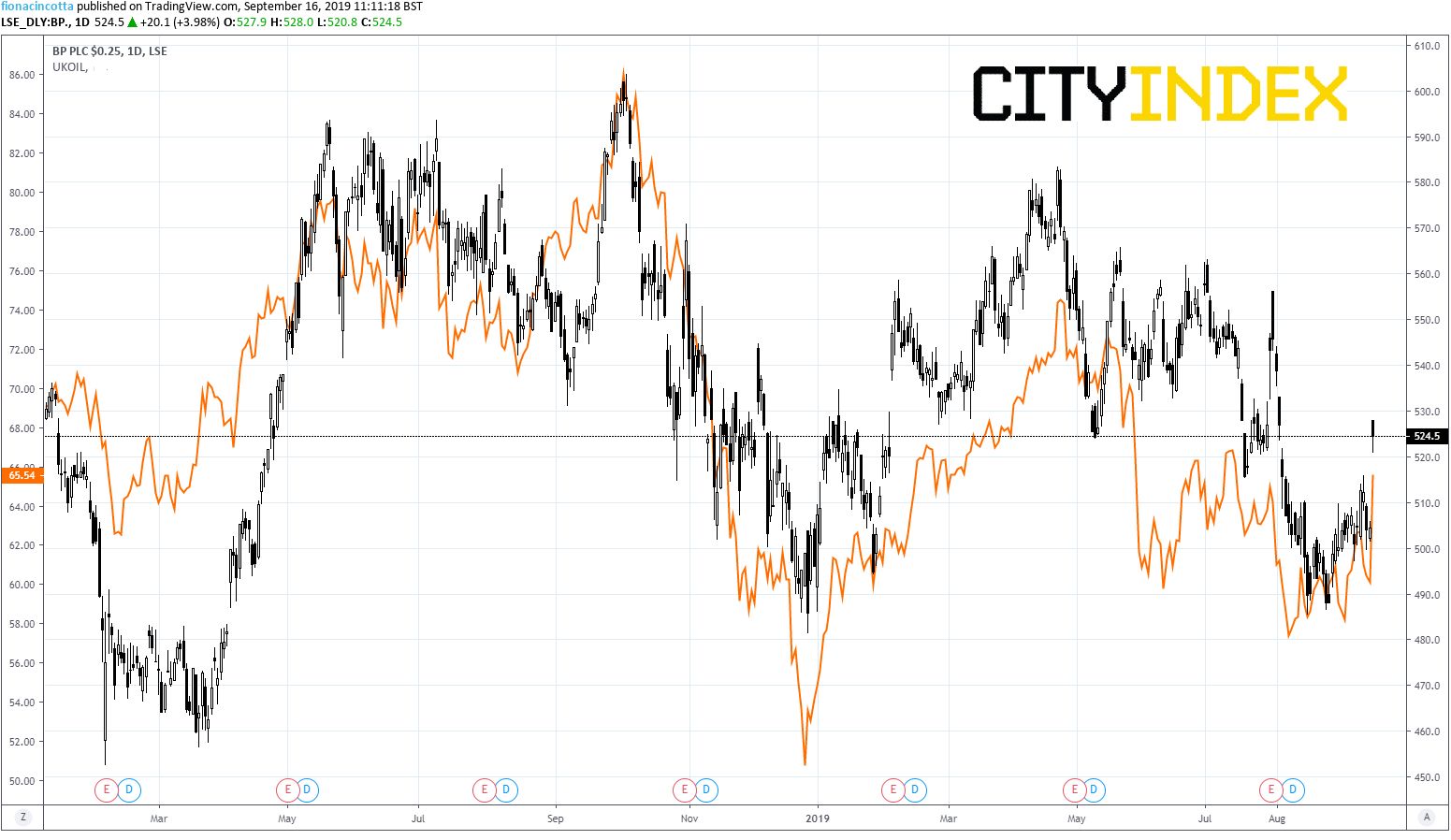 Prior to today's rally the FTSE was trading just 2% higher YTD, under-performing the broader FTSE index. Today's rally in BP (LON:BP) is a knee jerk reaction to the spike in oil. Looking at the chart we can see how closely BP's tracks movements in oil.
As the oil supply returns to previous levels, BP (LON:BP) could pate some of today's gains. However, there could be other reasons to consider BP longer term:
Points of concern:
"Disclaimer: The information and opinions in this report are for general information use only and are not intended as an offer or solicitation with respect to the purchase or sale of any currency or CFD contract. All opinions and information contained in this report are subject to change without notice. This report has been prepared without regard to the specific investment objectives, financial situation and needs of any particular recipient.
Any references to historical price movements or levels is informational based on our analysis and we do not represent or warrant that any such movements or levels are likely to reoccur in the future. While the information contained herein was obtained from sources believed to be reliable, the author does not guarantee its accuracy or completeness, nor does the author assume any liability for any direct, indirect or consequential loss that may result from the reliance by any person upon any such information or opinions."

Written By: City Index