Cryptocurrency markets have just finished one of the worst months on record for the asset class, with nearly all the major coins suffering double-digit-selloffs. Underscoring just how bearish the action in cryptos was last month, there are now just 9 digital currencies with a market cap greater than $1 billion, compared to 14 at the end of October. The five that dropped off the list were TRON, Monero, IOTA, Dash and NEM.
Of the 9 remaining, all closed the month lower than where they had started on the final trading day of November. The market cap for all digital currencies fell to $117.2 billion on November 25, its lowest levels since August 2017, before bouncing back to close the month at $134.9 billion.

Since its peak a year ago, the crypto market as a whole has lost about $700 billion in value. According to Charlie Bilello, analyst at Pension Partners, "the combined market cap of the 20 largest crypto coins at the end of 2017 is down over $400 billion YTD."
Indeed, the price of Bitcoin, the world's biggest virtual currency by market cap, fell roughly 36.5% in November to end at around the $4,200-level. It briefly fell below the $3,500 mark over Thanksgiving weekend for the first time since September 2017.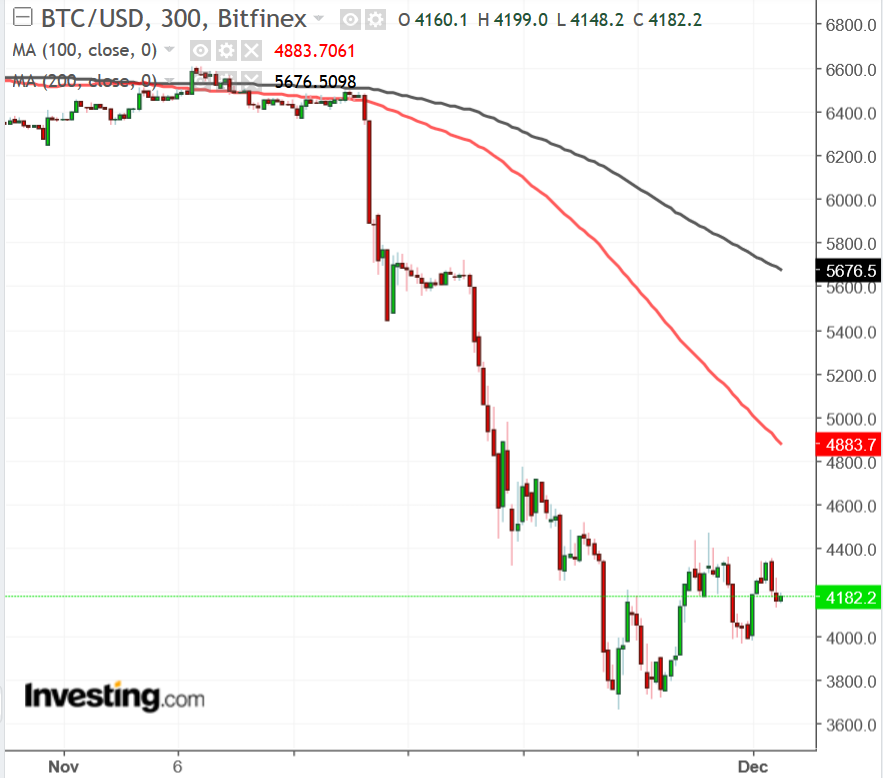 Prices were hit hard by news of a fork in Bitcoin Cash, as investors feared it would drive down demand for Bitcoin. Bitcoin is off some 70% since the start of the year and down about 80% from its peak of $20,000 touched in late 2017. "It's the largest correction since 2013-2015," says Bilello, "an 82% decline from its December 2017 high."
Reports are now surfacing that the US is investigating whether the cryptocurrency rally last year was fueled in part by manipulation. This has also been cited as headwind for the digital currency industry.
Additionally, on a technical basis, most digital currencies held firmly below their respective 200-day moving averages, a closely watched technical indicator. This usually signals that sellers are still in control.
Below we take a look at some of the biggest losers among the most valuable cryptocurrencies that logged the largest declines over the past month.
[Note: This post should not be considered an endorsement, nor investment advice. It's merely reportage. Do your own due diligence before investing in any particular asset or asset class. Coin statistics were collected on December 1, 2018. Values might differ depending upon when this article is being read.]
3 Biggest Losers
1. Bitcoin Cash -59.6%
The price of one Bitcoin Cash coin (BCH/USD) on November 1 was $427.63, before tanking 59.6% to end the month at $170.39. It fell to an all-time low of $148.55 on November 25.
Currently the fifth most valuable alt-currency in circulation with a market cap of around $3.0 billion, Bitcoin Cash is down almost 93% so far this year. That would make it the second worst performing cryptocurrency of 2018 to this point, trailing only Cardano, which has lost 95% of its value.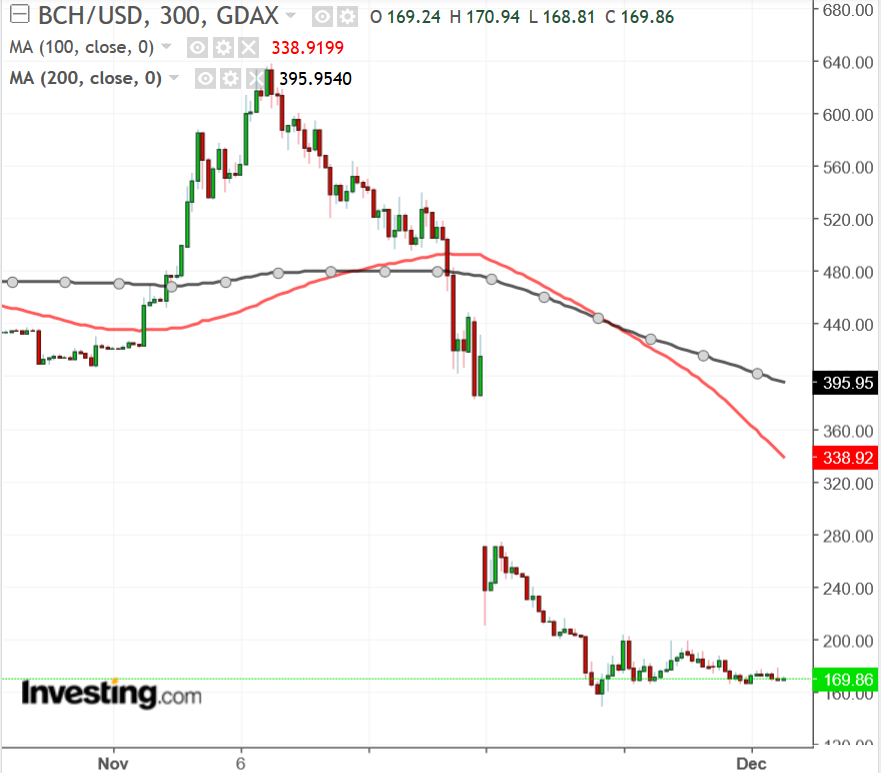 Losses came as the digital currency split into two contested versions on November 15: "Bitcoin ABC" and "Bitcoin SV", which is short for "Satoshi's Vision." Such events tend to occur when there is disagreement in the community about how to scale a cryptocurrency efficiently so that it can cope with a higher volume of trading.

"The market will ultimately decide which chain people will want to own. It's the investors and users that ultimately support the value of a cryptocurrency. Assuming miners are economically and not ideologically driven, hash rate should follow the price," wrote Jordan Clifford, co-founder of Scalar Capital, a crypto asset management firm, in a Medium post.
2. EOS -44.8%
After starting the month at $5.2866, EOS (EOS/USD) sank 44.8% in November to end the month at $2.8962. It fell to a one-year low of $2.8254 on November 30.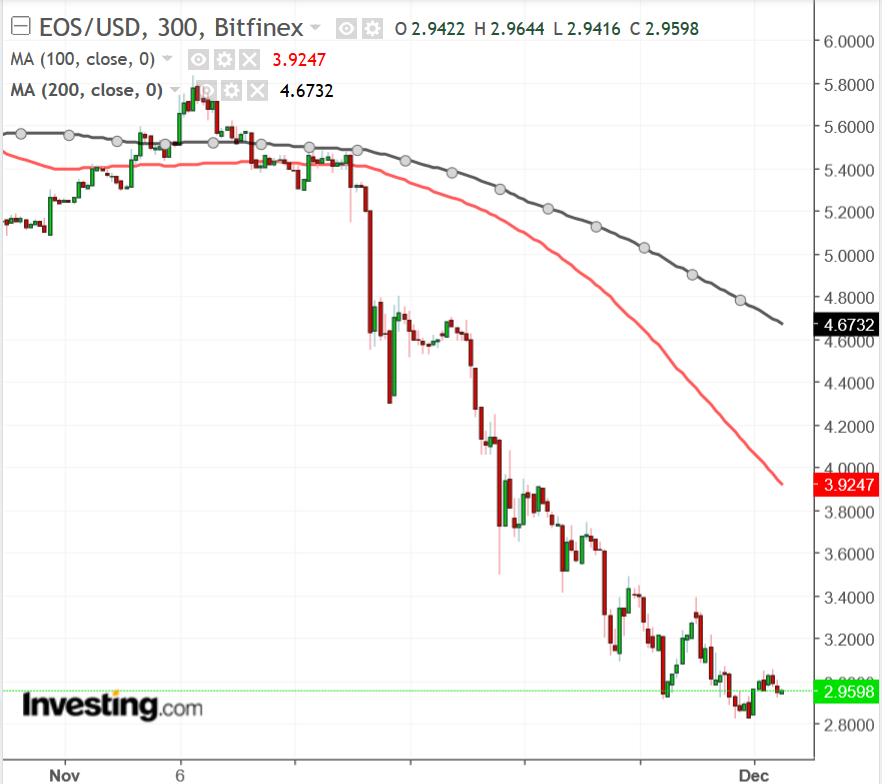 EOS is currently the sixth most valuable digital token in circulation with a market cap of around $2.6 billion. It's down 66% so far this year.
For the most part there has been no particular reason for the recent slide in EOS. It's simply mirroring the price slumps experienced by nearly each of the mainstream big-name cryptocurrencies in the market during the month.
3. Ethereum -42.7%
The price of one Ethereum coin stood at $199.73 on November 1, before sinking to $103.03 on November 27, its weakest level since May 19, 2017. It ended the month at $113.68, suffering a loss of 42.7%.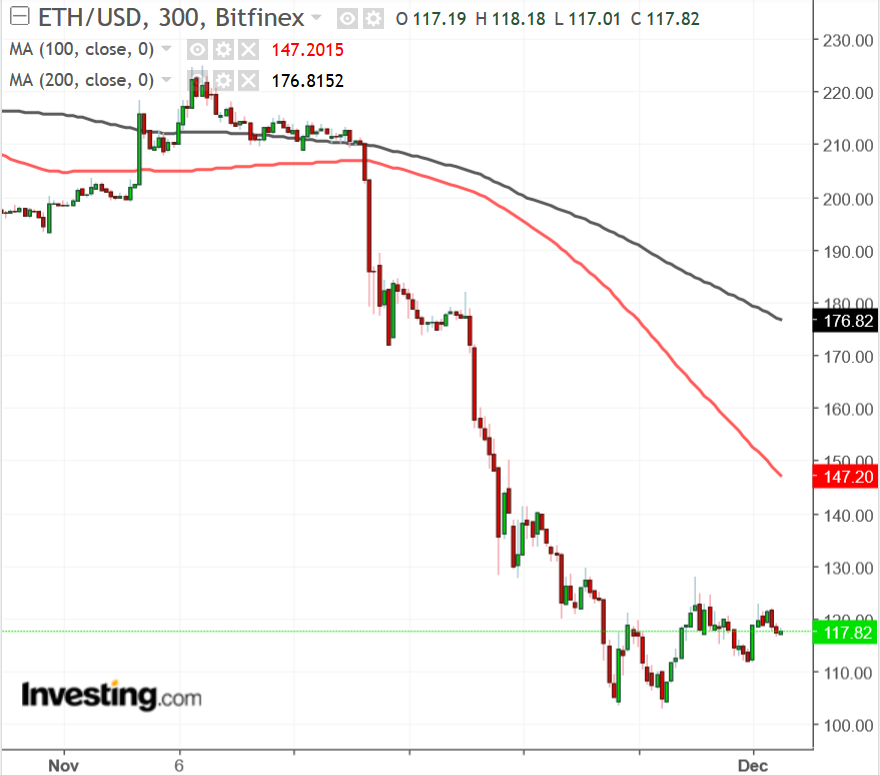 At current levels, Ethereum has a market cap of approximately $12.1 billion, making it the world's third biggest cryptocoin. Year-to-date, Ethereum is down a whopping 85.4%.
Like many other coins in the market, Ethereum has seen its value shredded by the ongoing decline in prices, though there has been no particular reason for the selling other than the overall bearish market sentiment weighing on the asset class.

Written By: Investing.com