After last year's mind-boggling run-up in digital currency prices, 2018 has not started well for cryptocurrencies to say the least. Bitcoin, the world's biggest virtual currency by market-cap, is experiencing a rout—it's down about 65% so far this year, after finishing January at $10,284 with its biggest monthly percentage decline in three years amid growing fears over increasing regulatory scrutiny in the U.S. and Asia.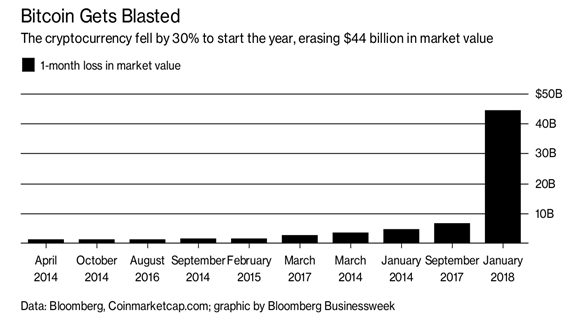 Reports that the U.S. Commodity Futures Trading Commission sent subpoenas to cryptocurrency exchange Bitfinex and sister company Tether, a widely traded coin pegged one-to-one to the U.S. dollar, was just the latest in a series of negative headlines to rattle the cryptocurrency market in January. The first month of 2018 also included a severe crackdown on cryptocurrencies in South Korea and China, as well as tightening regulations in Japan after hackers stole $530 million worth of virtual coins from Tokyo-based cryptocurrency exchange Coincheck, in one of the biggest-ever thefts of digital money.
That has led some traders and investors to shy away from Bitcoin, opting instead to focus on some of the other lesser known alternative digital currencies, which can potentially offer better returns than their older, more popular cousin. Below, we take a look at five of the most promising alt-coins to consider right now, sorted by market cap. In order to filter the 5,000+ coins which currently exist in the cryptospace, we decided to focus only on digital currencies currently trading in a range between $0.01 and $100 and with a market cap of greater than $1 billion, which left a total of 14 coins.
[Editor's note: Investing in cryptocurrencies is highly speculative. This post should not be considered an endorsement of cryptocurrencies nor investment advice. Do your own due diligence before investing in any asset or asset class. Anyone considering digital currencies should be prepared to lose their entire investment.]
1. Ripple (XRP/USD)
Ripple started 2017 at $0.00652 before rallying by as much as 36,000% to close the year at $2.03. It soared to an all-time high of $3.28 on January 4, before subsequently pulling back to around the $0.60-level at time of writing. At current prices, Ripple's market capitalization is almost $24 billion, making it the third largest cryptocurrency.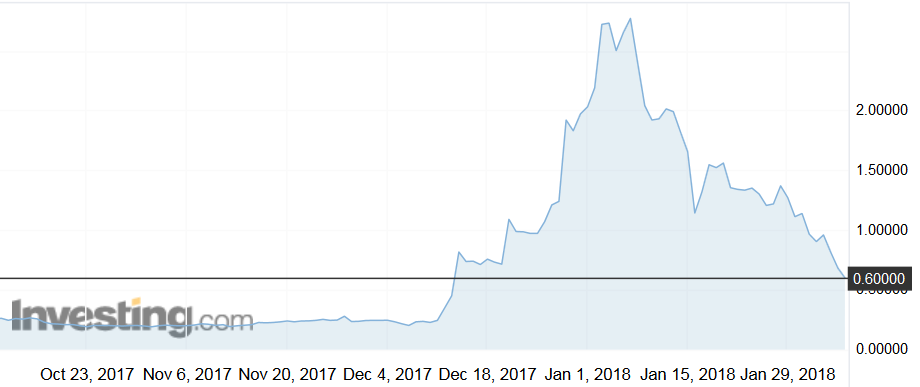 Released in 2012, Ripple is a real-time gross settlement system, currency exchange and remittance network. Also called the Ripple Transaction Protocol or Ripple protocol, it purports to enable secure, instant and nearly free global financial transactions of any size with no chargebacks.
Essentially, it takes the idea of banking, and in particular SWIFT transactions, and provides a much-needed upgrade by utilizing blockchain technology.
Ripple has signed up several new financial institutions to its blockchain network in recent months, bringing its clientele to more than 100, including money transfer giant MoneyGram, as well as big-name financials like Spain's Santander (NYSE:SAN), Italy's Unicredit (MI:CRDI), Switzerland's UBS Group (NYSE:UBS) and UK-based Standard Chartered (OTC:SCBFF). Additional financial institutions are reportedly set to join Ripple's growing global network this year, as it allows banks to settle cross-border payments faster and more cheaply than they currently do using conventional global payment networks.
In terms of transaction times and fees, Ripple's network can settle up to 1,500 transactions every second, while the cost of an average transaction for Ripple is currently a fraction of a penny. Ripple investors are hoping that in the future its blockchain technology will become the new standard for financial institutions wanting to transfer funds worldwide. That makes Ripple well worth considering now.
2. Cardano (ADA/USD)
Cardano is a technology platform that runs the ADA cryptocurrency. Launched by blockchain development firm Input Output Hong Kong (IOHK) and led by Charles Hoskinson, former co-founder of Ethereum and BitShares, the platform is capable of running financial applications, smart contracts, and decentralized applications.
At time of writing, Cardano's price was $0.27400. It is currently the fifth biggest cryptocurrency in circulation, with a market cap of around $7 billion. Dubbed the "Ethereum of Japan" because 95% of the participants in the ADA initial coin offering (ICO) were Japanese, prices of Cardano rose to a peak of $1.37879 on January 4, the highest in its three-year history.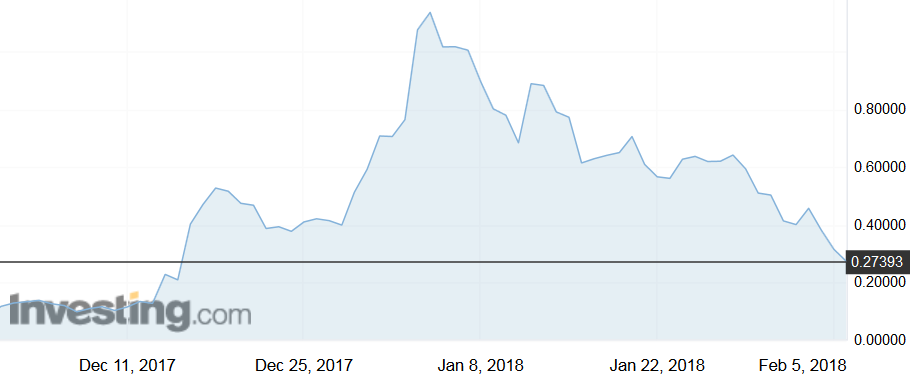 Cardano aims to become an advanced smart contract platform—its developers having invented a new Proof-of-Stake (POS) method called Ouroboros—offering more robust features than Ethereum, while also functioning quickly, efficiently, and cheaply, all while providing the same kind of 'store of value' we see in Bitcoin. Enthusiasts of the cryptocurrency have hailed it as an improved version of both Bitcoin and Etheruem all in one coin, making it a very intriguing option going forward.
3. Stellar Lumens (XLM/USD)
Stellar is an open-source protocol for exchanging money. It was founded in early 2014 as an offshoot of Ripple because Jed McCaleb, the co-founder, had philosophical differences with the rest of the Ripple board. While Ripple is focused on providing solutions for banks, Stellar aims to help facilitate payments between individuals.
It is currently the seventh largest cryptocurrency in circulation, with a market cap of nearly $5 billion. It traded at $0.27300 at time of writing, pulling back from a record peak of $0.91990 touched on January 3. It scored a gain of around 14,400% in 2017.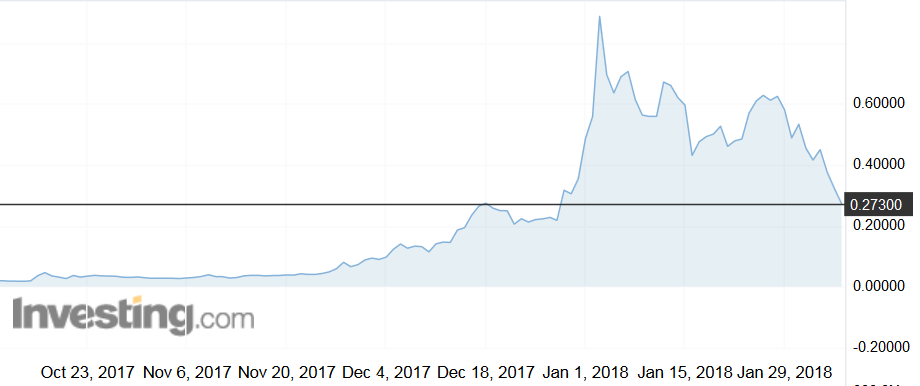 Notably, Stellar and IBM (NYSE:IBM) created a partnership to increase the speed of global payments back in October 2017. The latter also agreed to use Stellar's network to develop a cross-border payments system with some large banks. Consulting firm Deloitte is also a partner.
On the tech front, Stellar's transactions settle in 2 to 5 seconds, for a tiny fraction of a penny, much quicker and cheaper than Bitcoin, and allows users to quickly exchange government-backed currencies, such as turning U.S. dollars into euros.
Online payments company Stripe said in late January it may add support for Stellar in the future, while phasing out the use of Bitcoin due to slower transaction rates and higher fees. In addition, Stellar has all the potential to become the next big ICO platform.
David Gobaud, co-founder and CEO of Mobius Network, announced last month that his company raised $39 million through an initial coin offering that was held on the Stellar network. The token sale was highly successful, reaching its hard cap after two hours, Gobaud said. While many ICOs have taken place on Ethereum, he chose Stellar because of Ethereum's scaling challenges.
Stellar's run of positive news developments looks to continue in 2018, making it a worthy investment at current levels.
4. NEM (XEM/USD)
NEM's price at time of writing was $0.38700. It has a market cap of around $3.6 billion, making it the 10th biggest cryptocurrency in circulation. It has lost about 70% to start the new year, after soaring a jaw-dropping 29,800% in 2017.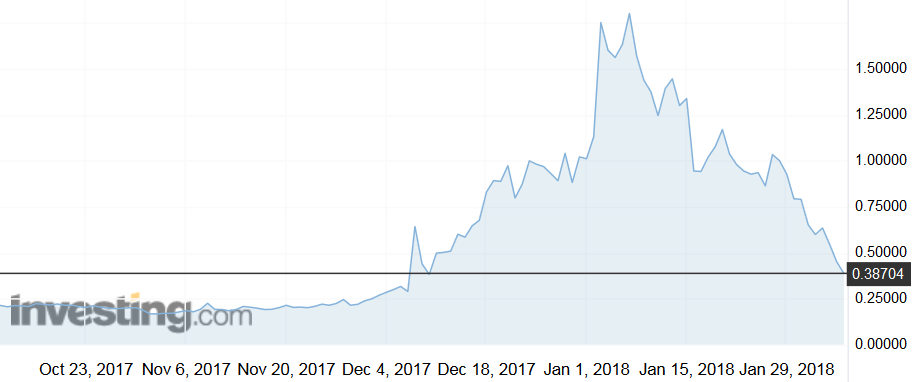 NEM is a peer-to-peer cryptocurrency and blockchain platform launched on March 31, 2015. Built with businesses in mind, NEM's blockchain is designed to offer a streamlined method to maintain a secure ledger of transactions. NEM can be used for almost any application thanks to its 'Smart Asset System'. In effect, this system gives users the ability to implement a customized blockchain for their own specific "smart contract".
NEM has provided a list of potential use cases for their 'Smart Asset System'. Some uses include: voting, crowdfunding, stock ownership, keeping secure records, loyalty rewards point programs, mobile payments and escrow services. Many of these are large global industries in themselves which highlights just how huge the potential NEM customer base is.
Because NEM's blockchain software is so adaptable, the potential uses are nearly endless. NEM software is currently used in a commercial blockchain called Mijin, which is being tested by financial institutions and private companies in Japan and internationally. The developers claim that it will reduce banking institutional costs by 90% while making the banking industry more secure.
On the technical front, NEM transactions take about 6 seconds to show up and about 20 seconds to confirm, while transaction fees are only 0.01%. In comparison, Bitcoin transactions can sometimes take up to an hour or more to confirm, with fees of around $25 on average. NEM's President Lon Wong has said, "It might be exciting to see quick price gains due to marketing and speculation, but the long-term winners will be those with consumer and enterprise adoption."
Looking at the diverse business functions that NEM can perform, it's obvious that there is a large potential customer base, signaling a bright future for the digital currency.
5. TRON (TRX/USD)
TRON is a decentralized open-source cryptocurrency that was founded by the TRON Foundation in March 2017. It aims to be a decentralized entertainment content sharing platform intended to allow content creators to cut down middlemen such as the Apple Store (NASDAQ:AAPL) or Google Play (NASDAQ:GOOGL) so content creators can instantly receive funds directly from consumers.
Its price at time of writing was $0.02606, giving it a market cap of around $1.7 billion and making it the 15th biggest cryptocurrency in circulation. It rallied by 7,800% in 2017 and reached an all-time high of $0.22911 on January 6.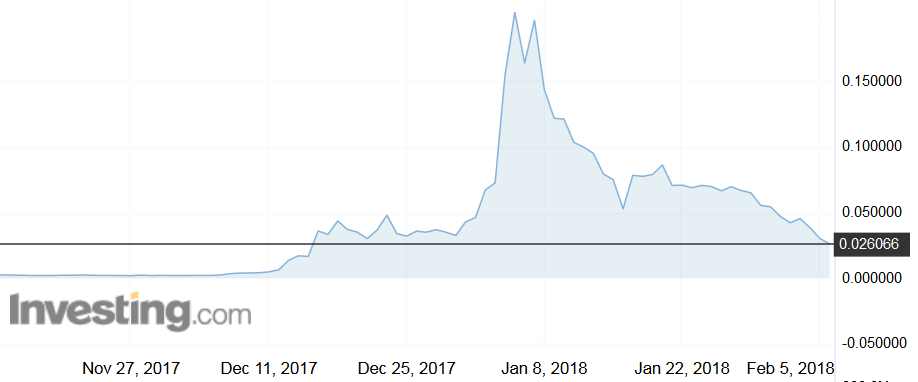 TRON was founded by Foundation CEO Justin Sun, who appeared in the latest Forbes "30 Under 30 Asia" list. He founded Peiwo, an app aspiring to become China's Snapchat, and is considered the protégée of Alibaba (NYSE:BABA) founder Jack Ma. At the age of just 26, Sun was hand-picked by Ma himself to study at the Jack Ma Hupan University for entrepreneurs, which has an acceptance rate lower than Princeton.
Sun's close relationship with Ma and the fact that various developers of Alibaba have joined TRON has sparked speculation that a partnership between the cryptocurrency and the Chinese online shopping giant is in the works. In addition, just last month TRON announced that it launched a partnership with Baofeng, better known as the Chinese (NASDAQ:Netflix) which boasts more than 200 million users.
In light of these developments it's no wonder digital expert John McAfee recently recommended TRON in a tweet as a long-term investment.

Written By: Investing.com