The U.S. Intercontinental Exchange's (ICE) Bitcoin futures vehicle, Bakkt will begin beta testing two physically-settled Bitcoin futures contracts on the ICE exchange beginning July 22. This effort has been much hyped, long delayed and there's still no final launch date planned. As well, from reports published this past Friday, it appears the company may also be developing a related digital asset wallet called Bakkt Pay.
After Cboe Global Markets discontinued its Bitcoin futures trading derivative in March, are crypto markets ready for an onslaught of Bakkt products, spearheaded by a new futures trading vehicle for the most popular cryptocurrency by market cap?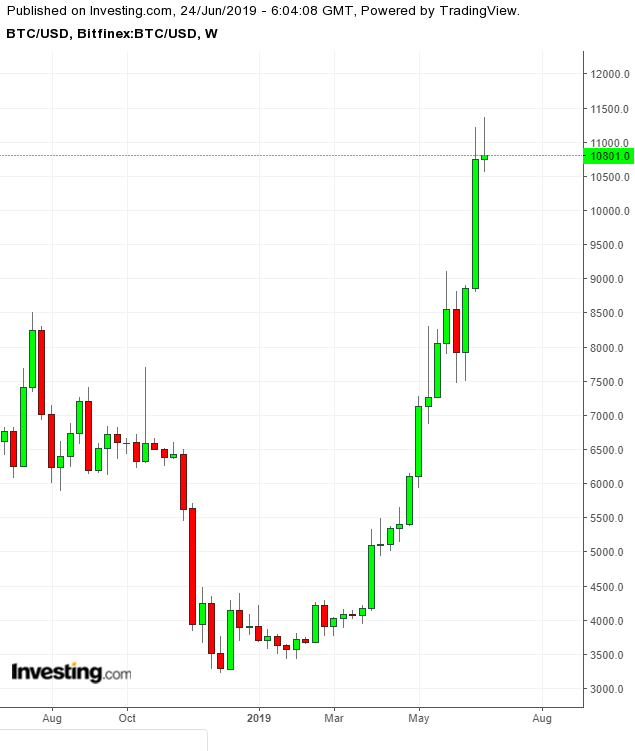 With the price of a single Bitcoin, trading at $10,801 at time of writing, having jumped more than 213% since mid January when the digital currency was trading as low as $3447.5, the answer might just be yes.
There's certainly a lot of fundamental activity helping to revive the formerly declining token. Bitcoin's resurgence could be attributed to a variety of geopolitical headwinds, a slowing global economy, even last week's news that social media giant Facebook (NASDAQ:FB) is planning to launch its own cryptocurrency, Libra.
Bitcoin futures allow investors to speculate on what the price of Bitcoin will be going forward, without actually having to own any BTC. Many believe the cryptocurrency market dynamic as well as its demographics have shifted since the Chicago Board Options Exchange (Cboe) as well as the Chicago Mercantile Exchange (CME) initiated their BTC futures trading instrument in late 2017.
Kirill Bensonoff, CEO of OpenLTV says:
"The market is a lot more mature now, driven less by FOMO (fear of missing out) and more by long-term, strategic investing."
Bensonoff points out that there are also more institutional players now. He believes some of the current momentum is driven by the possibility that Fidelity, Bakkt and others are loading up on inventory ahead of future crypto market launches. He adds that Bitcoin is maturing as a 'digital gold' asset.
As well, the CME released data showing there's increased interest in Bitcoin futures. They tweeted the following graph on June 18:
"CME Bitcoin futures (BTC) shows growing signs of institutional interest. BTC open interest rose by a record 643 contracts in a single day, establishing a new all-time high of 5,311 contracts on June 17 (26,555 equivalent bitcoin; ~$250M notional)"
Springboard for Higher Prices?
Bitcoin was trading at an all-time high of around $20,000 when both the CME and the Cboe launched their futures products. At the same time Initial Coin Offerings (ICOs) were on the ascent. The expectation then was for all of these developments to play a significant role in legitimizing crypto assets by driving demand and providing a less risky way for new investors—both retail and institutional—to participate.
That's not exactly how events played out. By 2018 cryptocurrencies were in the doldrums, too many ICOs were discredited, and the crypto-winter set in. It was more than a year before prices finally began to pick up. Could the beta launch of ICE (NYSE:ICE)'s Bakkt be a springboard for even higher prices? That's a difficult call at this point.
A number of hurdles still need to be overcome, including all-important government approval. Earlier this month, Reuters reported that Bakkt still must secure a regulatory endorsement of its "custody warehouse, where the digital assets will be stored." That's key. Unlike both CME and CBOE's cash-settled cryptocurrency futures products, Bakkt's contracts will be physically settled, meaning Bitcoin will be delivered to the Bakkt warehouse when the contracts expire.
On the upside, the crypto community has come to recognize that failure of ICOs had much to do with the absence of proper regulatory oversight says David Williams, chief technologist at BlockRules.
"BTC futures, especially in the U.S., are in a holding pattern until the CFTC gives its approval. Small technical advances, including Baker's platform, won't have a significant effect on the market without appropriate regulatory acceptance."
What will be different about Bakkt's derivative? According to reports, its CEO has said they've "worked closely" with the U.S Commodity Futures Trading Commission (CTFC) as the instrument was being developed. As well, the product is aimed at institutional investors, merchants and retail investors, with a sample group involved in the beta test beginning at the end of July.
A daily and monthly contract settlement will be offered. "Compared with previous options for BTC futures, Bakkt's product will settle in Bitcoin rather than fiat," says Williams.
"As a result, Bakkt investors will be operating inside the Bitcoin market, rather than outside of it. In contrast, CBOE's and CME's futures settled in fiat and played against Bitcoin's speculative nature for a quick return. Bakkt's customers will be institutional investors interested in cryptocurrencies as long-term investments."

Written By: Investing.com