After soaring 76% in 2019, the shares of NVIDIA Corporation (NASDAQ:NVDA) are on fire again. The stock has already gained 11% in 2020, helped by analysts' renewed optimism about a revival in chip demand.
NVIDIA is among the group of top semiconductor stocks that defied extreme negative pressure as their fundamentals deteriorated in late 2018. It surged yesterday about 4% to $262.97. As signs appear of a strong rebound in the demand for chips that are used in smartphones and data centres, the key question for investors is just how far chipmaker stocks can go, especially when they're trading at the highest price-to-future-earnings multiples in nearly a decade.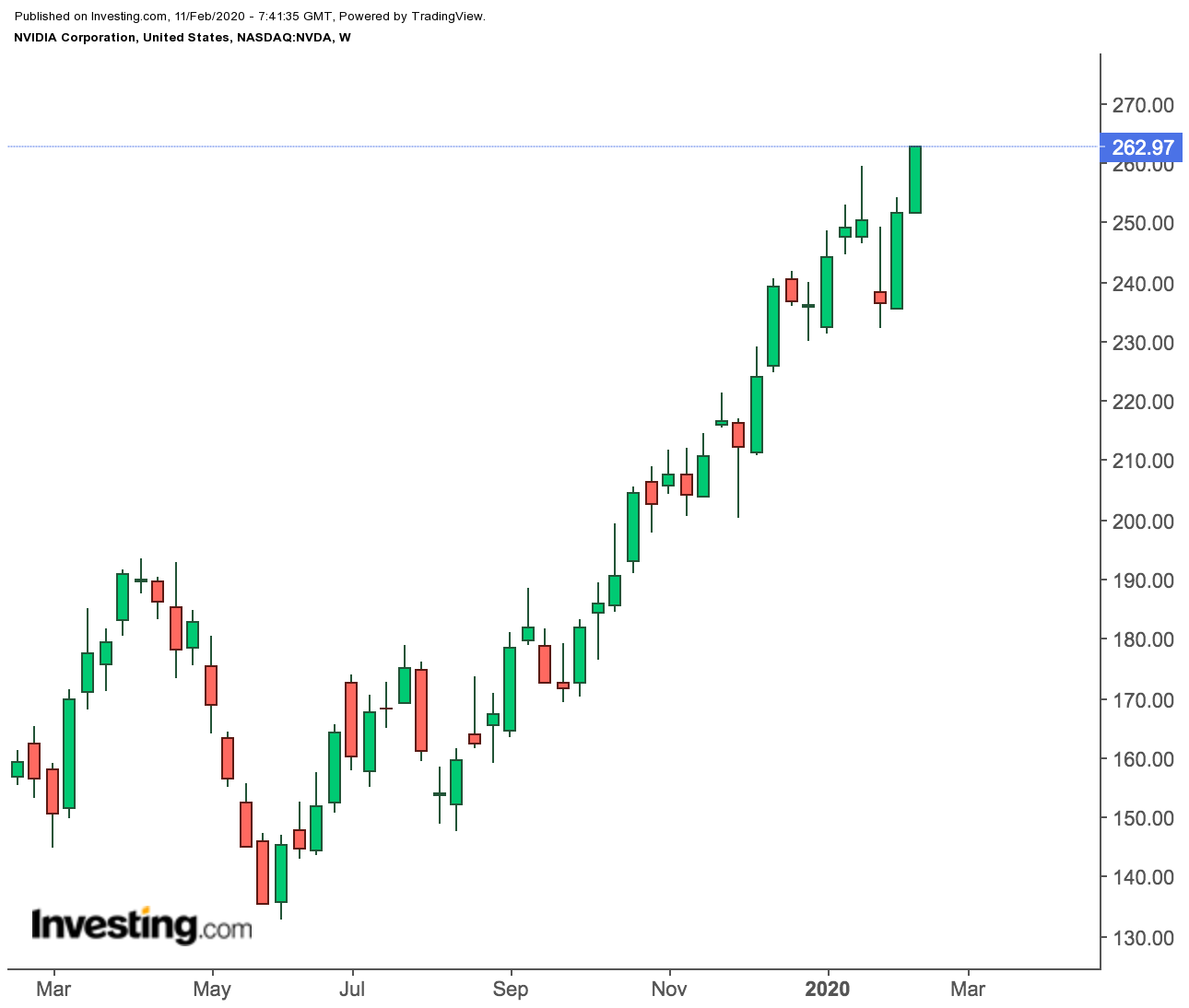 Most analysts expect chipmakers' business to improve in 2020, when they're expected to get a significant boost from the introduction of 5G technology and the expansion of cloud infrastructure spending. But valuations are creating a major cause for concern, especially when taking into account risks such as the coronavirus currently ravaging China's economy. NVIDIA has invested heavily in the world's second largest economy, where many of its chips are used for assembly into other products, especially in industries related to artificial intelligence.
To keep the upward momentum going, chip producers, including NVIDIA, will need to start posting better-than-expected financial results, according to Morgan Stanley analyst Joseph Moore, who had been one of the first analysts on Wall Street to turn cautious on the group in the second half of 2018.
For NVIDIA investors, the biggest test of whether the stock's rally is sustainable will come on Thursday, after the U.S. market close, when the chipmaker reports its fourth-quarter earnings. Analysts are expecting EPS of $1.66 a share as revenues are likely to jump about 34% to $2.96 billion from the same period a year ago.
"We expect a strong quarter and outlook in both gaming and data center, with perhaps some marginal conservatism in the gaming outlook driven by coronavirus," Moore wrote in a note on Monday.
"We have been expecting a strong quarter and outlook in both segments, with multiple data points suggesting strong demand from cloud, as well as fairly strong demand (and lean inventory conditions) for higher end gaming cards."
Missed The Boat?
Moore, despite his optimism, didn't raise the price target on NVIDIA, keeping it at $259 a share, but said he sees potential upside to the target "if numbers can move higher."
Unlike the slightly cautionary note from Morgan Stanley, analysts at RBC Capital Markets are quite bullish about NVIDIA's prospects on higher sales from data center customers. Indeed, analyst Mitch Steves has raised his price target on the shares to $301, representing a 17% upside to the stock from its close yesterday.
"We raise our estimates on NVDA as we think the January quarter will come in a bit ahead of the high-end of guidance due to better than expected gaming and data center demand," Steves wrote in a note.
Having watched the stock's powerful rise, the biggest question lurking in the minds of investors is whether they have already missed the boat: is it too late now to buy NVIDIA shares?
On a comparable basis, it doesn't come cheap. The stock's price-to-earnings ratio is 65.35 compared to Intel's (NASDAQ:INTC) 13.94. And at 35.7 times forward earnings, NVIDIA is also now one of the most richly valued chip stocks, fetching more than twice the semiconductor group's average multiple.
Bottom Line
A broad-based recovery in semiconductor stocks suggests that investors are feeling more comfortable holding these shares. We continue to recommend a cautious approach toward chip stocks as their gains are still on a weak footing. NVIDIA, after a powerful rally last year, is susceptible to some correction before carrying on higher. Its earnings report on Thursday might help to remove some uncertainty.

Written By: Investing.com