Stocks: JPMorgan Up, Wells Fargo Down in Premarket on Mixed Q4
Investing.com | Jan 14, 2020 13:33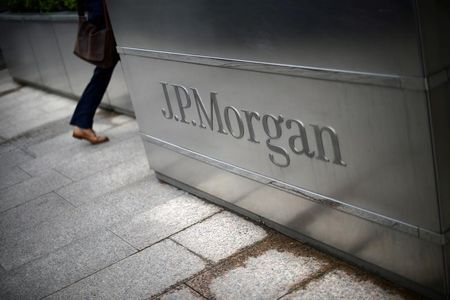 By Geoffrey Smith
Investing.com -- Stocks in focus in premarket trade on Tuesday, 14th January. Please refresh for updates.
8:32 AM ET: Citigroup (NYSE:C) stock was up 0.5% after its fourth-quarter revenue and earnings came in 3% ahead of expectations. The results were driven by a 49% rise in fixed-income trading revenue in the quarter. The bank's global consumer division also posted an $8.5 billion increase in revenue.
8:27 AM ET: Microsoft (NASDAQ:MSFT) stock was down 0.1% after reports that Amazon.com (NASDAQ:AMZN) is seeking a court order to block it from working on a $10 billion Cloud computing contract from the Pentagon.
According to Reuters, who cited a court filing, Amazon (NASDAQ:AMZN) plans to file a motion for a temporary restraining order on Jan. 24 and a federal court will issue its decision on Feb. 11.
8:21 AM ET: Beyond Meat (NASDAQ:BYND) rose another 10.3%, extending a rally that has already seen it rise 50% since the end of last year.
There's been no single catalyst for the increase, but a number of analysts have flagged what they see as an inevitable march toward mainstream status for plant-based meat alternatives in their outlooks for 2020.
The stock is still over 50% below where it peaked in the euphoria after its IPO last year.
8:17 AM ET: Visa (NYSE:V) stock was up 0.2%, on course for a fifth straight record high, after announcing the acquisition of fintech startup Plaid for $5.3 billion. The acquisition reflects the company's efforts to ensure that its dominant position in global payments today isn't eroded by new technologies that bypass cards.
8:10 AM ET: JPMorgan Chase (NYSE:) stock was 1.1% higher, coming back off earlier highs, after convincingly beating forecasts for fourth-quarter revenue and earnings. Earnings per share rose nearly 30% on the year, a comparison flattered by volatility in global markets at the end of 2018, but 8% annual growth in consumer loans showed the bank's core business was still going strong.
Wells Fargo

(NYSE:) stock was down 2.8% after missing expectations on both top and bottom lines, as litigation-related expenses drove it to an operating loss. Income from the bank's core business also fell in the fourth quarter, while risk provisioning rose.
Delta Air Lines (NYSE:) stock was up 3.4% after strong demand for travel and lower fuel costs helped it to beat forecasts for fourth-quarter earnings per share by over 20%. The company has escaped disruption to its schedules by virtue of not having the grounded Boeing (NYSE:) 737 MAX in its fleet. However, the midpoint of its earnings guidance range for 2020 - $7.25 a share – represents a slight drop from 2019's $7.31.
Written By: Investing.com