Stocks - Wall Street Mixed After Varied Earnings Reports   
Investing.com | Oct 22, 2019 15:04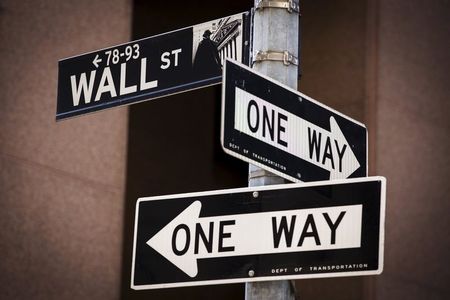 Investing.com – Wall Street opened mixed on Tuesday, with the Nasdaq leading gains after a batch of mixed earnings helped to slightly ease concerns about the impact of U.S.-China trade disputes.
The Dow was down 11 points or 0.1% by 9:49 AM ET (13:49 GMT), while the S&P 500 gained 3 points or 0.1% and the Nasdaq composited inched up 12 points or 0.2%.
Of the 75 S&P 500 companies that have reported results by Monday, over 80% had topped estimates, but threats over tariffs and slowing domestic growth remain.
Procter & Gamble gained 3.8% after its earnings beat estimates, thanks to demand for its premium beauty brands, while Biogen (NASDAQ:BIIB) surged 36.7% after it said it plans to seek Food and Drug Administration approval after positive phase 3 studies for its aducanumab drug for treating the early stages of Alzheimer's.
Harley Davidson jumped 7% after its earnings came in better than expected despite a hit to its bottom line due to slower U.S. sales and higher costs associated with European tariffs.
Elsewhere, McDonald's slipped 3.2% after missing estimates for quarterly sales at its U.S. restaurants, while Hasbro (NASDAQ:HAS) tumbled 14.6% after its earnings were hit by increased costs from tariffs on toys imported from China.
In commodities, the U.S. dollar index, which measures the greenback against a basket of six major currencies, was up 0.1% to 97.178 and gold futures gained 0.2% to $1,490.85 a troy ounce. Crude oil futures jumped 1.1% to $54.09 a barrel.
-Reuters contributed to this report
Written By: Investing.com