Stocks - Verizon, Intel Rise Premarket; Amazon, Boeing Fall
Investing.com | Oct 25, 2019 13:41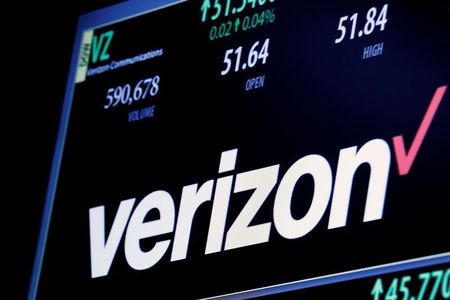 Investing.com - Stocks in focus in premarket trading on Friday:
• Verizon (NYSE:VZ) stock rose 0.7% in premarket trade by 8:20 AM ET (12:20 GMT) after the company added more monthly subscribers than expected.
•Amazon.com (NASDAQ:AMZN) stock declined 6% in premarket trade after the company forecast operating income in the current quarter well below the consensus. Revenue and profit growth also slowed at AWS in the third quarter, the cloud-computing business that has generated most of its profits in recent years.
• Intel Corporation (NASDAQ:INTC)stock jumped 3% after the company posted a quarterly profit of $1.42 per share, which was above forecasts. The chipmaker also raised its full-year revenue outlook.
• Boeing (NYSE:BA)stock dipped 0.6% after it was blamed in an Indonesian report for the fatal crash of a Lion Air flight involving the company's 737 MAX jet.
•Anheuser Busch Inbev (NYSE:BUD) stock slumped 8.3% after the brewer cuts its full-year forecasts due to declining sales in Brazil and South Korea. It also reported a sharp drop in sales volumes in China.
• Visa (NYSE:V) stock inched down 0.2% even as its revenue was higher than expected due to more debit and credit card spending.
Written By: Investing.com