Stocks - Cincinatti Bell, JD.Com, Tesla Rise in Premarket
Investing.com | Dec 23, 2019 14:08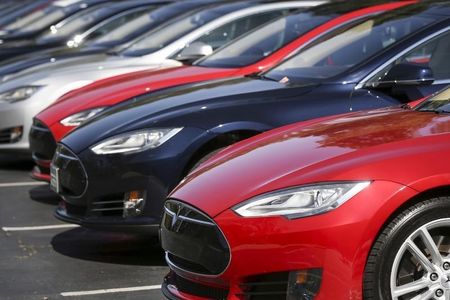 Investing.com -- Stocks to watch in premarket trade on Monday, 23rd December. Please refresh for updates.
Tesla (NASDAQ:) rose 1.8% after reports that it secured $1.4 billion in financing from Chinese banks for its planned Shanghai factory.
Fiber network operator Cincinnati Bell (NYSE:) rose 34% after agreeing to be bought by Brookfield Infrastructure Partners (NYSE:) for $2.6 billion, or $10.50 a share.
"This investment represents an opportunity... to acquire a great franchise and leading fiber network operator in North America," said BIP CEO Sam Pollock.
ADRs in Chinese e-commerce company JD.com rose 2.1% after Reuters reported that the company is looking at the possibility of an IPO for its logistics subsidiary, eyeing a valuation of at least $30 billion.
The IPO, tentatively slated for the first half of next year, would raise between $8 billion and $10 billion, Reuters sources said.
JD.com spun off its logistics unit into a standalone entity in 2017, before opening up the unit's delivery and warehousing services to third parties.
Aurora Cannabis Inc (NYSE:) fell 2.2% after saying it would rein in its planned expansion to conserve liquidity and cuts its short-term debt.
It said it has enough capacity to meet demand in the short term and said previously-announced deferral of building activity will conserve some $200 million in cash.
"The company expects to have the flexibility to ramp up projects as global demand dictates," it said.
Chesapeake Energy (NYSE:) fell 2.0% on second thoughts among bargain-hunters, after reports on Friday that the sale of Louisiana gas assets to Comstock Resources (NYSE:) - owned by Dallas Cowboys owner Jerry Jones - would be delayed by the debt restructuring that it agreed with bondholders last week.
The restructuring will pare around $1 billion from Chesapeake's debt burden, while the Louisiana sale would raise a similar sum, according to Reuters.
The deal had been expected to close this week but has now been pushed back to 2020.
ADRs in German chemicals group Bayer (DE:BAYGN) (OTC:BAYRY) were in focus after its local shares in Germany rose 2.7% to a two-month high on the back of news of a rare win in its litigation struggles over the weedkiller Roundup.
The Department of Justice and Environmental Protection Agency argued in a 'friend-of-the-court' brief on Friday for the reversal of a court ruling that instructed Bayer to pay $25 million to a man who blamed Roundup for his cancer.
Bayer assumed liability for Roundup-related cases when it bought Monsanto (NYSE:MON).
Written By: Investing.com