SHANGHAI (Reuters) - China stocks climbed more than 2 percent on Wednesday morning, aided by a surge in real estate and resources shares as investors welcomed signs of recovery in the property market while disregarding Moody's downgrade of its China outlook.
Hong Kong shares also rose sharply, led by energy plays (HSCIE), tracking gains in U.S. and European markets.
The blue-chip CSI300 index (CSI300) rose 2.2 percent, to 2,994.86 points by lunch time, while the Shanghai Composite Index <.SSEC> gained 2.3 percent, to 2,794.59 points.
In Hong Kong, the Hang Seng index (HSI) advanced 2.6 percent, while the Hong Kong China Enterprises Index (HSCE) added 3.5 percent.
In an apparent effort to manage market expectations, the official Xinhua news agency said in a commentary that China's cut in banks' reserve requirement ratio (RRR) - which took effect on March 1 - is by no means a signal of any coming large-scale stimulus.
The commentary follows rising speculation China could implement a version of the massive stimulus it adopted during the 2008 global financial crisis. That package was later criticised for misallocating resources and delaying much-needed structural reforms.
"There was some confusion over the government's policy directions. Now, investors have much clearer expectations," said Zeng Yan, strategist at Zhongtai Securities Co.
"Recent signs of recovery in the property market provided some confidence that the economy could be stabilizing."
Meanwhile, Zeng brushed aside the impact from the China outlook downgrade by Moody's Investors Service, saying the move is an underestimation of Beijing's strength.
Moody's cut its outlook to "negative" from "stable", saying there was a weakening in the government's fiscal position and uncertainty about the authorities' capacity to implement reforms.
Stocks rose across the board on Wednesday, with an index tracking developers <.SSEP> surging 4.5 percent, amid media reports that the market for homes has become hot in China's first and second-tier cities following a slew of supportive measures.
Resources stocks <.CSI300MT> were up 3.3 percent.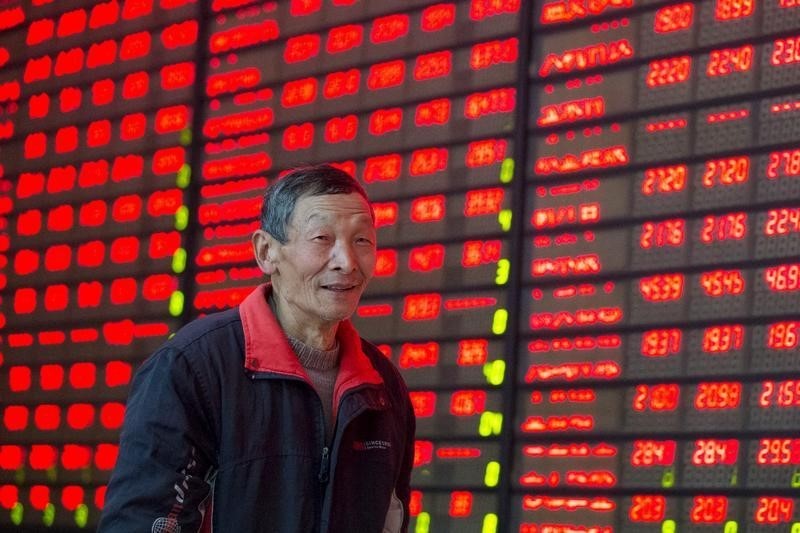 In Hong Kong, all main sectors rose as well, with energy (HSCIE) and resources (HSCIM) sectors among the biggest gainers, jumping over 4 percent.