SHANGHAI (Reuters) - China and Hong Kong stocks extended their rebound on Tuesday, led by energy shares, with investors inspired by a jump in oil prices, a rally in European equities and a stabilising yuan.
Mainland investors also gained confidence from upbeat comments from China's premier, and record-smashing loan data in January, although some traders suspected the rally would be short-lived.
China's blue-chip CSI300 index (CSI300) jumped 2.9 percent, to 3,030.59 points by the lunch break, while the Shanghai Composite Index <.SSEC> advanced 2.8 percent, to 2,823.86 points.
In Hong Kong, the Hang Seng Index (HSI) added 1.6 percent, to 19,228.55 points, while the Hong Kong China Enterprises Index (HSCE) gained 3.0 percent, to 8,099.65.
Chinese Premier Li Keqiang said that China faced great challenges, but there was still great potential and plenty of room to manoeuvre given the country's high savings rates.
Underscoring Beijing's efforts to counter stagnant growth, data on Tuesday showed that Chinese banks extended a record 2.51 trillion yuan ($385.40 billion) of new loans in January, well above expectations, while growth in money supply quickened to a 19-month high.
Li's comments followed People's Bank of China Governor Zhou Xiaochuan's bullish comments on the yuan over the weekend, which on Monday led to the currency's biggest jump against the U.S. dollar in a decade.
"From Zhou to Li, central government officials keep sending market-friendly messages. In addition, the rebound in global equity markets also lent support," said Zhou Lin, analyst at Huatai Securities.
He added sustainability of the rebound depends on whether trading volume would increase, as well as on fresh government policies.
Stocks rose across the board in China and Hong Kong, with energy shares <.CSI300EN> (HSCIE) leading the charge, as U.S. oil prices jumped back above $30 a barrel amid market speculation of a cut in global oil production.
But China's banking sector <.CSI300BI> underperformed the market, rising only 1.9 percent, after official data showed China's non-performing loans reached a 10-year high of 1.27 trillion yuan at the end of 2015.
"I think the rebound will be short-lived, and China's stock market hasn't bottomed out yet," said Shen Weizheng, fund manager at Shanghai-based Ivy Capital.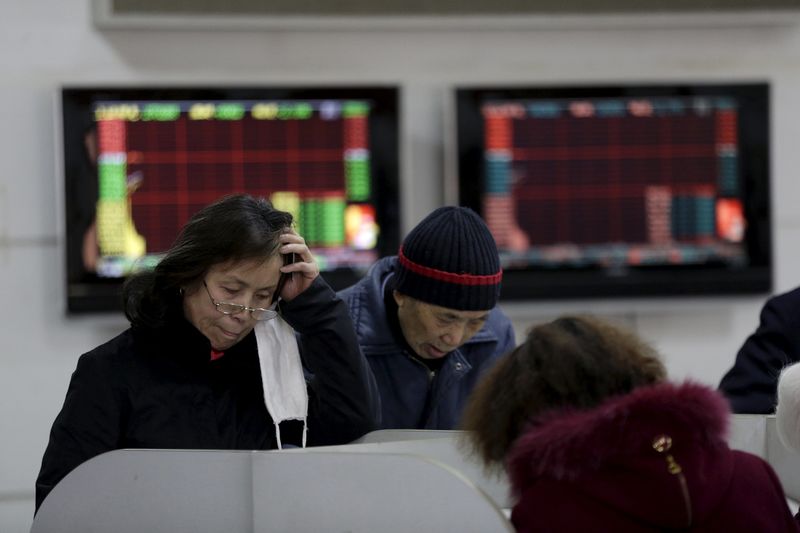 "China's economy is still in bad shape. Under such circumstances, the best strategy is to keep equity exposure very low."