Asian Stocks Trade Mixed Before U.S. Job Report: Markets Wrap
Bloomberg | Jan 10, 2020 03:14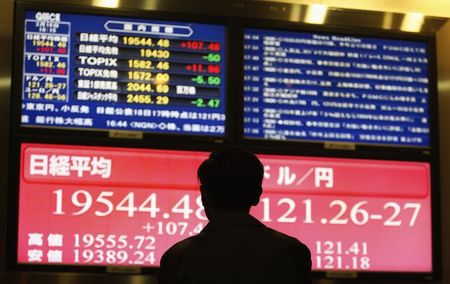 (Bloomberg) -- Stocks in Asia were mixed Friday ahead of the latest reading on the U.S. labor market, with a regional benchmark holding near an 18-month high.
Shares in Japan and Australia nudged up along with U.S. equity futures, while gains fizzled in Hong Kong and China. The S&P 500 Index climbed to a fresh record Thursday and the yen dropped to a two-week low versus the dollar as tension in the Middle East ebbed. Also aiding sentiment, jobless claims fell more than expected, adding to signs of economic strength ahead of the U.S. payrolls report Friday. Ten-year Treasury yields were flat.
Signs that America and Iran have stepped back from the brink of war helped revitalize risk appetite since the middle of the week. A well-flagged partial trade deal between the U.S. and China looks locked in as China's vice premier will visit Washington next week for a signing ceremony. Investors also received reassurance from Federal Reserve Vice Chairman Richard Clarida that the U.S. economy remains in a good place and the central bank isn't about to switch course.
"If growth recovers and even if inflation overshoots a little bit, the Fed is probably going to let it run, and that probably goes for other central banks, but if growth weakens they could cut again," Patrik Schowitz, global strategist at JPMorgan (NYSE:JPM) Asset Management told Bloomberg Television. "You have this asymmetric set-up and that's quite helpful for markets."
Elsewhere, oil traded near the lowest level since mid-December. The Australian dollar edged up after retail sales data topped estimates.
These are moves in major markets:
Stocks
Futures on the S&P 500 Index rose 0.2% as of 12:08 p.m. in Tokyo. The underlying gauge gained 0.7% on Thursday.
Japan's index advanced 0.1%.
The dipped 0.2%.
Hong Kong's was little changed.
South Korea's Kospi index rose 0.3%.
added 0.2%.
Currencies
The yen was little changed at 109.54 per dollar.
The dipped 0.1% to 6.931 per dollar.
The euro was little changed at $1.1108.
Bonds
The yield on 10-year Treasuries remained at about 1.86%.
Australia's 10-year yield held at 1.24%.
Commodities
West Texas Intermediate crude dipped 0.3% to $59.39 a barrel.
Gold slid 0.2% to $1,548.91 an ounce.
Written By: Bloomberg