By Marc Jones
LONDON (Reuters) - World stocks fell to near 2-1/2 year lows on Monday as a fresh pounding for Chinese markets left Asia at a four-year trough and sent oil and commodity markets sprawling again.
Europe's main bourses saw a more steady start (FTEU3) but investors were still shaky after a torrid session in Asia as doubts continued to mount about Beijing's ability to manage the world's second-biggest economy.
The absence of Tokyo for a holiday only made liquidity even harder to come by, heightening volatility. Currency markets saw some wild swings with the South African rand collapsing to record lows at one point before bouncing.
Commodities were again on the ropes as Brent crude oil (LCOc1) shed 90 cents, or 2.6 percent, to $32.67 a barrel, while U.S. crude (CLc1) was 74 cents lighter at $32.41 as both hovered near last week's 12-year lows. [O/R]
"The Chinese situation sets the agenda right now in combination with oil prices," said Hans Peterson global, head of asset allocation at SEB investment management.
"Before we see some meaningful transparency from China in its actions and some stability in the commodity markets, we are not going to get a stabilisation," he added, saying his firm had become more cautious and been buying up bonds recently.
Europe was trying its best to shake of the jitters. After an early wobble, the DAX (GDAXI) in Germany and France's CAC (FCHI) climbed more than 1 percent and London's FTSE 100 (FTSE) and Wall Street futures (ESc1) both clawed back into positive territory.
Asian trading had been brutal however.
MSCI's broadest index of Asia-Pacific shares outside Japan (MIAPJ0000PUS) slid 1.8 percent to its lowest since late 2011. China's main indexes (CSI300)<.SSEC> slumped more than 5 percent, Australia (AXJO) 1.2 percent and the Philippines (PSI) dropped 4.3 percent.
Beijing was again the epicentre of unease as the People's Bank confounded analysts by guiding the yuan's midpoint rate sharply stronger, a move that might calm concerns about a competitive devaluation but only added to market confusion as to Beijing's ultimate intent on its currency policy.
The move was an apparent reversal of the midpoint's recent weakening trend which included the biggest one-day drop in the guidance rate in five months on Jan. 7.
"Authorities are reluctant to let market forces rule, which along with their indecisiveness and lack of transparency is exacerbating uncertainty," said Tapas Strickland, an economist at National Australia Bank.
"Understandably, amidst this global markets are selling Chinese policymaker's ability to control their economy."
RAND SACKED
The uncertainty about the yuan only heightened tensions ahead of China trade data on Wednesday where declines are expected in exports and imports, underlining just how anaemic world trade flows are right now.
Both the Dow (DJI) and the S&P 500 (SPX) had their worst five-day starts in history last week, and the corporate news flow is unlikely to get any cheerier with the coming results season expected to be a tough one.
S&P 500 earnings are forecast to have dropped 4.2 percent in the fourth quarter, a second straight quarterly decline led by the hard-hit energy and materials sectors.
The pain in stocks and worries over China even outweighed the positive impact of December's upbeat U.S. payrolls report and burnished the appeal of higher-rated government bonds.
Yields on 3-, 7-, and 10-year U.S. Treasuries all had their biggest weekly declines since early October last year, while five-year yields dropped by the most since Sept. 2013.
The gains continued on Monday with U.S. 10-year Treasury futures (TYc1) up 3 ticks, while Fed fund futures <0#FF:> were pricing in a slightly shallower upward path for rates.
In currency markets, the main early news was the yen which is often favoured in times of stress as Japan remains the world's largest creditor nation.
The dollar initially fell half a yen to a near five-five month low of 116.70 yen , before steadying around 117.65.
Dealers said Japanese investors seemed to be bailing out of long positions in the South African rand by selling rand for dollars and then those dollars for yen.
That saw the dollar surge as much as 10.3 percent at one stage to 17.9950 rand , before tracking back to 16.5945. That was still up from 16.3150 late on Friday.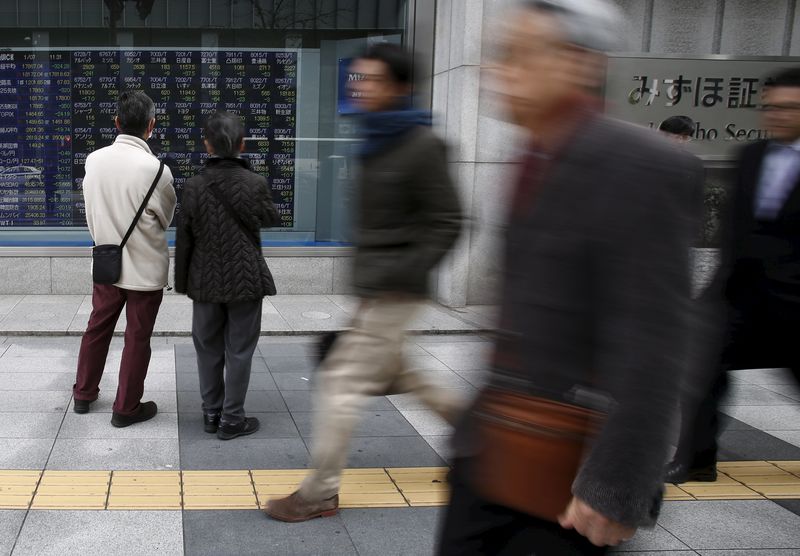 Among the other key emerging market currencies, the Russian rouble opened almost 2 percent weaker, continuing to fall along with oil prices, while for the major, the euro started firmer but soon softened to $1.0877 as the dollar index nudged up to 98.656 (DXY). [FRX/]