Lira Surges as Turkey Hikes Rates, Tweaks Policy to Tackle Runaway Inflation
Investing.com | Nov 19, 2020 20:20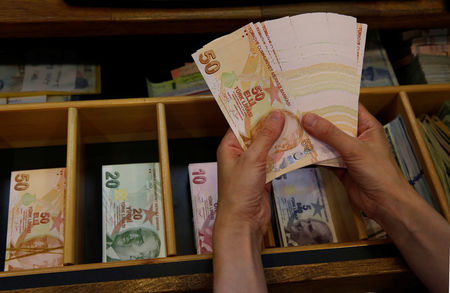 By Yasin Ebrahim
Investing.com – The lira surged against the dollar Thursday after the central bank of Turkey hiked rates and ended its controversial rate corridor operations, prompting analysts to cut their bearish bets on the Turkish currency following months of weakness.
USD/TRY fell 1.88% to TRY 7.5592, its lowest level in nearly two months.
Turkey's central bank raised its main benchmark repo rate by 475bps today, in line with expectations, and removed the one-week repo rate in favor of the overnight lending rate as the key policy rate, ending its rate corridor operations.
The move to increase monetary policy transparency was hailed by analysts as they reined in their bearish forecasts for the lira.
"We no longer forecast USD-TRY to overshoot in coming months, rather we forecast consolidation in the 7.50 range during H1 2021," Commerzbank (DE:CBKG) said.
Yet, with many aware the central bank of Turkey is kept on a short leash somewhat by President Erdogan, the jury is still out on the bank's independence.  
"Still, given the President's earlier remarks this week, markets will want more clarification on how patient he is willing to be and whether or not CBT will fully target inflation," Commerzbank added.
For now, there appears to be consensus among market participants that in the absence of external shocks – likely triggering pressure from Erdogan to cut rates again – the central bank can make progress in tackling runaway inflation that has dogged its economy.
Written By: Investing.com