Gold Sells Off on Upbeat Statements on Trade, Brexit
Investing.com | Oct 10, 2019 16:06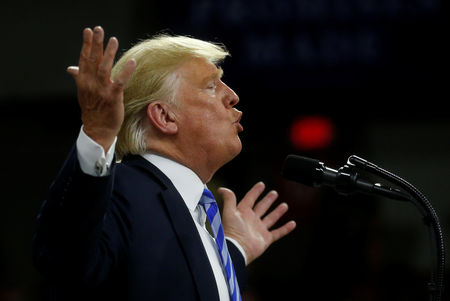 Investing.com -- Gold prices fell on Thursday as positive news out of last-ditch Brexit talks in Europe and hopes for at least an interim trade deal between the U.S. and China supported risk assets at the expense of havens.
U.S. President Donald Trump tweeted that he expects to meet with China's top trade negotiator Liu He on Friday, something that reports had previously suggested would only happen if there were something of substance to discuss.
The yield on the 10-Year U.S. Treasury bond rose six basis points to 1.64%, its highest this month, as traders bet that an improvement in the trade outlook would reduce the need for more interest rate cuts from the Federal Reserve. Lower-than-expected U.S. consumer inflation data for September had earlier suggested there was little in the Fed's way to stop it cutting if it wanted to.
Reports over the last 24 hours have suggested that ways to temporarily de-escalate the trade conflict between the two could include a 50% increase in Chinese purchases of U.S. soybeans and the further delay of the next scheduled increase in tariffs on imports of Chinese goods into the U.S. The reports have, however, not been confirmed.
Meanwhile in Europe, bonds sold off sharply after U.K. Prime Minister Boris Johnson and Irish Taoiseach Leo Varadkar said they had held "constructive" talks on avoiding a disorderly Brexit and see "a pathway to a possible deal."
BBC reporter Laura Kuensberg said it was impossible to tell how much substance there was behind the statement.
By 10:50 AM ET, gold futures for delivery on the Comex exchange had fallen to $1,498.25 a troy ounce, having touched an intraday low of $1,496.85 immediately after the Anglo-Irish statement.
Silver futures also retreated, losing 1.5% to $17.53 an ounce, while platinum futures fell 0.2% to $895.10 an ounce.
Written By: Investing.com