Live: Mario Draghi Press Conference as ECB Eases Policy, Holds Rates Steady
Investing.com | Jun 06, 2019 11:53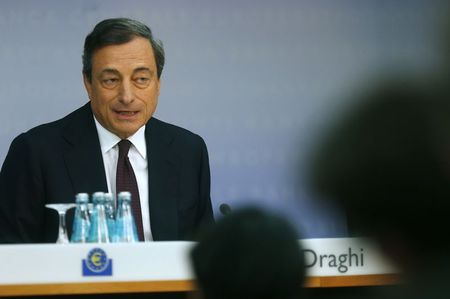 Investing.com - The European Central Bank left interest rates unchanged as expected on Thursday, amidst a backdrop of tame inflation in the currency bloc and downside risks from global trade issues.
The ECB again pushed back the date it will start considering hiking rates. In a statement, the ECB said that "the Governing Council expects the key ECB interest rates to remain at their present levels at least through the first half of 2020."
The ECB press conference, following the rate statement, will begin at 12:30 GMT and can be viewed live in the video below.
The central bank was widely expected to leave its official rate at 0.00% at the meeting in the Lithuanian capital, Vilnius on Thursday. The deposit rate has been at -0.4% and the key refinancing rate has been at 0% since March 2016.
The bank chose not to reintroduce the possibility of another interest rate cut into its forward guidance.
At 11:50 GMT, following the rate announcement, EUR/USD was up 0.27% to 1.1250. The single currency was up 0.15% against the pound at 0.8855.
Investors will be closely following President of the ECB Mario Draghi's press conference for indications of future easing.
Recent comments from Fed Chair Jerome Powell, who hinted the Federal Reserve could cut interest rates to support the economy, and rate cuts this week from the Reserve Bank of Australia will increase the focus on Draghi's comments.
Watch the ECB press conference live from Vilnius in the video link below:
Written By: Investing.com