Fed Keeps Rates Steady, Signals No Hikes Through 2023
Investing.com | Sep 16, 2020 18:52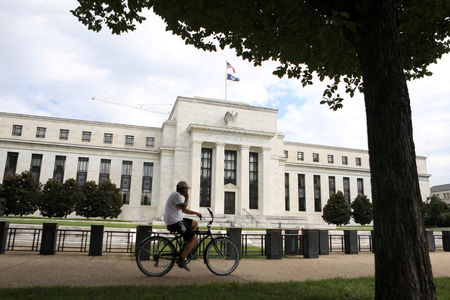 By Yasin Ebrahim
Investing.com – The Federal Reserve kept rates unchanged Wednesday, and reiterated that monetary policy would remain accommodative for a prolonged period to support the economy's ongoing recovery.
The Federal Open Market Committee left its benchmark rate unchanged in the range of 0% to 0.25%.
The unchanged decision comes just weeks after Federal Reserve chairman Jerome Powell unveiled the central bank's average inflation targeting regime, designed to allow inflation to overshoot its 2% target in an effort to achieve long-term price stability. The move has raised expectations that rates could be held near zero for longer than would have been the case under the Fed's previous target, with some market participants forecasting no rate hikes until 2023.
Many argue that the Fed had raised rates too quickly in the Financial Crisis era, on expectations that inflation would eventually trend toward target, underpinned by a hot labor market. The new approach seeks to avoid a repeat of inflation running below target for a prolonged period.
The Fed's pledge to keep rates near zero and persist with asset purchases has helped support an uptick in economic activity, with the recovery in the labor market currently tracking above expectations.
Earlier this month, the Labor Department reported the unemployment rate fell to 8.4%, while core PCE inflation, the Fed's preferred measure of inflation, came in at 1.3%.
The Fed's balance sheet has increased in recent weeks to over $7 trillion, nearing the June peak of about $7.2 trillion.
Fed Chairman Jerome Powell is expected to field questions on the economy including the outlook for rates following the central bank's new approach to inflation. The press conference gets underway at 14:30 ET (18:30 GMT).
Written By: Investing.com