Zoom Video Communications (NASDAQ:ZM) has had an incredible run this year. The stock is benefiting from a surge in demand for the company's digital communications tools amid the COVID-19 pandemic.
Shares soared to new highs this week, adding to its five-fold gains this year as millions of workers and students flocked to its video-conferencing service in a global work-from-home environment. The company's latest earnings, released Tuesday, showed the San Jose, California-based company is emerging a clear winner, translating the demand for its services into healthy profit.
Zoom reported the second-largest sales surge among NASDAQ 100 companies last quarter, clearly separating itself from those players whose stock valuations aren't backed by strong sales.
Revenue jumped to $663.5 million in its last quarter. That's four times more than in the same period a year earlier. Analysts, on average, were forecasting $500 million for the period. Earnings, excluding some items, were $0.92 cents a share in the period ended July 31, compared with analysts' estimates of $0.45.
Shares surged 47% after the report, swelling Zoom's market cap to $121.35 billion—a $37-billion increase, making it one of the hottest stocks this year. Zoom, which went public in April 2019, was worth about $16 billion after its initial day of trading.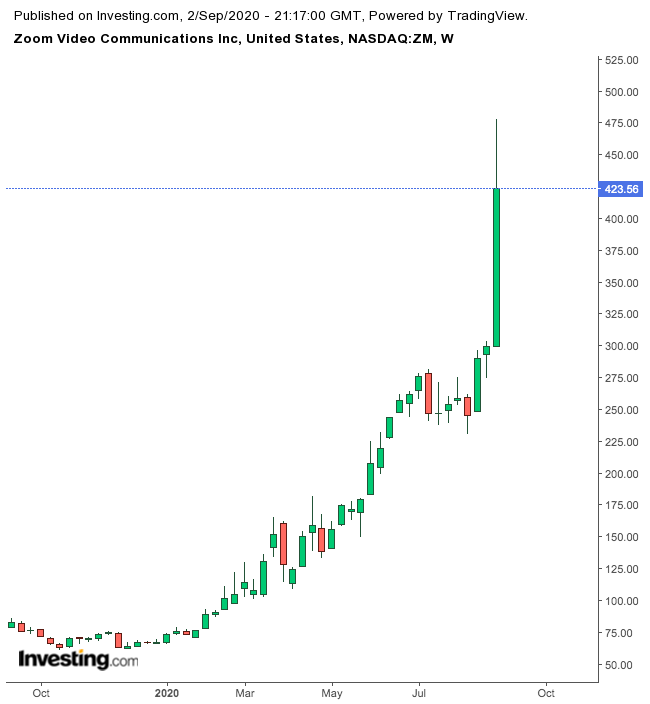 After yesterday's rally, Zoom is now worth more than 140-year-old IBM (NYSE:IBM) and the high-flying chipmaker AMD (NASDAQ:AMD). For investors who are just thinking of adding Zoom to their portfolio, the biggest question is whether it'is the right time to enter this trade.
Explosive Growth To Continue
To justify Zoom's current valuation and its future upside potential, investors need to be convinced that demand for video-conferencing is here to stay, even after the pandemic is contained.
Zoom gave a forecast suggesting the explosive growth will continue. Sales will be as much as $2.39 billion in the fiscal year ending in January as revenue almost quadrupled in just one year. Zoom previously projected fiscal-year revenue of $1.8 billion.
Zoom's Chief Financial Officer Kelly Steckelberg told Bloomberg that communicating via video is not a fad, and the company is hiring as quickly as it can to meet the growing demand. Analysts, on the other hand, are trying to catch up fast with this remarkable momentum that the company is showing since the onset of the COVID-19 pandemic.
After this week's blowout earnings report, many analysts upgraded their price targets on Zoom, including JPMorgan, RBC Capital and Goldman Sachs.
JPMorgan set $425 per share target on Zoom by December of 2021. The previous target was $220 per share for December of this year. BTIG changed its rating to buy from neutral and issued a $500-per-share price target. The firm thinks that there is more growth ahead for the company.
"Moving forward, we fully expect even more companies, colleges, K-12 schools and organizations of all kinds to embrace hybrid, flexible environments, driving significant demand for Zoom as the clear leader in the video-first, UCaaS market," the note said.
Goldman Sachs, which previously had a sell rating on the stock, upgraded Zoom to neutral. The firm also raised its price target to $420 per share from $187, saying:
"While our view on the company's management team, product quality and positioning has never been anything but positive, and remains so, our view on the limits to its valuation have been incorrect." 
With sales surging and Zoom signing up large customers, such as Exxon, to provide them with the latest digital communication tools, the company could become a potential acquisition target by tech titans like Microsoft, Google's parent Alphabet and Facebook.
Earlier this month, the company announced both Facebook and Google will add Zoom support on their respective hardware devices.
"These tech giants have their own video-conferencing offerings, and yet still felt compelled to add Zoom capability to their products, a sign of the company's strong market position," according to a Bloomberg analysis on the company's prospects.
Bottom Line
Zoom stock may lose some of its momentum after such a powerful post-earnings rally, but it is in great growth mode, which is unlikely to slow down given the increasing need for people to work and study remotely. The quality of the company's management and its superior conferencing tools suggest this stock has more upside potential.

Written By: Investing.com