An inversion of the 2 year and 10-year bond yield curves in the previous session sent panic across the markets. The DOW closed down 800 points, below its 200-day moving average as investors sold out of riskier assets, such as stocks, and moved into safer havens such as bonds, gold and the Japanese yen.
The inversion of the 2-year yield curve with the 10 year yield curve provoked such a reaction because it is considered a clear signal for a recession. These yield curve's inverted before each of the 7 previous recessions, including the Great Recession.
Whilst an inverted yield curve preceded each recession, every inverted yield curve does not lead to a recession. In the same breath, US – Sino trade tensions, Brexit, Italian politics and political unrest in Hong Kong are giving investors plenty to fret about.
Fears have eased in early trading this morning; investors are bargain hunting after yesterday's bloodbath and Dow futures are nudging higher recouping some losses. Yet without any good news to support the move higher, today's rally could be more of a dead cat bounce rather than any meaningful advance owing to a change in risk sentiment.
Dow Transportation Index Points To More Pain To Come
The fact is that no one actually knows what is next for the markets. However, the signs flashing from the markets are not great. Far from it. In addition to the inverted 2 year and 10 year yield curve, the Dow transport index which is often viewed as a lead indicator for wider stock market movements is also showing signs of strain. The DJT is currently down 11.5% from its April high, whilst the Dow is down just 6.8%.
Up Next
US retail sales data is up next. Expectations are for retail sales to have increased a steady 0.3% month on month. Given current slowdown fears and surprise to the downside could result in US futures quickly giving up this morning's gains.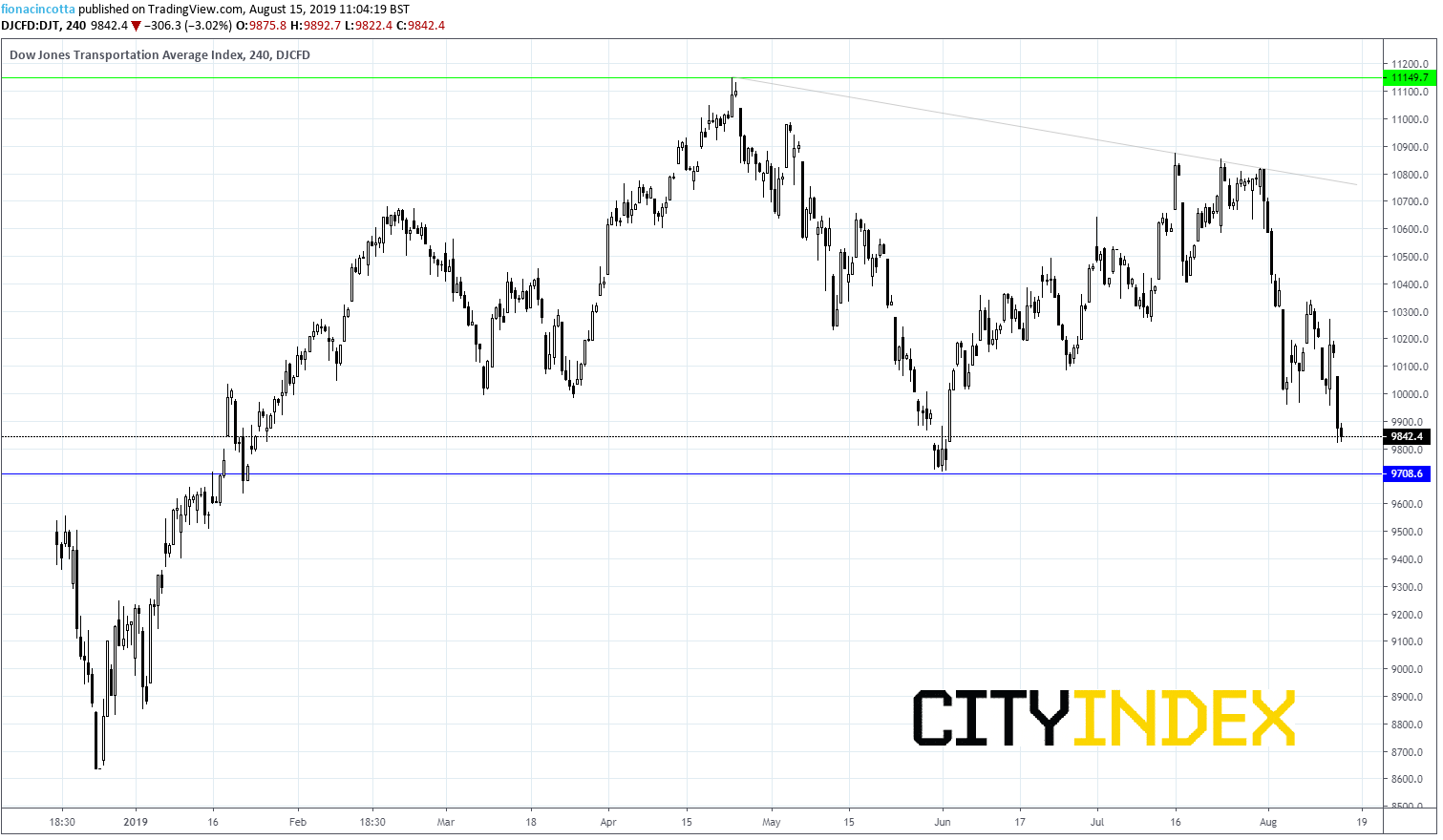 "Disclaimer: The information and opinions in this report are for general information use only and are not intended as an offer or solicitation with respect to the purchase or sale of any currency or CFD contract. All opinions and information contained in this report are subject to change without notice. This report has been prepared without regard to the specific investment objectives, financial situation and needs of any particular recipient.
Any references to historical price movements or levels is informational based on our analysis and we do not represent or warrant that any such movements or levels are likely to reoccur in the future. While the information contained herein was obtained from sources believed to be reliable, the author does not guarantee its accuracy or completeness, nor does the author assume any liability for any direct, indirect or consequential loss that may result from the reliance by any person upon any such information or opinions."
Written By: Fiona Cincotta