Are investors in the cannabis sector developing a growing sense of impatience? Could this speed up the push to profitability?
There is evidence to support the theory. Just yesterday some of the major stocks in the arena, Canopy Growth (NYSE:CGC), (TSX:WEED), Cronos Group (NASDAQ:CRON), (TSX:CRON) and Tilray (NASDAQ:TLRY), gave up ground, adding to their losses from last week.
Increased sales, expanding networks, strategic partnerships—the highlights that once spurred stock prices higher—are largely being ignored as the pathway to profit takes on greater importance even though the industry is still in its infancy.
Adding to the impatience are the devastating headlines sparked by CannTrust Holdings (NYSE:CTST), (TSX:TRST), which continue to come at a head-spinning pace. The latest blow to hit the troubled Canadian-based cannabis grower landed yesterday as the company was officially informed that its growing operation in Vaughan, Ont., was not compliant with Canada's federal government regulations, sending shares down more than 27.5% at the close.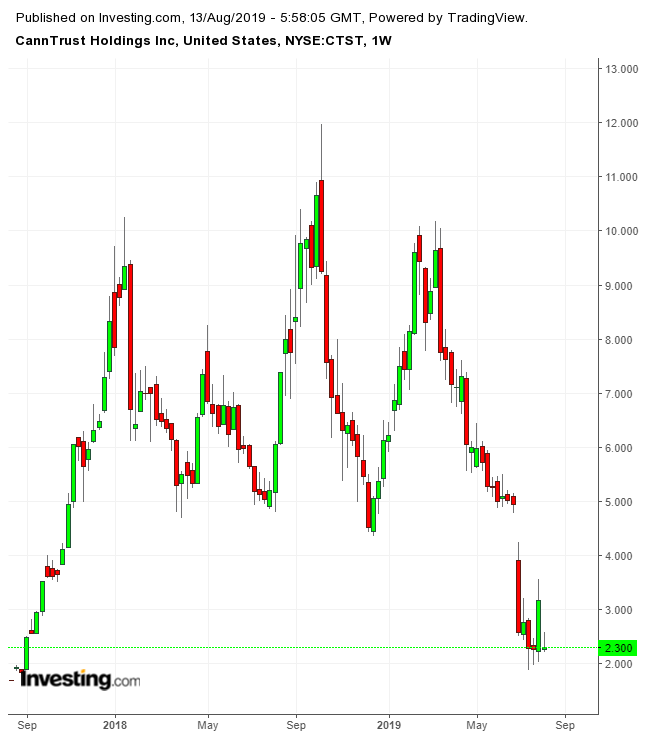 Since early last month, when it first publicly acknowledged it had been growing marijuana in unlicensed spaces at its greenhouse facility in Pelham, Ont., CannTrust has lost about 55% of its market cap. The medical cannabis provider has been in crisis mode ever since. It has ceased selling product and exporting goods, fired a CEO and lost its chairman of the board. CannTrust launched an internal investigation and pledged to cooperate with regulators as it struggles to regain its footing.
Other specific signs of investor impatience in the cannabis sector were seen last week, as two major players reported their latest earnings. Both Aphria (NYSE:APHA), (TSX:APHA) and Cronos Group earlier this month reported better-than-expected numbers, but neither company saw a sustained bump in share price.
In fact, Cronos on Aug. 8 reported it had almost tripled revenue figures compared with the same period last year. But mounting operating costs ate into its solid revenue numbers, leaving an overall loss of $13.44 million USD (C$17.8M) for the quarter. The result: the stock went up on the early news but has been slipping ever since. It opened Aug. 8 on the NASDAQ at $14.60 and closed yesterday at $13.25, a decline of 9.25%.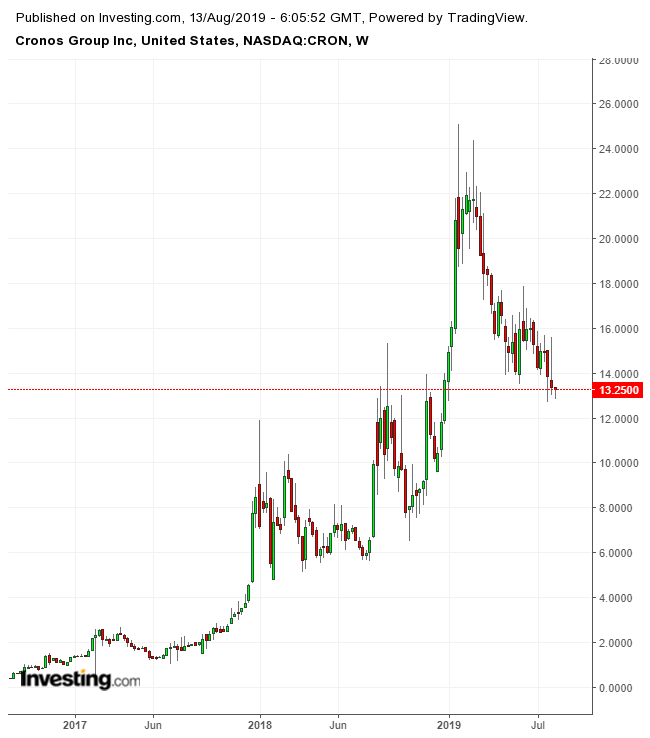 Over at Aphria, fourth quarter results set a precedent in the sector as the company posted a profit for the three-month period that ended May 31. It was the first profit report since marijuana was legalized in Canada in the fall of 2018. Distribution revenue jumped and cannabis sales made impressive gains. Its stock price soared on the news, gaining more than 42% on Aug. 2., but is down almost 11.5% since then.
A glimpse at just how impatient investors will remain could come later this week when two of the biggest cannabis companies—Canopy Growth and Tilray—unveil their earnings.
Canopy Growth will report Aug. 14. It is under pressure to perform. After the last earnings report, the board canned its high-profile CEO and founder, Bruce Linton.
Although this week's earnings report will cover the three-month period ending June 30, which is the last quarter of Linton's tenure at the company, Canopy's major investor, U.S. beer-maker Constellation Brands (NYSE:STZ) has made it clear it is looking for a shift.
There are two key metrics analysts will be watching in the Canopy report. The first will be overall sales.
The second area will be an indication of progress in the edible and beverage sector, as the Canadian retail rollout is set for later this year. It might be difficult to see that in the numbers because it is still in the planning stages, but there is physical proof. Last week, construction crews were putting the finishing touches on a bottling facility for cannabis-infused drinks near the headquarters in Smith Falls, Ont., as well as on a global distribution plant. Two concrete indications that expansion will soon give way to more profitable sales and distribution activities in area of greater profit margins.
Tilray reports after the closing bell today.
Something To Consider
A statistic to consider: one in seven Americans uses CBD oil. This figure, released last week by the Gallup poll, represents 14% of the U.S. population who say they use some form of the oil, primarily for therapeutic reasons. Based on 2,500 telephone interviews between June 19 to July 12, these findings point to the explosive popularity of the hemp-based product.
According to the poll, one in ten people over the age of 65 uses the cannabidiol, the non-psychoactive extract from hemp and marijuana. The survey also asked respondents what they used CBD for: 40% said they used the oil for pain, 20% used it for anxiety, 11% for sleep, 8% for arthritis, 5% for headaches and 5% for stress.
The use of CBD in the U.S. has spread since the passage of the U.S. Farm Bill late last year that legalized the growing of hemp. The Food and Drug Administration is currently developing regulations to allow CBD to be marketed in food and as a dietary supplement.

Written By: Investing.com