by Tanzeel Akhtar
Since the beginning of December, cryptocurrency IOTA has surged as much as 70% higher, pushing past Ripple and Litecoin to become the fourth most popular digital currency right now, with a current market cap of $13.46B.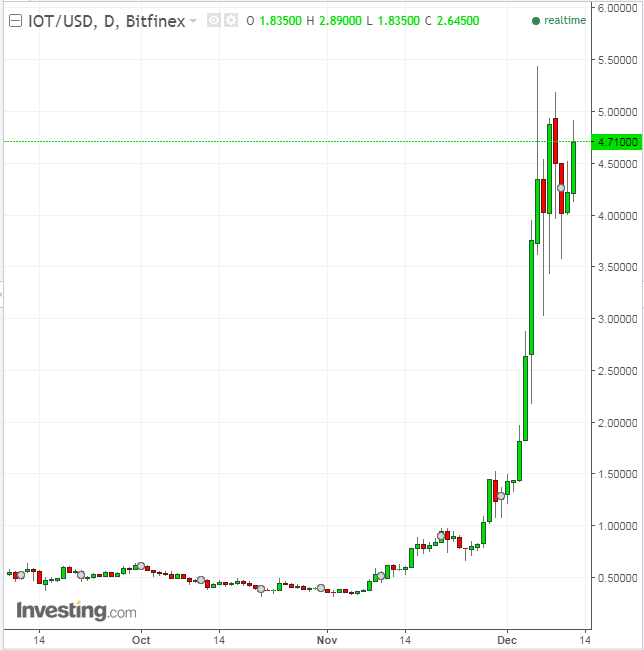 As of this writing, IOTA is trading at $4.716. Last month it was trading at $1.53. Why would a digital currency that's been under the radar since it's token exchange launch nearly six months ago, in mid-June 2017, suddenly skyrocket by more than 200%?
One likely trigger was the announcement of IOTA's upcoming partnerships with a variety of global tech giants including Microsoft (NASDAQ:MSFT), Samsung (OTC:SSNLF), Cisco (NASDAQ:CSCO) and Fujitsu (OTC:FJTSY). Its appeal for these mega caps may very well be that IOTA's architecture owes nothing to Bitcoin or blockchain.
Rather, IOTA relies on a directed acyclic graph (DAG). This DAG is referred to as the "tangle", and differs significantly from the blockchain protocol. According to IOTA's developers, along with zero transaction fees, the altcoin provides "infinite scalability, fast transactions and secure data transfers." As well, it can't be mined. Developers note that "all of the IOTA that will ever exist were created in the genesis block."
IOTA's founders describe the altcoin's functionality as a paradigm shift that only now is gaining visibility. David Sønstebø, one of IOTA's co-founders explains:

"IOTA has been growing steadily over the past two years, but we have focused on the technology and long-term vision rather than promotion. This has led it to go somewhat under the radar for the masses. Now with the expansion into Asia, simultaneous to the most significant use case (data marketplace) thus far that IOTA deployed with numerous leading global participants, it has culminated into mainstream recognition."
Ivan Soto-Wright, managing partner at HODL.vc and founder of OINKY, a platform for savings, says he has seen an incredible demand for a variety of cryptocurrencies, spurred by the all-time highs and record performance of Bitcoin. He notes:
"Interest in IOTA has recently surged on news that it is collaborating with the biggest global corporate names in IOT, Microsoft, Samsung, Cisco and Volkswagen) to launch a secure marketplace for business-business data sharing. IOTA's 'Tangle' technology...also has great promise, as it aims to solve both scalability and transaction fee issues faced by other blockchains."
Beware bugs and transaction slowness
Despite the recent surge and increased interest, some users have complained of technical issues including delays and transaction confirmations that can take days or even weeks.
Sønstebø responded:
"The are always some minor bugs to be ironed out. It's important to stress that IOTA is very young compared to Bitcoin and Ethereum. Some transaction issues are related to these minor bugs. However, a lot of it simply has to do with a complex UIX. IOTA is a back-end technology first and foremost, that is the IOTA Foundation's main priority. This issue is being resolved by several teams working on a multitude of very user-friendly IOTA wallets to be released in the coming weeks."
Teething problems are a normal part of early-stage cryptocurrency development. One source explained that IOTA is targeting the Internet-of-things market and is engineered for big data. By NOT using blockchain but rather "tangle," it scales more quickly and cheaply by circumventing the use of an entire network to validate and record transactions.
Andre Ornish, founder and CEO of Luna a blockchain dating app sees the recent spike as confirmation of the alt-coin's archetype:
"IOTA's recent spike is market validation of their unique model in the eyes of the cryptoinvestor community. This is spurred by the announcement of the Microsoft partnership, and the nonexistence within their protocol of the transaction fees and congestion which are currently handicapping Bitcoin and Ethereum, respectively."
It may be way too early to position IOTA as a full-on challenger to Bitcoin and some of its offspring, but it's clearly another cryptocurrency elbowing its way up. An though nobody saw IOTA coming, since the beginning of December it's most definitely declared its presence.

Written By: Investing.com