As of Tuesday 10th September:
Traders trimmed bullish exposure to USD by -$0.54 billion, placing them at +$12.6 billion net-long (+$15.3 billion against G10 currencies)
Traders are their most bullish in the USD index (DXY) since February
The British pound saw the largest weekly change, with traders adding another 7.3k contract to their net-short exposure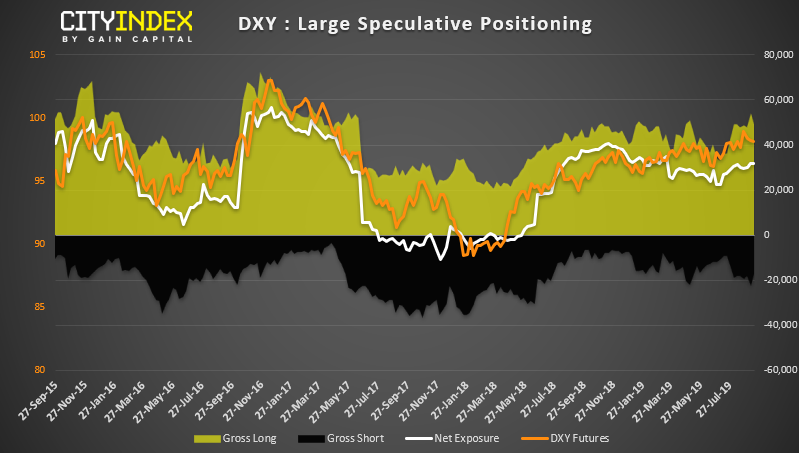 DXY: Whilst net-long exposure is at a 7-month high, it was seen on lower volumes with open interest declining by -10.2k contracts. Both longs and shorts reduced exposure, so it slightly undermines the bullish increase of positioning. Still, Wednesday's FOMC meeting is in focus this week, which could see either bulls or bears return to the table to provide further clarity.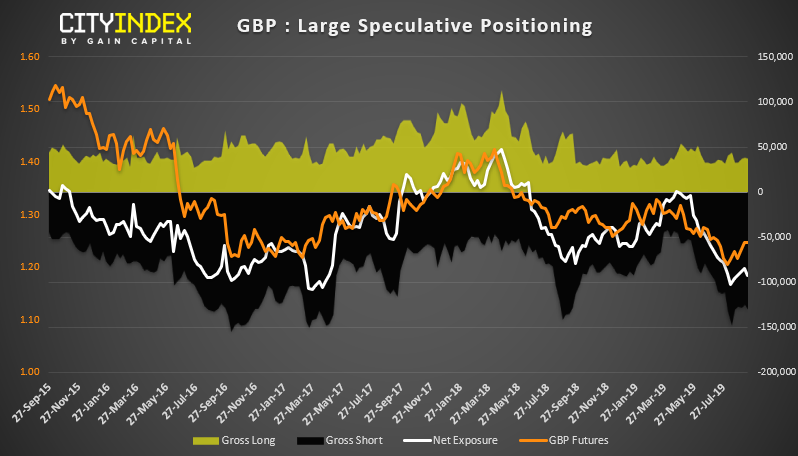 GBP: With net-short exposure increasing by Tuesday's close, we can only assume short-covering has fuelled the bullish breakout on GBP/USD on Friday. After hitting 1.25 following its breakout from compression, price action suggests there could be further upside and traders could look to buy dips above 1.24.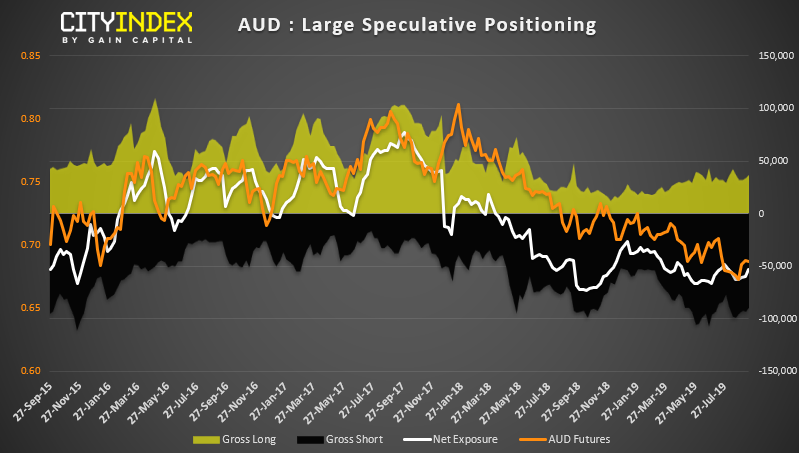 AUD: Baby steps, but we can't help but notice the bullish divergence forming between the net-short exposure and price action. Sure, price action remains in a clear downtrend, but gross-short exposure has reached historical extremes usually associated with rallies, and short-exposure is beginning to dwindle. So we'll be keeping a close eye on positioning for the Aussie, as it is reminiscent of the slow turnaround seen on CAD earlier this year.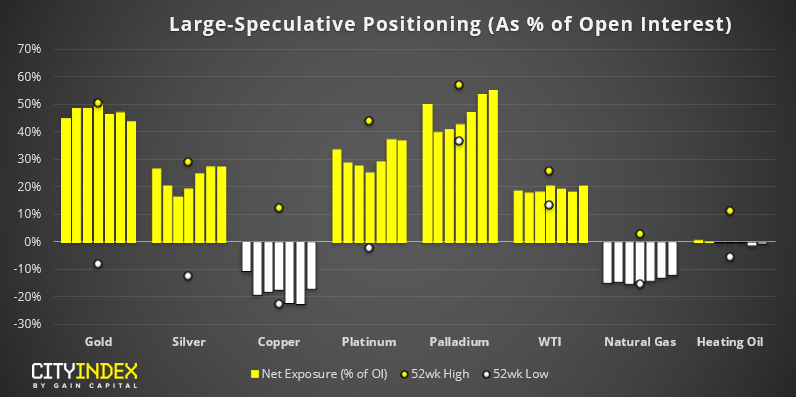 As of Tuesday 10th September:
Gold bugs reduced net-long exposure at their fastest rate in 4-months
Traders were their most bullish on platinum in 18-months
Short covering supported copper prices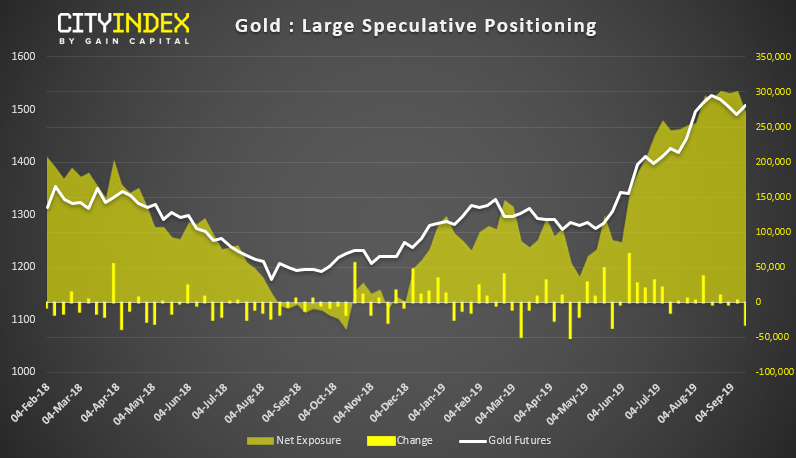 Gold: Gold prices finally came off after signaling a bullish sentiment extreme in the preceding weeks. With traders reducing net-long exposure by -3101k contracts, it's their most aggressive long-reduction in over four months. However, short positioning was mostly unchanged (at just -449 contracts), so it appears this is part of a much-needed correction, as opposed to a bearish case for gold. Besides, with geopolitical tensions rising once more, gold prices could remain stubbornly high.
"Disclaimer: The information and opinions in this report are for general information use only and are not intended as an offer or solicitation with respect to the purchase or sale of any currency or CFD contract. All opinions and information contained in this report are subject to change without notice. This report has been prepared without regard to the specific investment objectives, financial situation, and needs of any particular recipient.
Any references to historical price movements or levels are informational based on our analysis, and we do not represent or warrant that any such movements or levels are likely to reoccur in the future. While the information contained herein was obtained from sources believed to be reliable, the author does not guarantee its accuracy or completeness, nor does the author assume any liability for any direct, indirect or consequential loss that may result from the reliance by any person upon any such information or opinions."

Written By: City Index