U.S. contracts retreat from all-time highs
Hong Kong violence escalates, potentially complicating U.S.-China trade deal
RBNZ surprises, keeps rates unchanged, boosting the NZD
Key Events
After U.S. President Donald Trump renewed his tariff threat against China, U.S. futures contracts—including for the NASDAQ, Dow and S&P 500—retreated from their all-time highs. As well, this morning, exacerbated by the roiling unrest in Hong Kong, global shares are a sea of red.
Global Financial Affairs
Life in Hong Kong is in "disarray," after a night of fierce confrontations. According to reports, public transportation has been suspended or delayed, universities are closed, and workers took to the streets for a third straight day. Nonetheless, trade remains the most influential theme for markets, now that major central banks are seen to be keeping rates unchanged and the current earnings season is winding down.
Still, while some might underestimate the impact the turmoil in Hong Kong has on global markets, keep in mind that Chinese companies are exposed to selloffs on that city's Hang Seng exchange. As the world's second largest economy, the fallout for China—embroiled in a trade war with the world's largest economy, no less—could be severe.
One obvious potential downside: the trade agreement itself. While lately the U.S. has been quiet about the civil unrest in the city, Trump has previously voiced concerns. If he decides to get involved, it could make a trade deal a lot more difficult to come by. Which is probably why he's been silent on the situation during the latest round of violence.
This morning the STOXX Europe 600 Index moved lower, along with bank shares, after ABN AMRO Group (AS:ABNd) missed on earnings.
Hong Kong's Hang Seng plunged, (-2.02%), leading the Asian financial hub into an economic depression. Japan's Nikkei 225 slumped, (-0.85%), along with South Korea's KOSPI (-0.86%) and Australia's ASX 200 (-0.91%).
On Tuesday, immediately after Trump's speech, shares in the U.S. edged higher on cautious optimism for an incremental trade agreement. The S&P 500, (+0.16%), notched a new all-time high but finished shy of a record close. The NASDAQ Composite, (+0.26%), posted a new record, on both a closing and intraday basis. That's particularly surprising considering the recent trade rhetoric and the sector's sensitivity to trade relations between the world's two largest economies.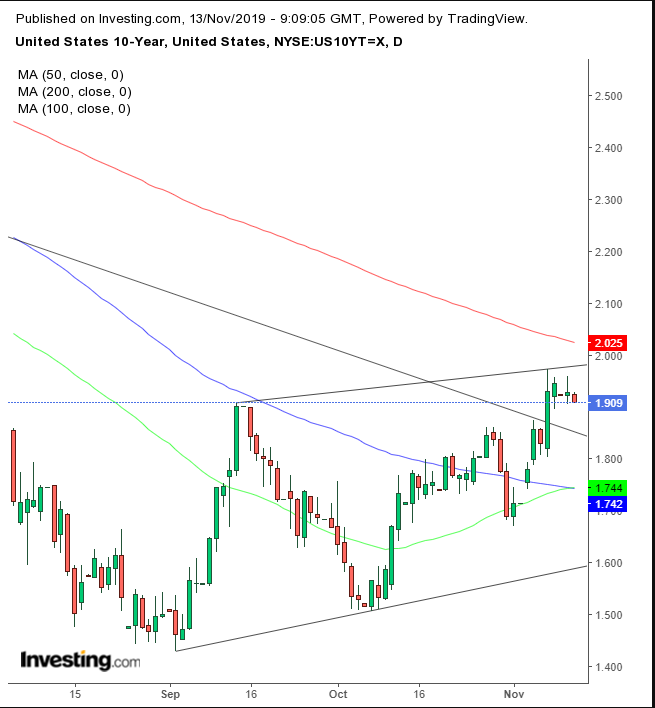 However, yields, including for the benchmark 10-year note, were pushed lower as investors rotated out of stocks and into Treasurys. Yields slipped from the top of a rising channel, after recently climbing over the downtrend line since November 2018.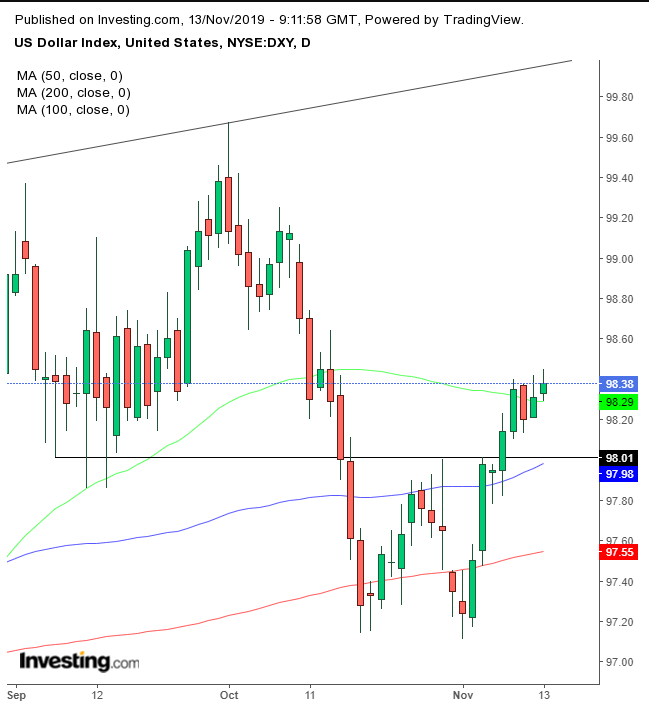 The dollar climbed to its highest point since Oct. 14, clearing the 50 DMA, after completing a small double bottom. However, as of 4:10 EDT it has retreated, demonstrating a line of supply concurrent to the weekly highs.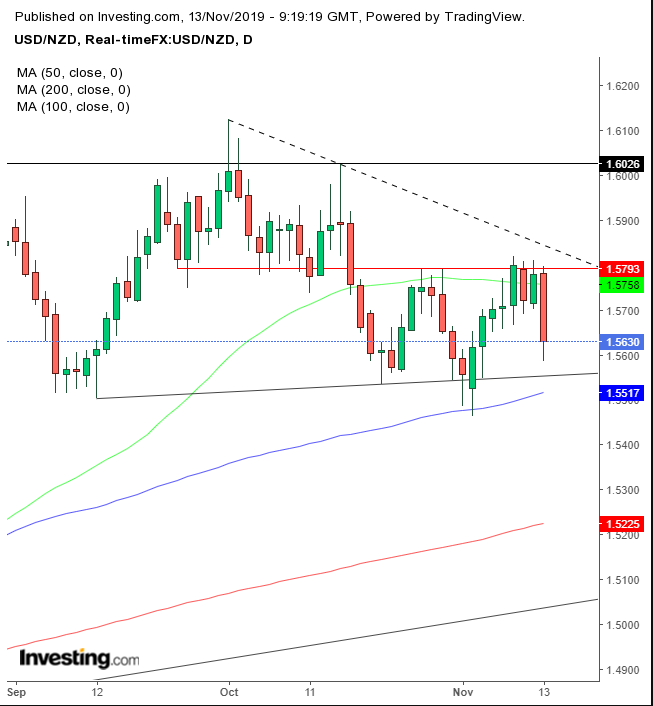 New Zealand's dollar jumped, after the country's central bank unexpectedly kept interest rates unchanged. Technically, the Kiwi found resistance by the neckline of a small H&S top.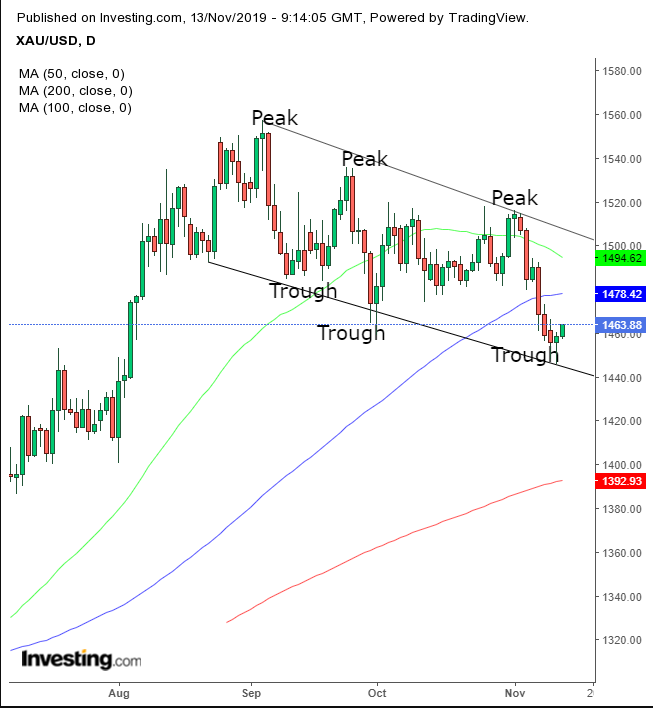 Gold is climbing for a second day, even against the pressure of a strengthening dollar. Technically, the price of the precious metal bounced off the bottom of a falling channel.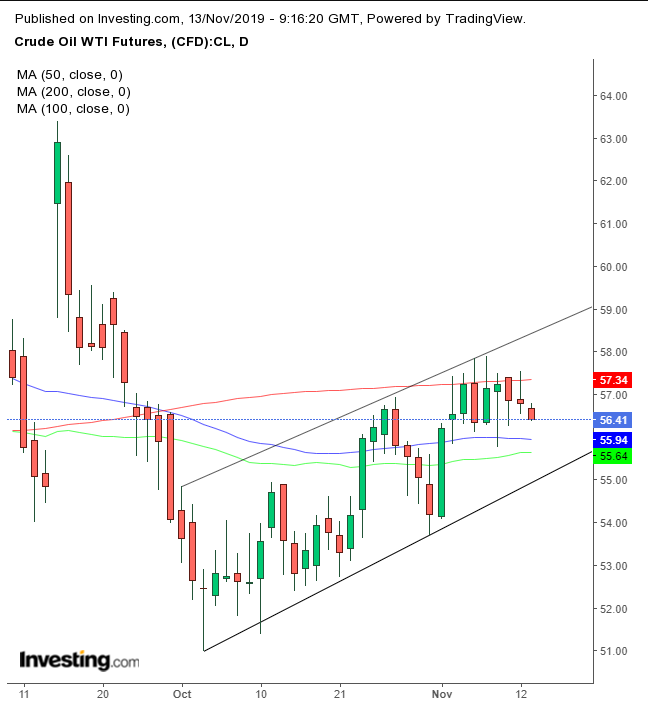 The price of oil fell for the third straight day, on trade worries and oversupply. The price found resistance by the 200 DMA, realigning with the top of a rising channel.
Up Ahead
Market Moves
Stocks
The Stoxx Europe 600 Index slipped 0.2%.
Futures on the S&P 500 Index declined 0.2%.
The U.K.'s Index fell 0.4%.
The dipped 0.2%.
The sank 0.8%.
Currencies
The Dollar Index advanced 0.01%.
The was little changed at $1.1003.
The was little changed at $1.2843.
The was flat at 109.06 per dollar.
Bonds
The yield on 10-year Treasuries sank two basis points to 1.91%.
The yield on Treasuries decreased one basis point to 1.66%.
Britain's yield declined two basis points to 0.789%.
Germany's yield dipped two basis points to -0.27%.
Japan's yield fell two basis points to -0.042%.
Commodities
West Texas Intermediate crude declined 0.5% to $56.57 a barrel.
Gold climbed 0.3% to $1,459.91 an ounce.
increased 0.4% to $79.40 per metric ton.

Written By: Investing.com