Shares of cannabis grower Tilray Inc (NASDAQ:TLRY) dropped immediately in after-hours trading Monday after reporting disappointing quarterly earnings following the closing bell that included a significant loss for the three-month period that ended Dec. 31.
Although it posted US$46.9 million (C$62.7 million) in revenue, which represents a slightly more than 200% increase over the fourth quarter in the previous year, it was 8% less than the figure posted in the prior quarter.
But despite the revenues, the British-Columbia-based marijuana producer posted a net loss of US$219.1 million (C$292.8 million) for its fourth quarter. The deficit was due in large part to increases in operating expenses that came with expanding its international workforce.
The disappointing end of fiscal 2019 does not look like it will turn around too quickly, as the start of fiscal 2020 has come with a new set of challenges for the company.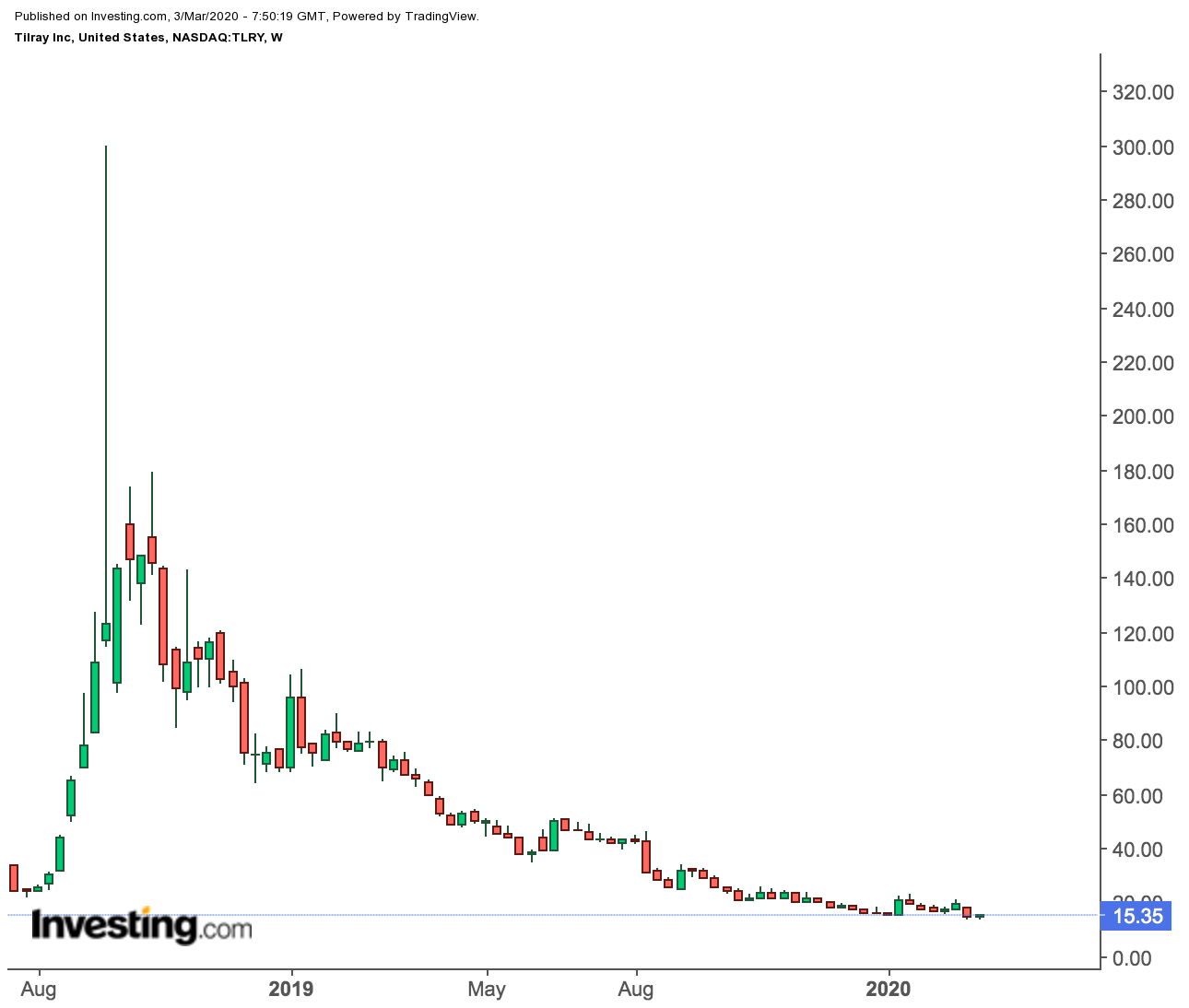 In February, Tilray said it planned to cut its workforce by 10% to scale back costs as it grapples with reaching profitability.
Then, last week, the company was also slapped with a $110-million lawsuit by Alberta-based 420 Investments after failing to go ahead with its plan to purchase the cannabis retailer, also known as FOUR20. According to a report by BNN Bloomberg, both parties confirmed the legal action was filed against Tilray in an Alberta court last Friday. According to the reporting, Tilray no longer wanted to move forward with the purchase.
Shares of Tilray have dropped about 82% in the last year, one of the steepest drops in the battered cannabis sector. Its performance on the Nasdaq suffered an additional blow last week, when Cowen & Co. analyst Vivien Azer listed it as one of three cannabis stocks she was downgrading, explaining problems in the roll-out of edible products would result in a delay in the development of that revenue stream.
Azer also dropped her forecast for Canada's cannabis industry as a whole by 32% from her last forecast issued in November. She now believes the Canadian marijuana market will be C$3.5 billion (US$2.6 billion) in 2020.
Shares of Tilray were up almost 6.5% yesterday, closing at US$15.35, but then dropped almost 11% in after-hours trading when the latest earnings report was issued.
Acreage Holdings Misses Analysts' Estimates
The month of February was not kind to investors of Acreage Holdings (OTC:ACRGF), (CSE:ACRGu). The U.S.-based cannabis grower saw its shares fall almost 32% last month.
The trend was not helped by its latest earnings results. Last week, Acreage unveiled its fourth-quarter financials that missed analysts' estimates. The company posted a US$50.5 million (C$67.5 million) loss on revenues of US$21.1 million (C$28.2 million).
The only bright sign was a note by a Canaccord Genuity analyst who, according to reports, said Acreage stock, despite its recent drops, was still trading well below their "implied price" given its deal with cannabis giant Canopy Growth Corp (NYSE:CGC), (TSX:WEED), adding "positive sentiment towards federal legalization in the U.S. could result in significant value appreciation for Acreage shareholders."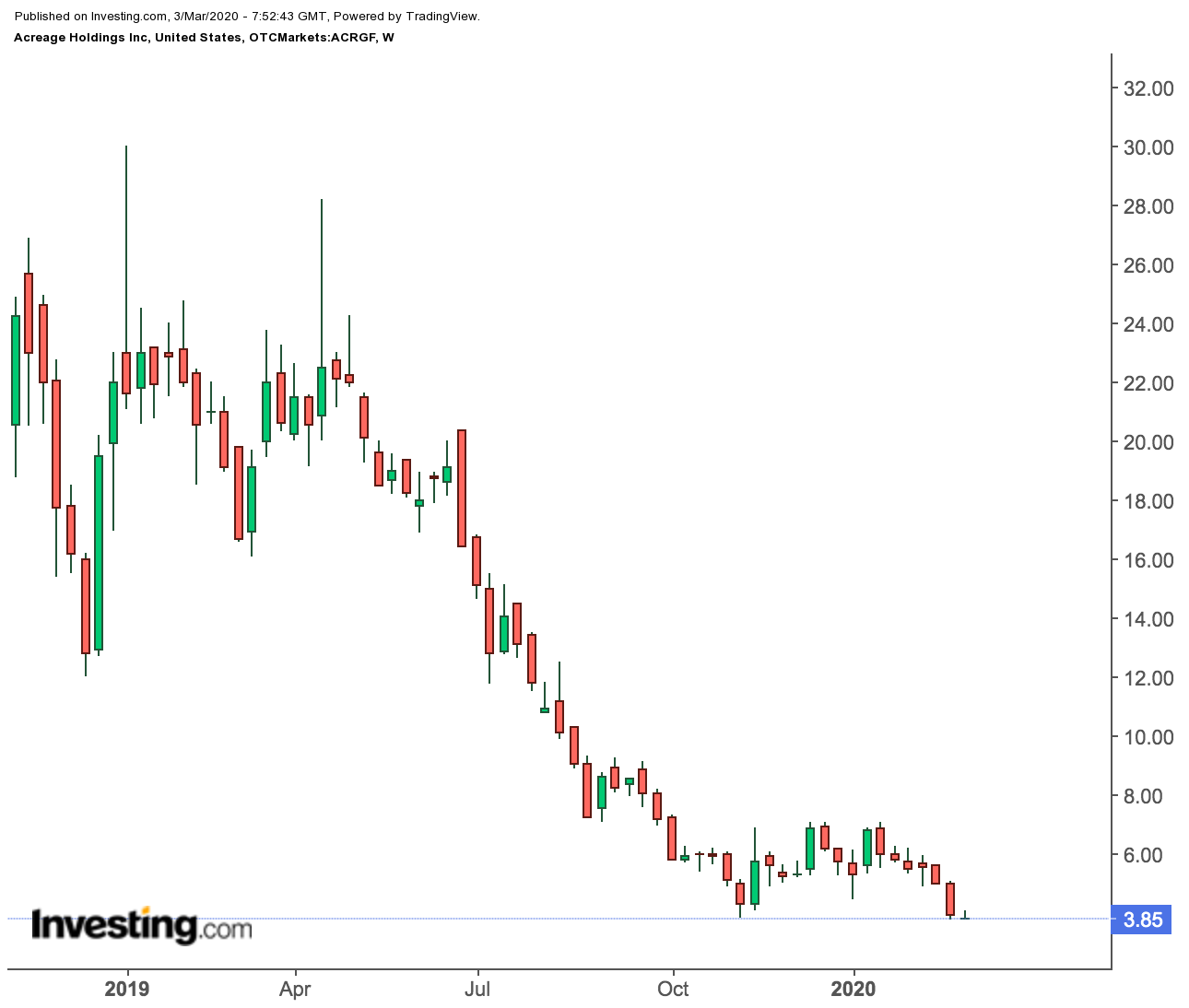 Shares of Acreage were down yesterday about 3%, closing at US$3.85.
More Bad News For CannTrust
The news at CannTrust Holdings Inc (NYSE:CTST), (TSX:TRST), it seems, keeps getting worse – even when it has been so bad that you would think it could not sink lower. But worse it gets indeed.
The embattled Canadian pot-grower has been flirting with disaster since last July, when it was found to be growing marijuana in unlicensed spaces in its greenhouse facilities, which led to a loss of its growing licences. Its stock has gone from US$10.04 (C$13.45) at the end of March of last year to close yesterday at US$0.67 (C$0.87) — a drop of more than 93%.
Late last Friday, the company received official notification from the New York Stock Exchange that it is no longer in compliance with listing standards because its share price has fallen below the exchange's share price rule.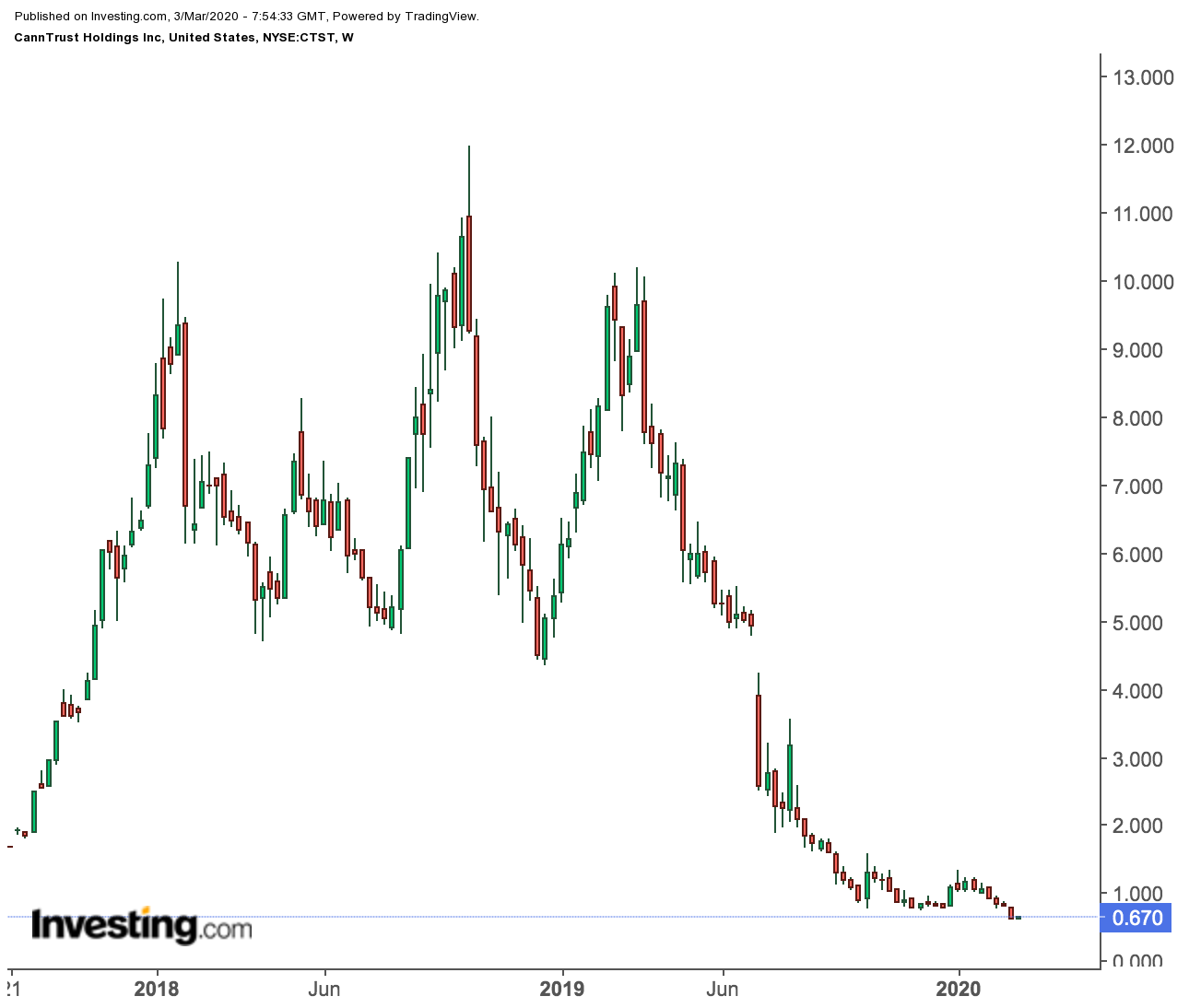 The NYSE requires the average closing price of a listed common share to be at least US$1 over a trading period of 30 consecutive days. As of Feb. 25, the 30-trading-day average closing price for CannTrust's common shares was US$0.99. Last Friday, the closing price was US$0.64 (C$0.85).
Another African Country Changes Its Pot Laws
The small African country of Malawi last week became the latest country to change its laws on cannabis, but stopped short of decriminalizing its recreational use.
The country's parliament last Thursday opted to allow for the legal cultivation and processing of marijuana for medicinal use or to produce hemp fibres for industrial use.
In December, Zambia legalized the production of cannabis for export. South Africa, which has decriminalized the personal use of cannabis is currently in the process of allowing the legal commercial growing of cannabis.

Written By: Investing.com