Electric vehicles are on track to disrupt the automobile industry in this new decade. The 'green' momentum is buoying shares in a broad range of EV and alternative-energy companies. As investors race to find the next EV leaders in the auto industry, one of the most significant spaces in the global economy, many are betting on Tesla (NASDAQ:TSLA).
Shares of the Palo Alto, California-based electric carmaker have rocketed 407% year-to-date and its market capitalization currently stands at an astonishing $395.3 billion, a figure greater than the combined valuations of the "big three" US auto manufacturers, Fiat Chrysler (NYSE:FCAU), Ford (NYSE:F) and General Motors (NYSE:GM), which are currently valued at $24.15, $26.9 and $42.1 billion, respectively.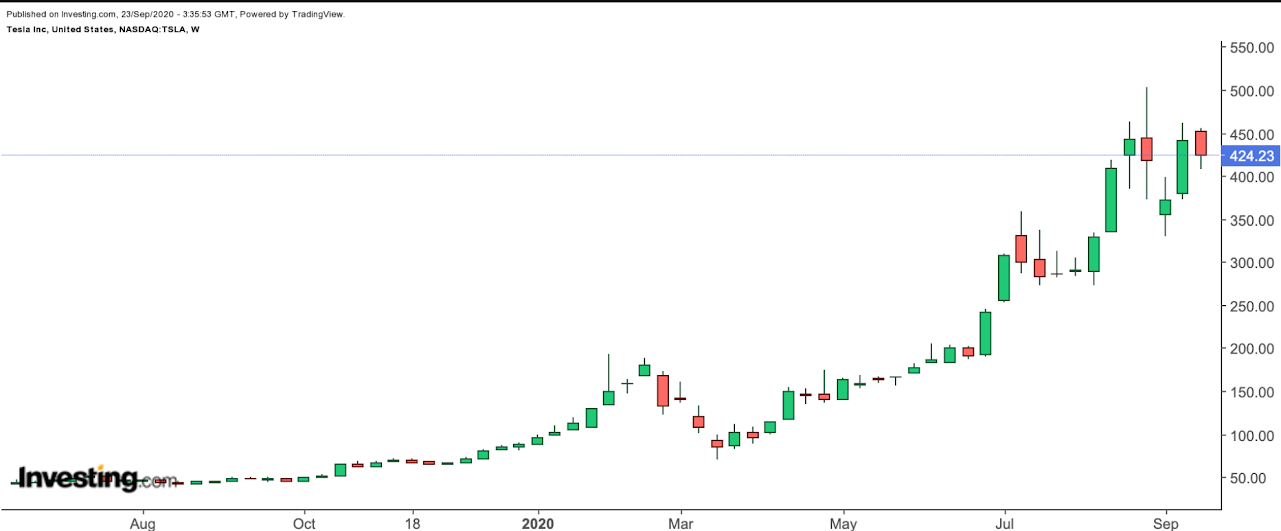 Further reflecting the gap between Tesla and the greater US auto industry, the Dow Jones US Automobiles index rose around 151% in 2020.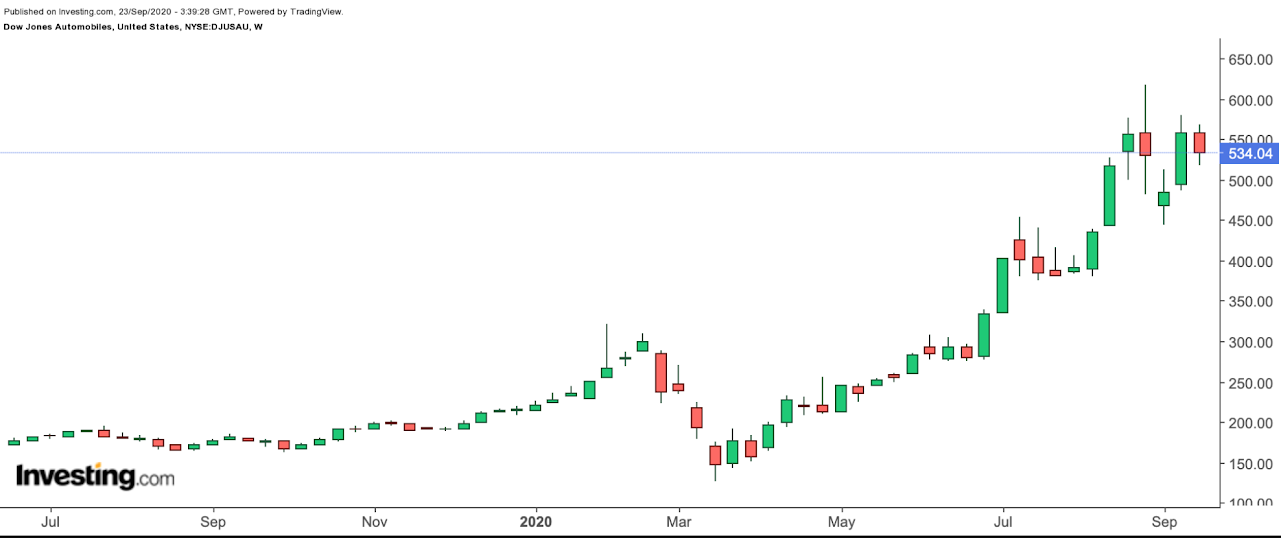 Here's a closer look at the EV space, moving beyond Tesla, and an exchange-traded fund (ETF) for investors seeking exposure to the broader segment:
Demand Growth Rising Overall
The rising importance of clean energy is one of the main catalysts driving interest in EVs and other alternative energy sources. In fact, the European Union forecasts:
"Electric mobility could help the EU to achieve its goals of reducing greenhouse gas emissions, air pollution, noise and dependence on oil."
Beginning in 2017, EV sales exceeded one million and by 2019, they reached 2.1 million, accounting "for 2.6% of global car sales." According to The International Council on Clean Transportation, 44% of "world's EVs are in just 25 markets in China, Europe, Japan, [and the] US."
A report released July 17, 2020 by McKinsey shows that in 2019, around 1.2 million EV units were sold in China, a 3% year-over-year increase, while sales in Europe hit 590,000, a 44% year-over-year increase. Still, EV sales patterns have differed by region and the US saw just 320,000 EV units sold in 2019, a 12% decline year-over-year.
This is perhaps even more notable since, behind China, the US is the world's second-largest market in terms of vehicle sales and production. Despite this, the widespread demand for clean energy is driving overall growth for EVs, making this an attractive market for investors.
Companies Investors Are Watching
In addition to manufacturers, other types of companies are important to the developing electric vehicle market. Autonomous vehicle (AV) software and hardware developers, battery manufacturers, lithium and cobalt companies, as well as semiconductor firms are also playing an integral role.
2020 has seen even small companies, many of which have little or even no revenue, make public debuts and headlines, especially in the US, including names like Nikola (NASDAQ:NKLA), Nio (NYSE:NIO), Plug Power (NASDAQ:PLUG) and Workhorse Group (NASDAQ:WKHS).
There are also a number of EV companies whose prices are under $5 and we urge caution with these penny stocks as they have the potential to be volatile. Reading the latest SEC filings by these firms can provide insight into proposed business models and associated risks.
On the other hand, many well-established auto industry names are moving toward EV production. For example, Volvo (OTC:VLVLY) has "the highest share of electric vehicles at 31%, all of which were plug-in hybrid electric vehicles" in Europe. The EV-growth list also includes Daimler (OTC:DMLRY), Hyundai Motor (OTC:HYMLF) and Volkswagen (OTC:VWAGY), among others.
Global X Autonomous & Electric Vehicles ETF
Current price: $16.70
52-week range: $9.32 - 17.85
Dividend yield: 0.59%
Expense ratio: 0.68% per year or $68 on a $10,000 investment
The Global X Autonomous & Electric Vehicles ETF (NASDAQ:DRIV) provides exposure to firms involved in various aspects of the development of EVs, autonomous vehicle technology, lithium batteries and critical EV materials such as lithium and cobalt.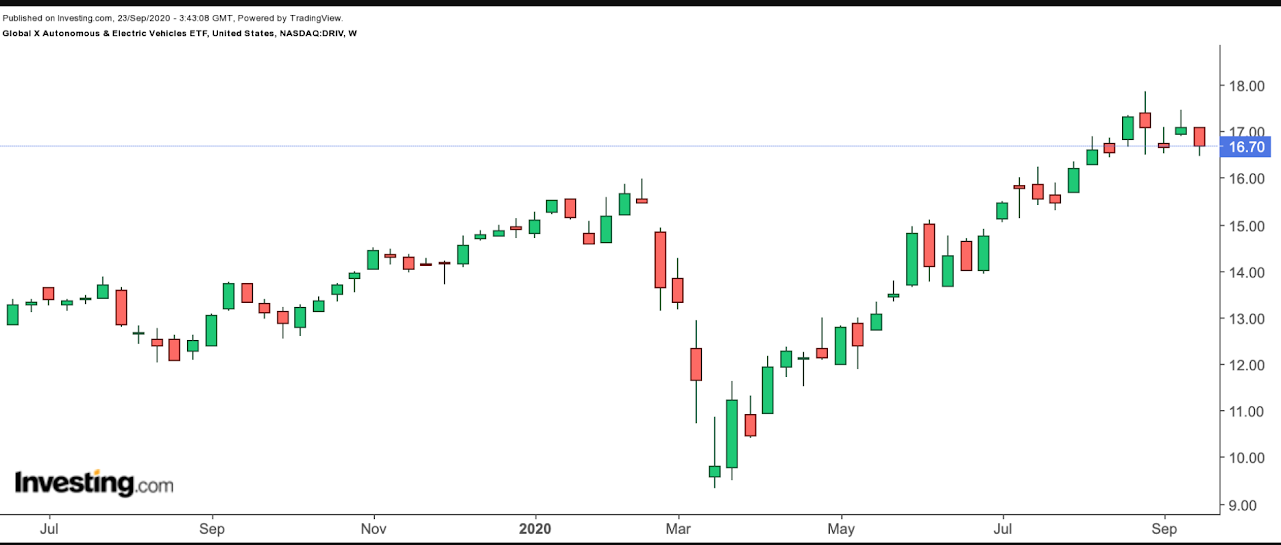 DRIV, which has 75 holdings, tracks the Solactive Autonomous & Electric Vehicles index. Consumer Discretionary (36.3%), Information Technology (33.4%) and Materials (12.4%) are the top three sectors.
From a "geographic" point of view, companies from the US top the list (62.3%), followed by Japan (8.0%), South Korea (4.6%), China (4.3%) and Germany (4.0%).
The top ten companies comprise close to 30% of net assets, which stand around $48 million. Tesla, NVIDIA (NASDAQ:NVDA), Apple (NASDAQ:AAPL), Qualcomm (NASDAQ:QCOM) and Toyota (NYSE:TM) head the list of holdings.
Since the beginning of the year, the fund has grown by more than 12%. It reached a new record high of $17.85 on Sept. 2.
We recently highlighted how Tesla's and Apple's recent stock splits might have marked a possible short-term top in many high tech names, including those in the EV space. Therefore, investors should pay attention to short-term momentum indicators and proceed with caution. We believe a decline below the $15 level would make this fund more attractive.
Bottom Line
A wide range of consumers and investors worldwide are closely watching the EV space. Therefore, we can expect to hear more about shares of publicly held companies and exchange traded funds in the sector. Several other ETFs in this arena to consider include:

Written By: Investing.com