Tech stocks slump in last hour on Wall Street

Silver breaks key barrier at $19 for 10-month high

UK May GDP Big Miss

CHART: Tesla ($TSLA) Exhaustion Gap
Late Reversal
European shares have opened with a much softer tone on Tuesday. It's a catch-up move from the late reversal on Wall Street. It is another example of investors showing no desire to increase allocations to Europe, even though the pandemic is more under control than in the Americas.
Massively overbought conditions in many big tech stocks saw some profit-taking before tech earnings announcements next week. The re-imposition of sweeping lockdown restrictions across California, the home to Silicon Valley saw the reversal accelerate
Tesla
One of the best theories we've heard behind the epic 300% Tesla price gain this year (better than just calling it 'a bubble') is that the shares are being bid up before being included in the S&P 500 index. It's a rather manipulative trade to take advantage of the prevalence of ETFs. The higher the Tesla valuation, the bigger allocation of Tesla shares S&P 500 tracker and other related funds will need to purchase from happy speculators. It's front-running mechanical ETF buying upon entering the index.
There was a big barrier at $18.75-$19 in Silver which was breached yesterday. The move comes a few days after gold prices touched 9-year highs. For us, we like to see silver corroborating the moves in gold because it shows broader precious metal demand i.e. not just hot money haven flows.
UK GDP
It's a big week for economic data – including US CPI later and China Q2 GDP tomorrow. For now it was the turn of the world's 6th largest economy – the United Kingdom.
GDP rose 1.8% in May, well under the 5% expected. It shows an economy that is bottom-skimming after a collapse. In the context of a 20% decline, a rebound of 1.8% is barely a rebound. We're not siding with the IMF and other UK doom mongers; the lockdown was still very much in place during May so June is when economic activity really needs to have picked up.
Chart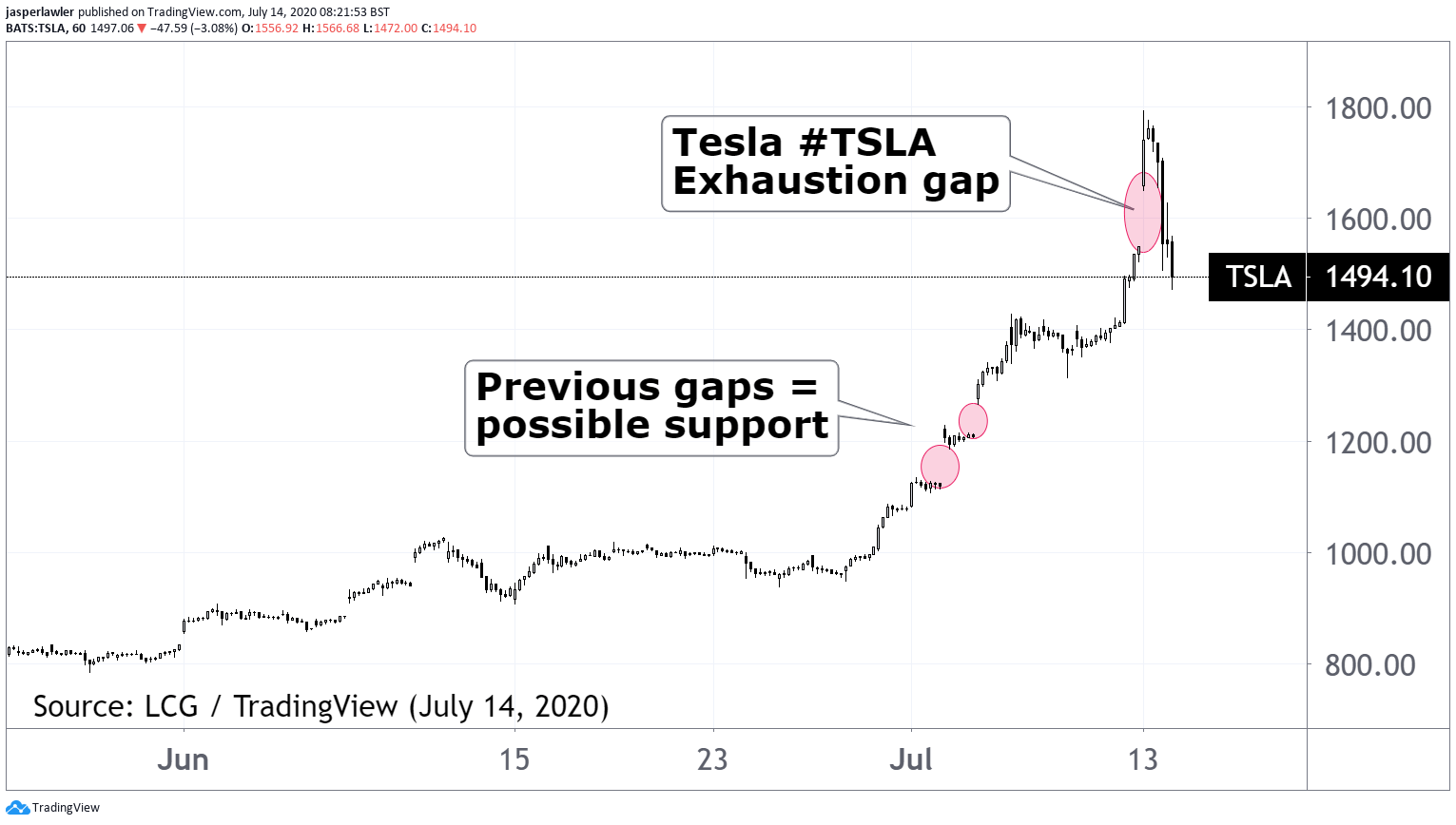 Yesterday Tesla shares moved in a 30% round trip - that is not normal! However, betting against strong stocks with good momentum is a quick route to the poorhouse. Still the huge exhaustion gap is a bearish signal for Tesla.

Written By: London Capital Group