Recent star performers in the cryptocurrency space have included Bitcoin, Ethereum, Ripple, Bitcoin Cash Litecoin, Cardano and lately Stellar (XLM), which started 2018 with great strength, elbowing its way into the top 10 list of most popular digital currencies when it surged more than 60%, hitting a record high of $0.9185 cents on Wednesday January 3, 2018. Though it's currently trading lower, it remains within the top 10 as of this writing, despite some fresh price volatility weighing on the currency.
Right now Stellar has a market cap of $9.28 billion and is trading at $0.450. It's jumped 284% since December, 10, 2017.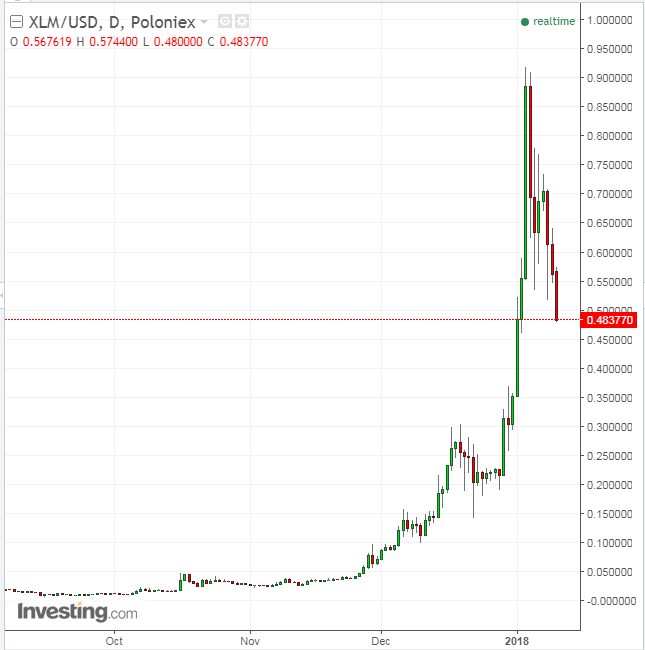 Who's behind Stellar? The team includes developer Bartek Nowotarski, Boris Reznikov who is head of partnerships as well as David Mazières the chief scientist. Jed McCaleb, Ripple's founder as well as the founder of Bitcoin exchange Mt. Gox is also Stellar's co-creator, which dates back to 2014.
The digital currency is backed by Lumens, the digital currency unit that is the native asset of the Stellar network. One Lumen is a unit of currency, like a bitcoin. Stellar was born out of a Ripple fork and is a "distributed, hybrid blockchain that is fully open-source" according to its founders. By 'native' the group means that Lumens are built into the network and asset, which is how the network refers to an item of value that is stored on the ledger.
Free Lumens give-away in 2017 enticed users
Via its website, Stellar said the reason for giving away Lumens was "to achieve a more inclusive digital economy." Of course, that also helped spur the uptake of the fledgling alternative currency.
Jeff Mahony CEO of Ubiquicoin, a decentralized digital currency, explains that Stellar—since it's a Ripple clone—is currently riding Ripple's favorable wave based on the positive developments for the more popular currency. In addition, Stellar's give-away event which began in June 2017, distributed 16 billion Stellar Lumens to individuals who had holdings of Bitcoin block #472889.
Stellar, like it's parent Ripple, is popular with banks and financial institutions. Yoav Dror, the CEO of Decentralized Vision. says:
"Stellar technology is similar to Ripple's (actually, Stellar is a fork of Ripple) and it is backed up by an excellent team. While their focus is a bit different - Ripple focuses on banks and other financial institutions, while Stellar presents itself as an alternative to banks for ordinary people and P2P transactions, both are in the Fintech space and competing each other to become the future standard for financial payment platforms. Stellar's total supply is ~50% of Ripple's but its market cap is only ~12% Ripple. It is reasonable to assume XLM will rise in value, at least in the near future."
Some see Stellar is a superior version of Ripple. Kain Warwick, founder of Havven, believes that in many ways, Stellar is a better implementation.
Warwick's reasons? It is run by an open source foundation and targeted at end users versus banks. He adds:
"Arguably it has a lot more potential than Ripple. It also has the ability to launch ICOs, one of the major drivers of the price rise in ether over the last 18 months."
Stellar and Ripple to revolutionize banking
Nolan Bauerle, director of research for CoinDesk says:
"Both Ripple's XRP and Stellar's Lumens aim to alter a banking industry defined by the limitations of physical borders. The low-hanging fruit of correspondent banking, cross-border payments, and trade finance represent several trillion dollar industries. There are lots of opportunities and more than one digital asset can be powerful agents of change.​ However, the usefulness of both of these coins cannot be measured simply by their trade value and speculative activity. They are both in a race to bring useful digital assets into the hands of people around the world."
Slowly but steadily the banking industry and traditional financial institutions appear to be coming round to the fact that cryptocurrencies are not a 'fraud'. Global financials including the US's American Express (NYSE:AXP), Spain's Santander (NYSE:SAN), Italy's UniCredit (OTC:UNCFY), Switzerland's UBS Group (NYSE:UBS) and the UK's Standard Chartered (OTC:SCBFF) are all working on, or have already inked, partnerships with Ripple. Stellar network members include IBM (NYSE:IBM), Deloitte, China's Wanxiang Labs and global payment processor Stripe.
As acceptance grows, it's inevitable that the technology behind digital assets will become mainstream. Ripple and Stellar are two leading contenders currently at the forefront of change within the banking industry.

Written By: Investing.com