The world's two largest social media companies—Facebook (NASDAQ:FB) and Alphabet (NASDAQ:GOOGL)—will continue to show pandemic-fueled weakness in their ad business when each releases their Q2 earnings reports on Thursday, July 30, after the market close.
Facebook: Messaging Explosion, But Ad Spending Slashed
On average, analysts are expecting Facebook to show EPS of $1.39 on sales of $17.33 billion. While the Menlo Park, CA-based business has seen an explosion in messaging, voice and video calling on Messenger and WhatsApp as COVID-19 rages, its ad revenues are under pressure after a broad variety of global brands announced they were pulling their advertising off Facebook's platform.
In an effort spearheaded by civil rights groups across the US, to curb the spread of hate speech and misinformation, a growing number of multinational companies have announced during the past five weeks they were halting spending on social media, primarily targeting Facebook.
Disney (NYSE:DIS), the number-1 advertiser on FB, has "dramatically slashed" spending on the platform, the Wall Street Journal reported last week. Disney was Facebook's top US advertiser for the first six months of 2020, devoting an estimated $210 million on ads for just  Disney+, the Journal said, citing research firm Pathmatics Inc.
Other top brands participating in the effort include Coca-Cola (NYSE:KO) and Verizon (NYSE:VZ), all saying it's their way of showing disapproval of the social media giant's handling of hate speech and misleading content.
The most important detail to look for during Thursday's earnings release is how the social media giant sees these boycotts affecting sales for the remaining portion of the year. That answer will set the course for the company's stock going forward.
Shares are up about 14% since the start of the year. The stock closed yesterday at $233.50.
One major strength that distinguishes Facebook from other social media platforms is the power of its revenue stream which is highly diversified. Though it certainly benefits from them, it's not dependent on big brands.
So, while major advertisers like Unilever (NYSE:UL) and Coca-Cola have garnered most of the headlines in the current boycott campaign, the vast majority of Facebook's 8 million advertisers are small businesses, many of whom rely heavily on Facebook's global reach for their sales. Indeed, last year, Facebook ad sales rose to $69.7 billion globally. For many businesses, especially those that depend on e-commerce and direct consumer contact, abandoning Facebook isn't a possibility.
That said, the company is unlikely to avoid a major slowdown in its ad sales. Facebook will eke out just 3% revenue growth in the June period, according to current analyst projections, by far the smallest quarterly growth increase since the company went public.
Alphabet: Cloud Business To Show Growth, But Tough Ad Environment
For Alphabet, the parent company of search engine behemoth Google, the story isn't very different from that of Facebook. The Mountain View, CA-based company is expected to report earnings per share of $8.04 on revenue of $37.3 billion.
The internet giant's business model relies heavily on advertising spending from small businesses, including travel and hospitality enterprises. With these sectors in deep trouble for the foreseeable future, analysts seem to agree that this year will be one of Google's toughest in terms of sales.
The company generally doesn't provide forecasts, though Chief Financial Officer Ruth Porat confirmed, in April, that the second quarter "will be a difficult one" for advertising.
One bright area which could pick up some of the slack in the current weak period is the company's cloud-computing business which continued to grow even during the pandemic, soaring 52% in the first quarter.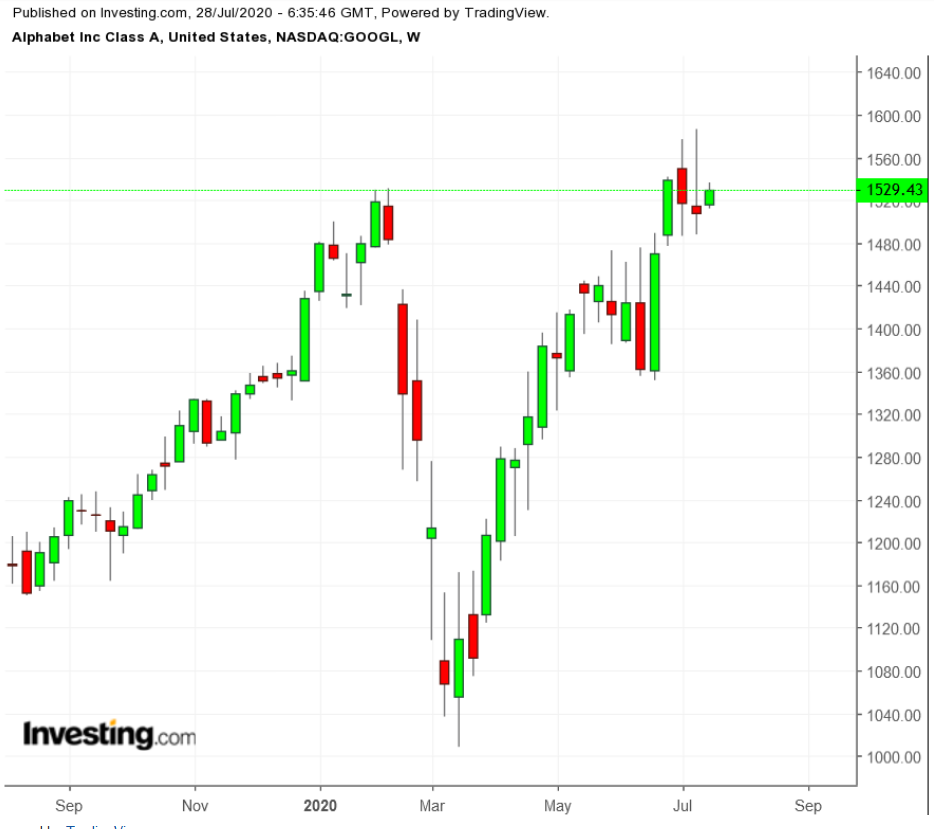 Google's massive cash pile, its pledge to continue share buybacks, and the strength of its cloud and YouTube businesses helped the company's stock recover from the March slump. Shares were up more than 14% in 2020; they closed at $1,529.43 yesterday.
Bottom Line
Investors shouldn't expect much clarity from either these two social media Goliaths when each reports earnings this week, especially when their main ad revenue markets are under pressure.
That said, strong balance-sheets and their market positions—which are formidable—will make it possible for each to come back strongly once the economy starts to rebound.

Written By: Investing.com