All four major US contracts, along with European markets wobbled this morning
Partisan wrangling on a new US Supreme Court Justice weigh on additional Congressional stimulus
Dollar treads water
Gold settles
Key Events
The four major US futures, the Dow, S&P, NASDAQ and Russell 2000, wobbled on Tuesday, giving up earlier advances as optimism about yesterday's late market comeback on Wall Street diminished ahead of today's US open.
European stocks recovered somewhat in early trading after Monday's sell off—one of the biggest since June. The Stoxx 600 was up just 0.7% at the time of writing as reports that UK Prime Minister Boris Johnson will announce new COVID-19 restrictions when he addresses the UK parliament later today.
Though the dollar continued its upward momentum on Monday, weighing on precious metals, it was flat this morning.
Global Financial Affairs
The Stoxx Europe Index pared yesterday's 3.25% free-fall, when it took the worst beating in three months. The pan-European index opened higher today, driven by a tech rebound as ASM International (AS:ASMI) and United Internet (DE:UTDI) outperformed.
Despite the initial European recovery on Tuesday morning, we don't see the Euro Stoxx 600 outperforming US peers. It's topped out—either via a H&S reversal or a failed ascending triangle. The 50 DMA is falling away from the 200 DMA.
Unlike US stocks that have recorded a string of new records, the Stoxx Index peaked out 15% below its February all-time high. And it doesn't look like that underperformance is going to turn around, as Norway's sovereign wealth fund, the world's largest with $1.5 trillion in assets, is shifting capital away from Europe, its home location, in favor of investing the US.
South Korea's KOSPI dropped 2.38% on Tuesday leading Asian indices lower as foreign investors repatriated funds amid concerns about the new coronavirus restrictions in Europe.
Australia's ASX 200 provided the best relative results, dropping just 0.7%. Japan's Nikkei 225 escaped today's selloff as it remained closed for a holiday.
On Monday, US stocks trimmed losses after nearing the levels many traders view as a market correction, when dip buyers drove up mega tech stocks.
The market selloff was driven by concerns that economic stimulus in the US seemed even less likely as Democrats and Republicans launched a battle over replacing Supreme Court Justice Ruth Bader Ginsburg, who passed away over the weekend.
A bank selloff also followed a weekend newspaper report about suspicious transactions at global banks. The International Consortium of Investigative Journalists warned some large global banks "kept profiting from powerful and dangerous players" in the last two decades, even after the US imposed penalties.
Continued concerns about the COVID-19 pandemic were also weighing on sentiment Monday as Scott Gottlieb, a former FDA commissioner warned the country may go through "at least one more cycle" of the coronavirus in the fall and winter this year.
Yields, including the 10-year Treasury, rebounded from a decline to end flat. That Treasury selloff also pushed the dollar from its highs.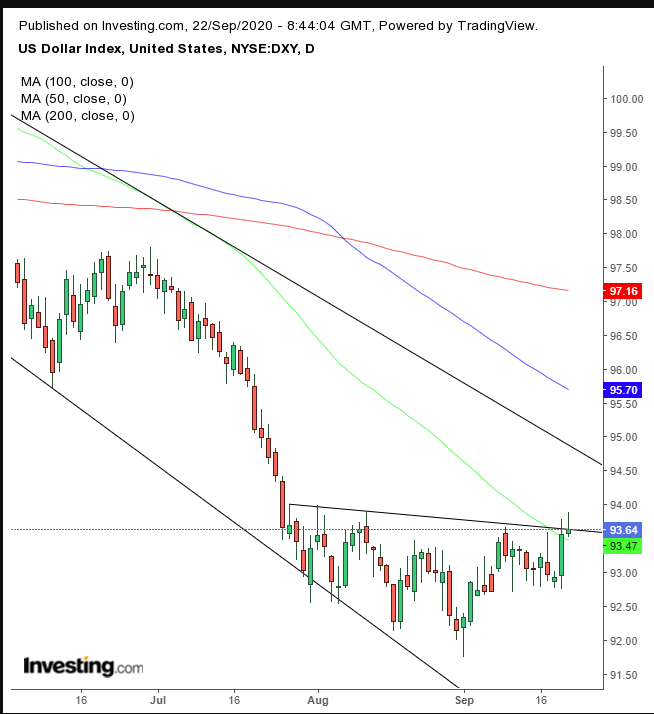 The greenback built on Monday's biggest daily gain in three months—forming an intraday shooting star on the neckline of a potential bottom within a falling channel.
Gold is down for the second day, the same period during which the dollar strengthened.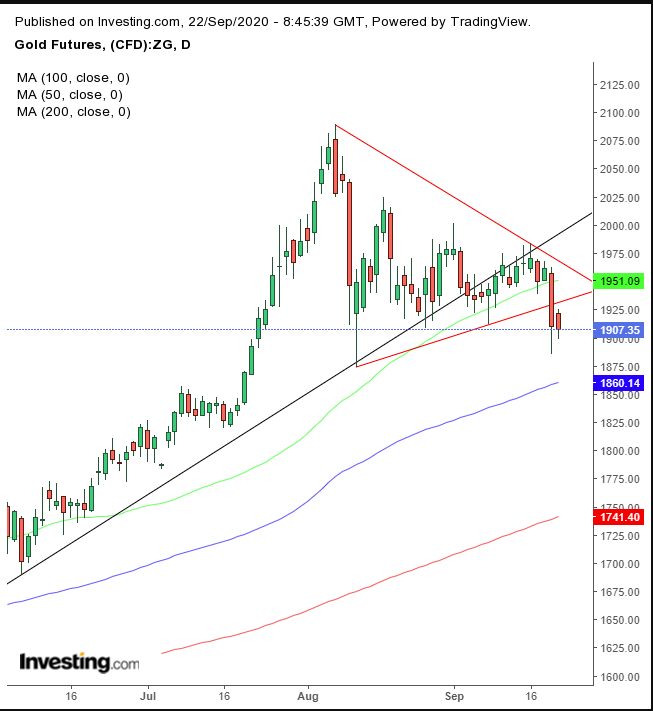 Technically, the yellow metal may have provided a downside breakout to a pennant, which could signal a decline.
Bitcoin plunged 4.6%, its worst selloff since the 10.8% crash on Sept. 3 that completed a H&S top.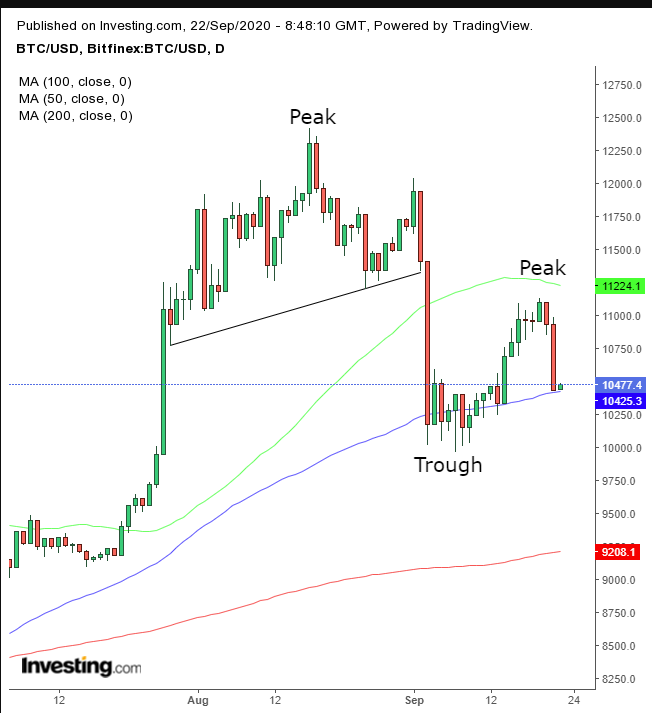 If prices of the cryptocurrency fall below the Sept. 7, 9,964.1 low, they will have established a new downtrend.
Oil steadied after its biggest decline in almost two weeks, on mounting worries over prolonged coronavirus restrictions and supply concerns.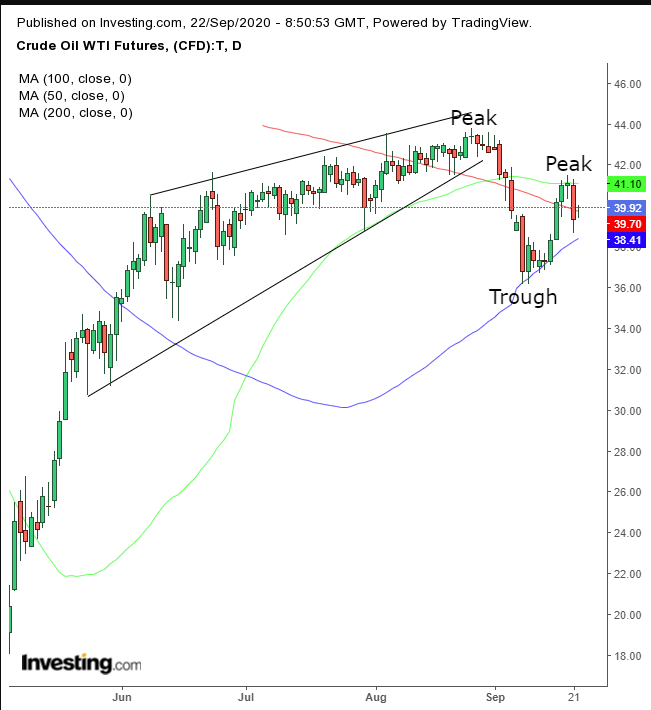 The price jumped back over the 200 DMA, dipped blow it and rebounded again. Still, there is considerable technical pressure on the price after completing a bearish wedge. A fall below the Sept. 9, $36.16 low will register a downtrend.
Up Ahead
Fed chair Powell before the House Select Subcommittee on the coronavirus to discuss the central bank's response on Wednesday.
New Zealand's is due on Wednesday.
US are released on Thursday.
Market Moves
Stocks
The Stoxx Europe 600 Index advanced 0.2%.
Futures on the S&P 500 Index decreased 0.5%.
Index futures declined 0.8%.
The Index dipped 0.7%.
Currencies
The Dollar Index gained 0.1% to 93.65.
weakened 0.1% to 0.9193 per euro.
The Japanese strengthened 0.1% to 104.58 per dollar.
The South Korean weakened 0.6% to 1,164.96 per dollar.
Bonds
The yield on 10-year Treasuries sank one basis point to 0.66%.
Germany's yield climbed less than one basis point to -0.53%.
Britain's yield increased one basis point to 0.162%.
Commodities
West Texas Intermediate crude decreased 0.1% to $39.27 a barrel.
Gold weakened 0.5% to $1,902.43 an ounce.
LME climbed 0.2% to $2,464 per metric ton.
Iron ore declined 1.3% to $114.43 per metric ton.

Written By: Investing.com