Moody's downgrades Hong Kong on fears protests may become worse
Futures signal lower open to U.S. trading week
Risk-off mood surfaces after China virus fears roil Asia markets
Key Events
U.S. equity futures, including for the Dow Jones, S&P 500, NASDAQ and Russell 2000, are signaling their underlying benchmarks will open significantly lower, after mounting fears of a new coronavirus out of China rattled markets this morning. This follows the selloff of Asian and European stocks yesterday in the aftermath of Moody's downgrade of Hong Kong's credit rating, the result of seven months of political unrest in the Asian financial center which the local government has been unable to resolve.
European shares as well as oil and the U.S. dollar are also lower.
Global Financial Affairs
Stocks in Asia were the biggest losers thus far today, the current source of investors' headaches.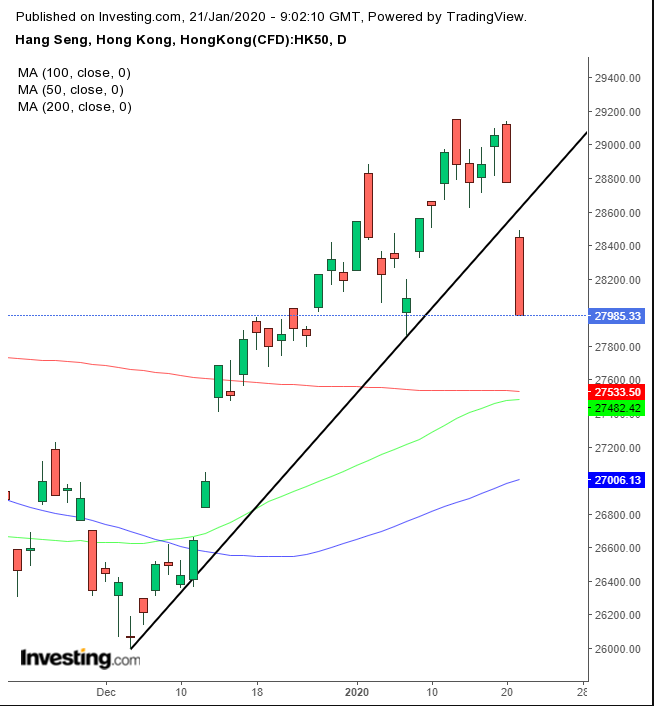 Hong Kong's Hang Seng led the declines, (-2.8%), with most Asian benchmarks, including China's Shanghai Composite and South Korea's KOSPI, falling at least 1 percentage point.
Technically, the HK index plunged below its uptrend line since the December bottom, just when it was outperforming, a result of the announcement of a tentative Phase-1 U.S.-China trade deal. At that time, the 50 DMA was about to cross over the 200 DMA, which would have triggered a golden cross, generally considered bullish. However, if the smaller MA were to find resistance below the large MA, it would be considered bearish.
Another factor weighing on the Hang Seng in particular was Moody's downgrade of Hong Kong's credit rating from Aa2 to Aa3. The ratings agency's rationale:
"The absence of tangible plans to address either the political or economic and social concerns of the Hong Kong population that have come to the fore in the past nine months may reflect weaker inherent institutional capacity than Moody's had previously assessed."
Another theme currently frightening traders is the deadly pneumonia-like virus that has already claimed the lives of four people in central China. The potential for exponentially more victims of the illness amid travel related to this week's Lunar New Year holiday in Asia is ramping up market concerns.
As well, investors likely took advantage of the final trading days ahead of the holiday to take profit on all the bad news.
The start of this week's trading looks decidedly more sober than last week's risk-on exuberance, which catapulted U.S. and European shares to fresh new all-time highs.
On Tuesday, financial shares and airline stocks were a drag on the STOXX Europe 600 Index, pushing the pan-European benchmark to a second day of declines, after UBS (SIX:UBSG) disappointed on key metrics and Air France KLM SA (PA:AIRF) and Deutsche Lufthansa AG (DE:LHAG) among others, slumped on rising oil prices.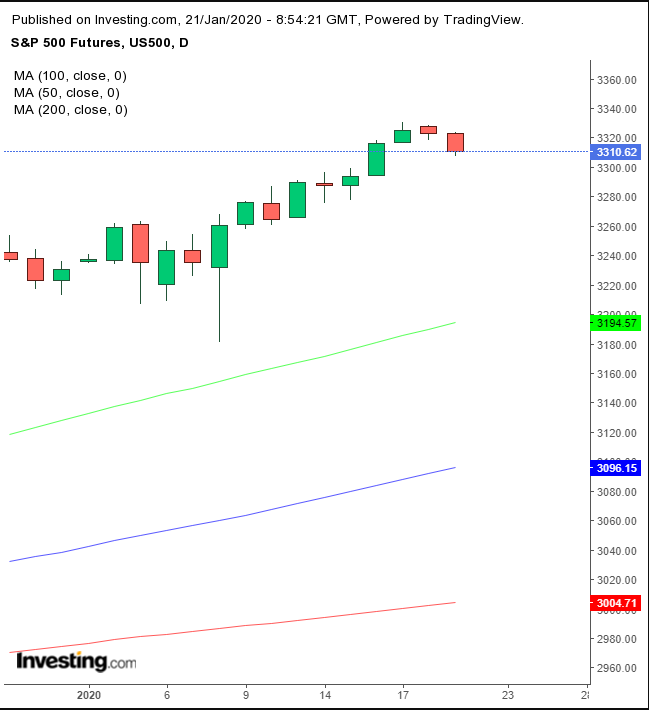 Contracts for the three main U.S. equity benchmarks all pointed to a drop of at least half a percentage point when Wall Street returns later today from the long holiday weekend.
Today's sudden risk aversion has spurred investors to rotate into havens.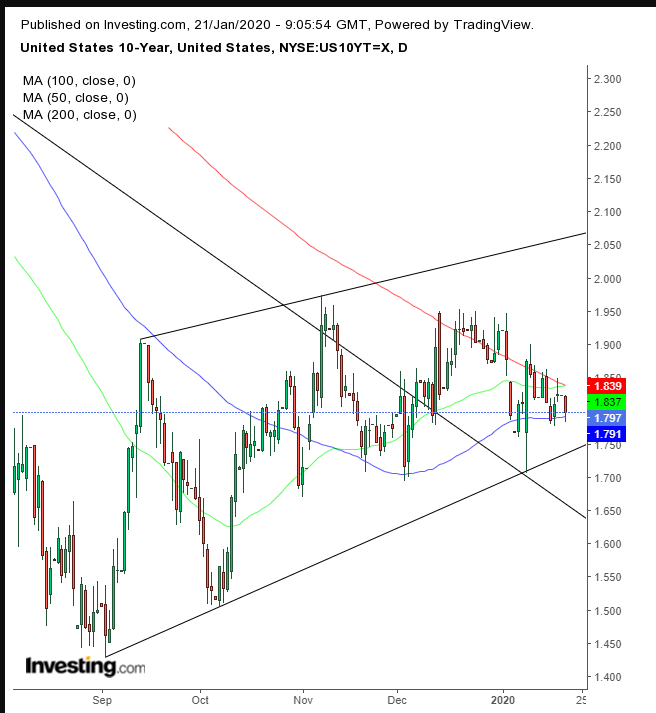 The yield on U.S. 10-year Treasury notes dropped, but remained sandwiched between the 200 and 100 DMA.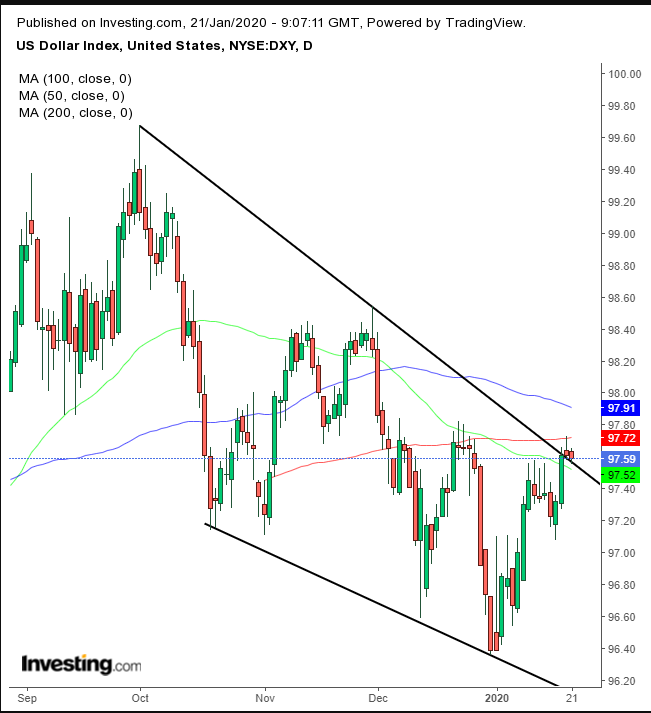 The dollar edged lower for a second day of losses, beneath the 200 DMA but still above the top of a falling channel.
Oddly, gold also dropped, even though the dollar is slightly lower and equities are selling off selloff. This is stranger still, since, as we recently pointed out, gold has been climbing together with equities.
Bitcoin was little changed today, after slumping for the past two days, when it failed to remain above its 200 DMA.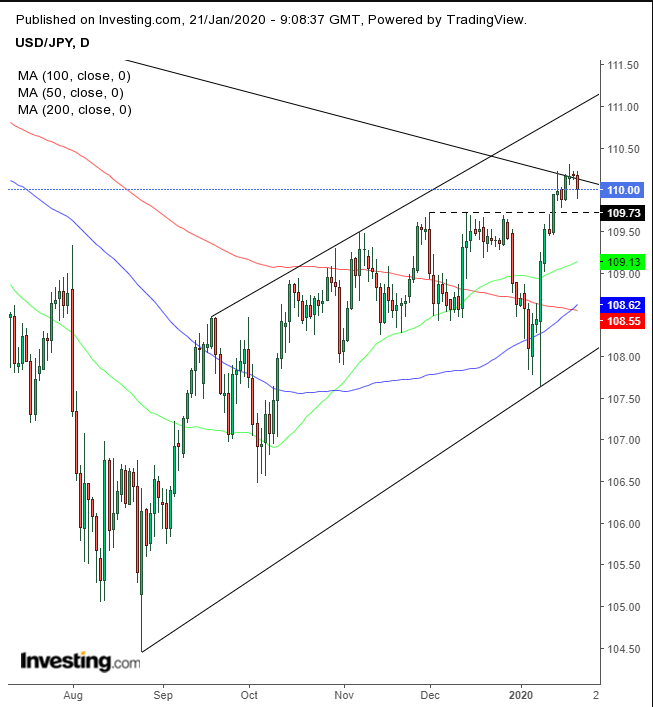 The BoJ maintained rates while increasing its economic outlook for the year. The USD/JPY fell the most since Jan. 3, upon reaching a downtrend line since May 2015.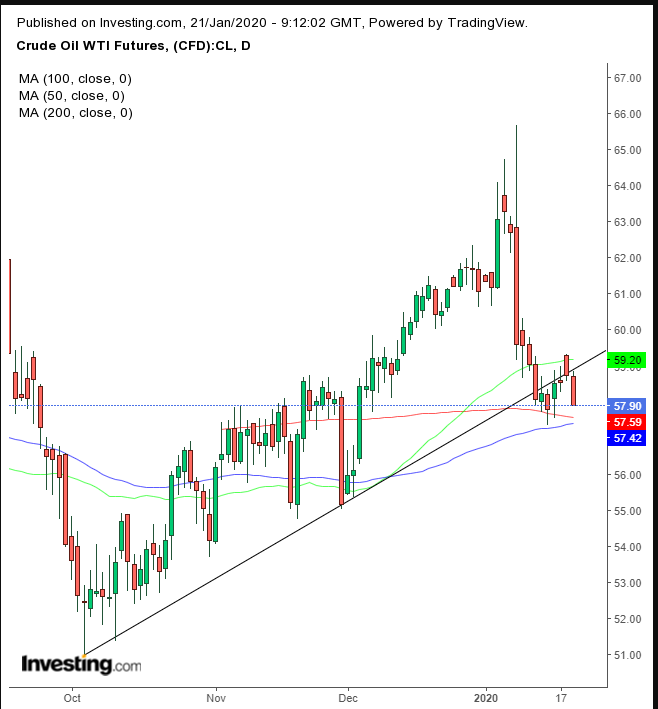 The pervasive risk-off sentiment exacerbated an oversupplied oil market, offsetting Libya's loss of exports, leading to a sell-off of the commodity, which fell below its uptrend line since early October.
Up Ahead
Companies including (NASDAQ:), International Business Machines (NYSE:), (NYSE:) and Intel (NASDAQ:) all report earnings this week.
Policy decisions are due from central banks in , and the .
The , an annual gathering of global leaders in politics, business and culture, opens today in Davos, Switzerland.
Market Moves
Stocks
Futures on the S&P 500 Index declined 0.3% from Friday's close, as of 8:03 a.m. London time.
The Index decreased 0.7%.
The fell 1%.
Currencies
The Dollar Index lost 0.05%.
The was little changed at $1.1096.
The was little changed at $1.3005.
The Japanese yen gained 0.2%, rising to 109.97 per dollar.
Bonds
The yield on 10-year Treasuries dipped two basis points to 1.80%.
Germany's yield fell one basis point to -0.22%.
Britain's yield decreased one basis point to 0.643%.
Commodities
West Texas Intermediate crude dipped 0.8% to $58.06 a barrel.
Gold was little changed at $1,560.73 an ounce.

Written By: Investing.com