No news to counter yesterday's bullishness, but futures and Euro stocks are retreating
Fear gauge climbed yesterday, even amid US rally
Key Events
US futures, including the Dow, S&P, NASDAQ and Russell 2000 retreated early on Tuesday but the Dow and NASDAQ have now moved into positive territory. European stocks are also trading lower after a higher open.
On Monday, during the New York session, the Dow Jones, S&P 500 and NASDAQ Composite closed higher by 1.7%, 1.8% and 2.25% respectively as political uncertainty dissipated on the news that President Donald Trump was returning to the White House after being hospitalized over the weekend to receive treatment for coronavirus.
Gold and the dollar are lower this morning. Oil is up another 1% after Monday's surge.
Global Financial Affairs
Currently, contracts on the S&P are testing afterhour lows.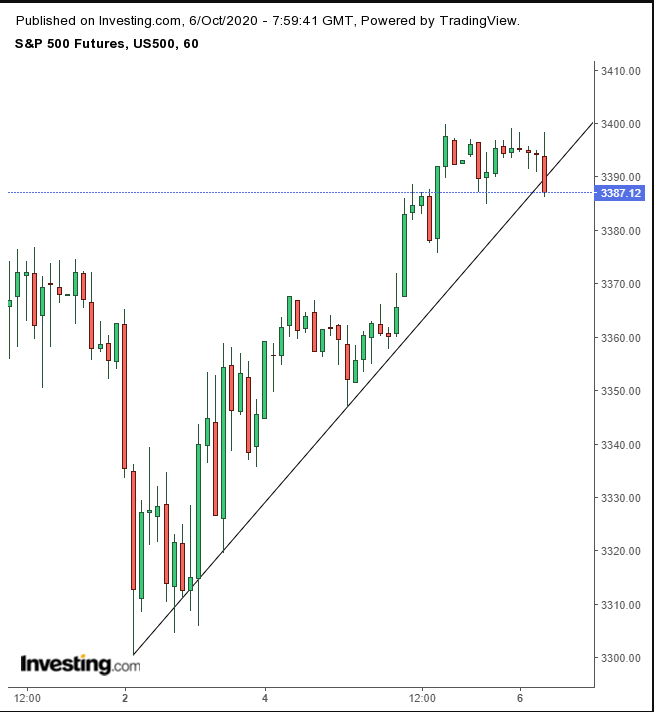 The US500 hourly price fell below its uptrend since Friday's lows.
The Stoxx Europe 600 Index opened 0.25% higher as markets were focused on new hopes for a fresh stimulus package in the US, after Congressional House Speaker, Nancy Pelosi said that negotiations were progressing. It remains unclear whether the increased likelihood of a Democratic win in the Nov. 3 elections is impacting the market.
However, within 20 minutes of trading, the advance flipped negative and has been steadily falling since, developing, thus far, a bearish piercing pattern—if it closes at these levels—digging into most of yesterday's candle.
If the price continues to slide till it envelopes yesterday's candle in its entirety, it will have developed a Bullish Engulfing pattern, revealing an even more powerful bearish presence at these price levels.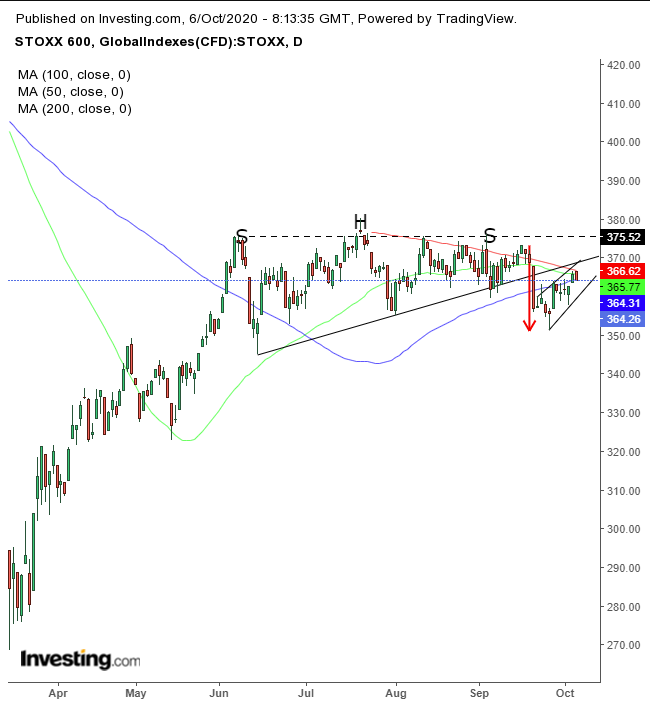 The pan-European index may be developing a rising flag, bearish after the top—whether a blown out ascending triangle or upsloping H&S pattern. The fact that all three major moving averages are meeting demonstrates the importance of this event, setting up for an explosive move to end the secondary, smaller range.
Asia managed to lock in gains earlier on Tuesday, with the KOSPI, Hang Seng and Nikkei 225 all closing in the green. Hong Kong's Hang Seng outperformed, up 0.9%, as it was the only exchange to offer Chinese stocks during the mainland's Golden Week holiday.
Australia's ASX 200 rose 0.35% after the country's central bank kept interest rate policies unchanged. The Australian Treasury is set to launch its Federal budget stimulus, designed to expand business investment and job creation to offset the carnage left by the pandemic.
Yesterday, US stocks closed at the top of the session, producing solid candles in a show of strength.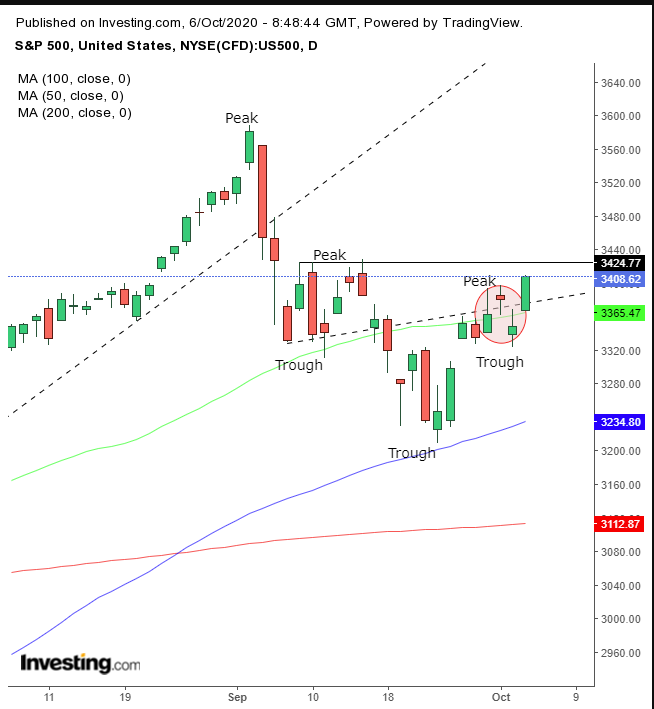 The S&P 500 may have blown out an Evening Star (red circle) as it aims to complete a small, H&S bottom, reversing the recently established short-term downtrend.
However, despite yesterday's exuberant rally, traders don't seem to expect the mood to last. The CBOE Volatility index revealed that fear actually increased, rather than dissipated.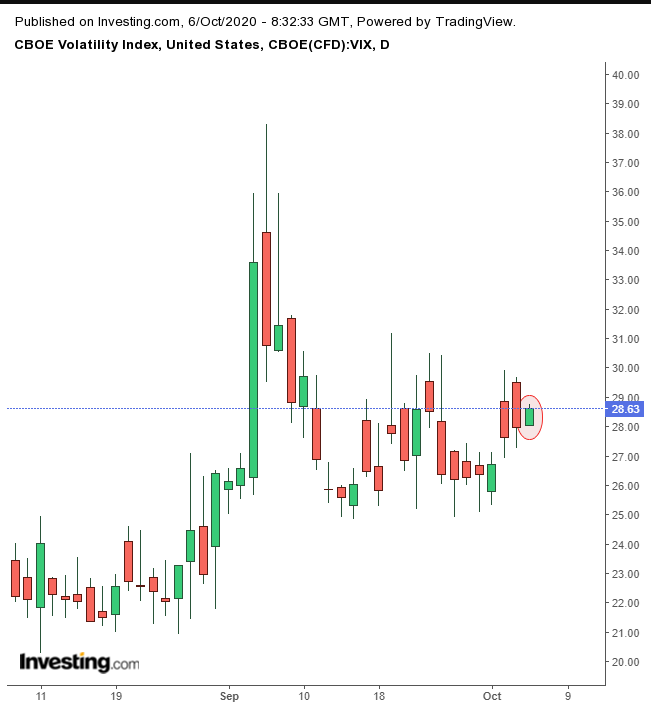 The volatility index has increased in recent weeks on concerns of a contested US presidential election.
Yields, including for the 10-year Treasury note, trimmed yesterday's surge, as investors, in a show of optimism, dumped bonds for equities.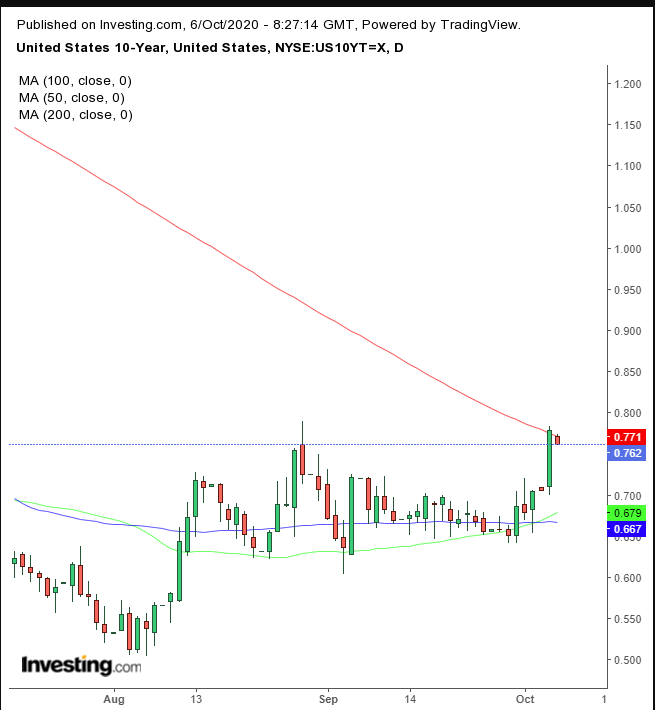 Technically, while a H&S pattern failed, yields found resistance by the 200 DMA, showing it's not a clear path to risk-on.
Gold's trajectory has been extremely tricky to predict. The precious metal has shifted between its haven status and an asset used as an interest rate hedge. That's been eflected in various, conflicting patterns.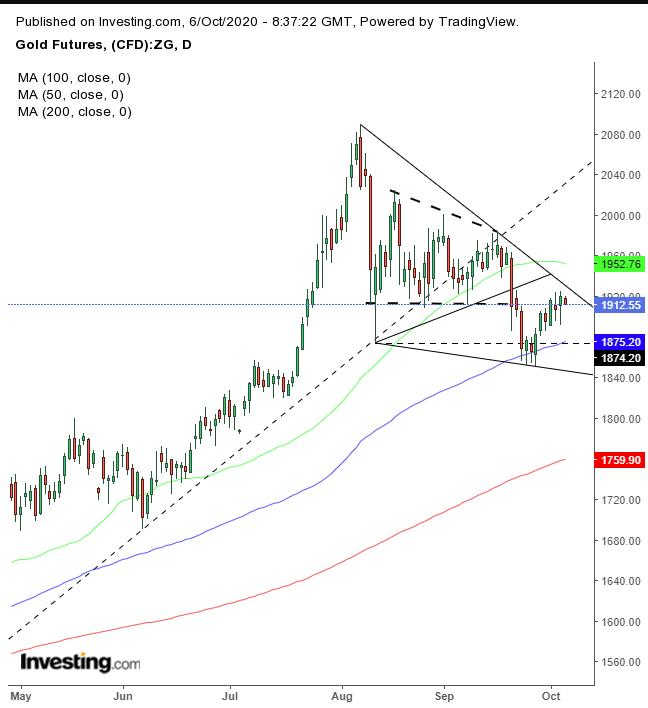 Even now we're not confident whether trading completed a bearish symmetrical triangle or is developing a bullish falling wedge.
Bitcoin fell away from the trend line that marks the resistance of a second, consecutive pattern.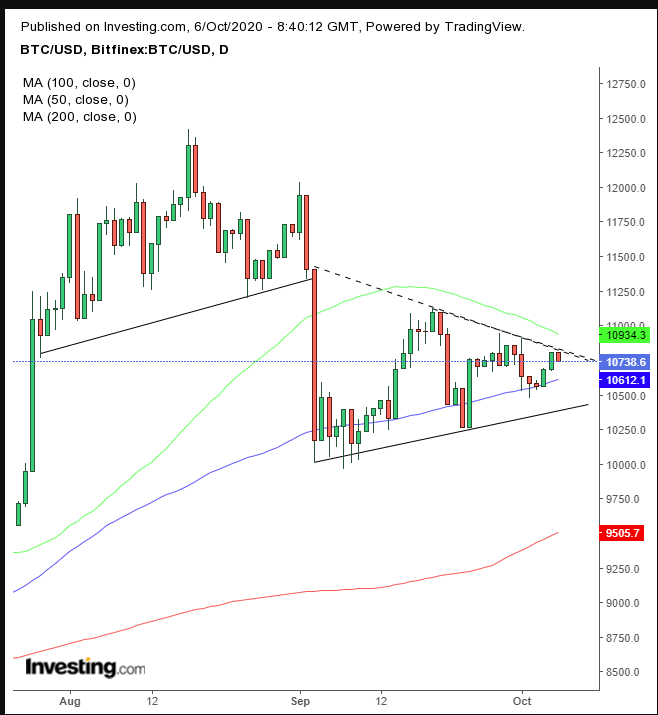 The cryptocurrency is carving a path for a continued decline, strengthened by the 50 DMA.
Oil added 1.2% to yesterday's rebound from its three-week low, surging 5.9%, its biggest daily gain since May.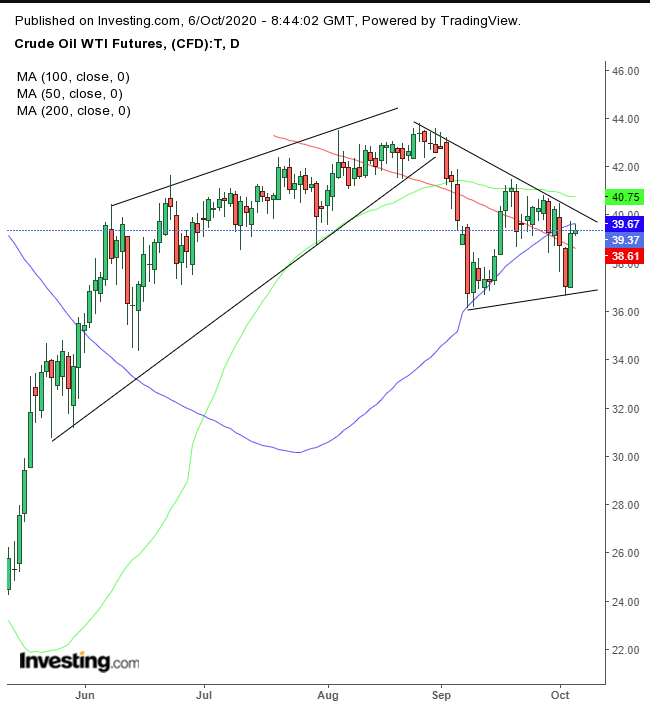 Technically, the price found resistance for the second day by the 100 DMA, near the top of a pennant, whose continuation characteristics suggest oil will keep falling from its completed bearish, rising wedge.
Up Ahead
On Tuesday, Chairman of the Federal Reserve, Jerome and ECB Chief Economist Philip deliver keynote addresses at the NABE conference
On Wednesday, the release of the of the Sept. 15-16 FOMC meeting could be especially fruitful for Fed watchers, beginning with details of the debate on conditions necessary to trigger a rate increase
The U.S. Vice Presidential debate takes place in Salt Lake City on Wednesday
Though the final formal round of talks is over, the British government expects trade negotiations to continue up to the EU summit in mid-October.
Market Moves
Stocks
Futures on the S&P 500 Index are up 1.8%
The Stoxx Europe 600 Index fell 0.34%
The Index gained 1.2%
The Index advanced 0.9%
Currencies
The Dollar Index climbed 0.1% to 93.50
The was unchanged at $1.1783
The British fell 0.1% to $1.2965
The strengthened 0.4% to 6.791 per dollar
The Japanese strengthened 0.1% to 105.68 per dollar
Bonds
The yield on 10-year Treasuries decreased one basis point to 0.77%
The yield on Treasuries declined less than one basis point to 0.14%
Germany's yield increased less than one basis point to -0.51%
Japan's yield climbed one basis point to 0.039%
Britain's yield gained one basis point to 0.293%
Commodities
West Texas Intermediate crude climbed 0.1% to $39.27 a barrel
increased 1.2% to $41.79 a barrel
Gold weakened 0.1% to $1,918.84 an ounce

Written By: Investing.com