US Senate overwhelmingly votes to increase scrutiny on Chinese firms listed on US exchanges
Global stocks and US futures retreat, threatening to end a rally boosted by optimism that a return to business activity and stimulus would bring a recovery
Key Events
All four major US contracts declined on Thursday, at least 0.7% for NASDAQ futures and up to 1.2% for futures on the Russell 2000, though at the time of writing the NQ and RTY have turned higher. Still, along with futures for the Dow Jones and S&P 500, all contracts continue to trade in the red along with European shares. Earlier, Asian markets closed mixed.
Treasurys advanced, but gold fell on dollar strength. A Bitcoin selloff eased.
Global Financial Affairs
The retreat from yesterday's rally on Wall Street has no single specific catalyst, but rather reflects a variety of immediate headwinds including weak economic data out of Asia this morning, the escalation of global confirmed coronavirus cases past 5 million, and another act brewing in the reactivated US-China trade tiff. Yesterday, the US Senate overwhelmingly passed a bill that could ultimately force Chinese companies now trading on US exchanges to delist while barring others from going public on US markets.
The bipartisan bill, approved by unanimous consent, demonstrates a growing consensus that China has not been fair in trade. It now has to clear a House vote before it can be signed into law. Nonetheless, this is a big win for US President Donald Trump. It will also almost certainly encourage him to increase his anti-China rhetoric, such as that the Asian nation's "incompetence" on COVID-19 caused "mass worldwide killing."
Investors are finding this relentless discord between the world's two largest economies and biggest trading partners a disturbing development, just when a rally in equities pushed the S&P 500 Index to its highest point since March 6. The benchmark gained yesterday, for the fourth day out of five.
European stocks retreated this morning as investors braced themselves for eurozone PMI data ahead. All 19 sectors pulled the Stoxx Europe 600 Index down. The pan-continental index opened lower and extended the decline.
Asian shares were mostly lower as well. Japan's April Trade Balance came in significantly below expectations, and even Exports, which surprised to the upside, were simply not as bad as feared—though the numbers weren't exactly good. The Nikkei 225 closed down 0.21%; China's Shanghai Composite fell even more (-0.55%). South Korea's KOSPI bucked the trend (+0.44%), rising for a fifth day, its longest rally of the year. According to Reuters, the index continued its upward trajectory on a lingering positive outlook amid reopening economies and stimulus from both the US and China, offsetting the geopolitical headwinds that weighed on other regional benchmarks.
With the return of risk-off, investors redirected funds from equities into Treasurys, pushing yields down.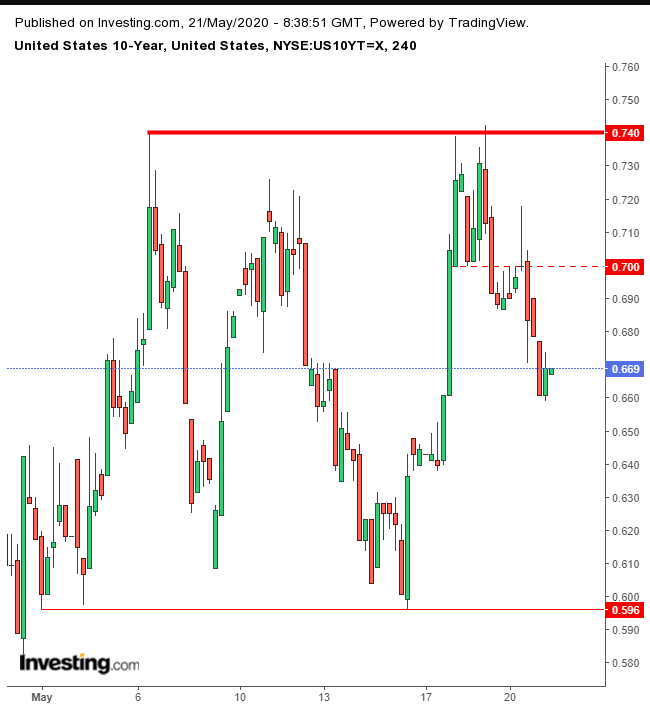 Technically, the pattern for the US 10-year Treasury resumed the moves it made from yesterday's chart. The lows from Monday and Tuesday proved a resistance, as the supply-demand balance flipped, pushing yields back down toward the range bottom, in place since May 1.
The US dollar advanced along with Treasurys.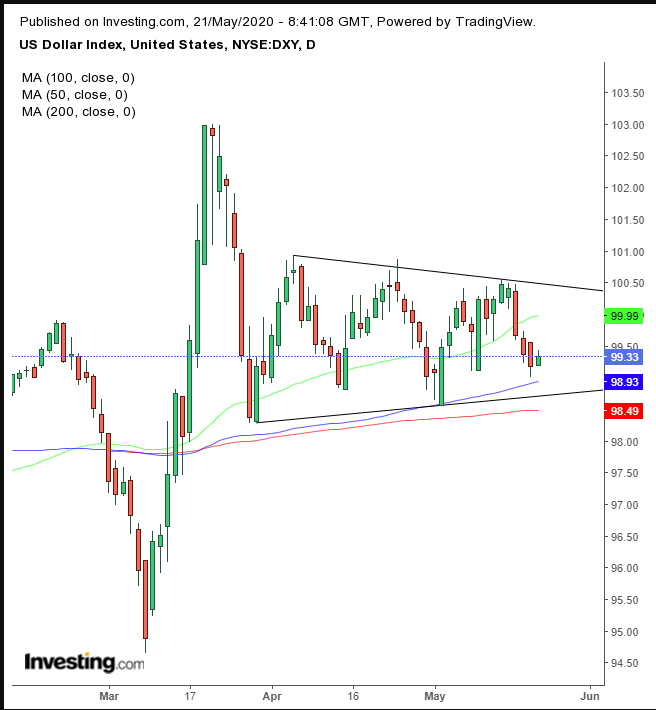 Technically, the global reserve currency found support at yesterday's lows, above the bottom of a range since March 27, which has been bolstered by both the 100 and 200 DMAs, after the 50 DMA failed to support the price, leading to an upside breakout.
Gold slumped on dollar strength.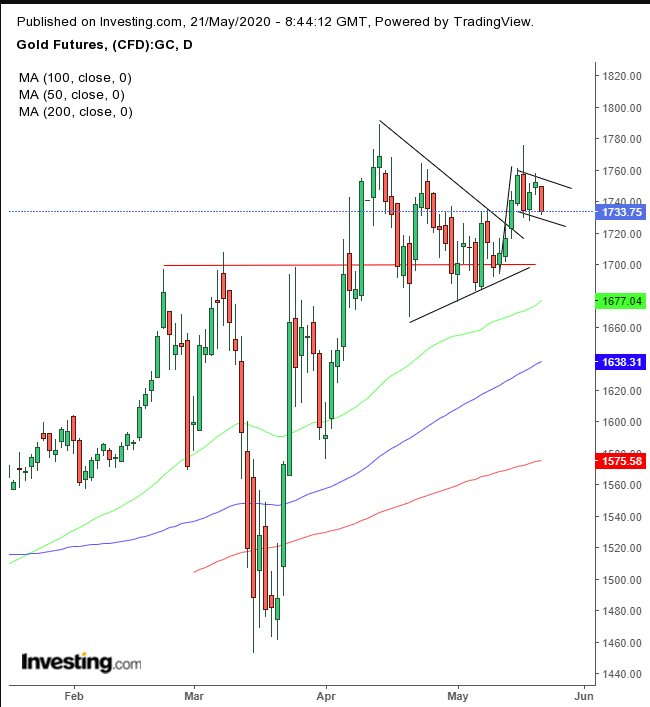 The yellow metal neared the bottom of a falling flag, whose upside breakout would signal the end of a return move to the preceding, larger pennant, whose own upside breakout confirmed the preceding even larger H&S continuation pattern. Three consecutive bullish patterns make a powerful case for a forceful gold rally, once the bullish flag completes.
Bitcoin extended its drop after speculation emerged that the cryptocurrency's pseudonymous creator, Satoshi Nakamoto, had dumped his holdings.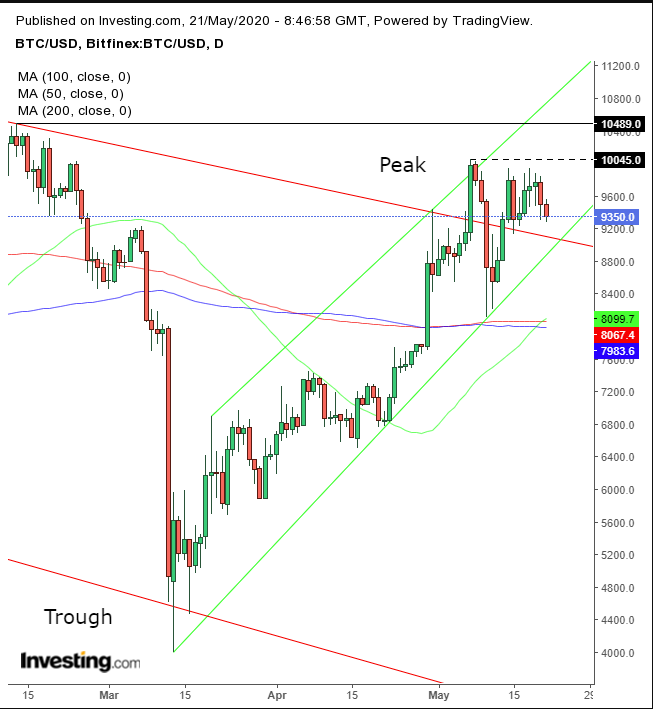 From a technical perspective, BTC has been consolidating above a falling channel since June, making the case that the rising channel since the March lows would persist.
Oil's rally chugged along for a sixth day after data revealed stockpiles have been running low.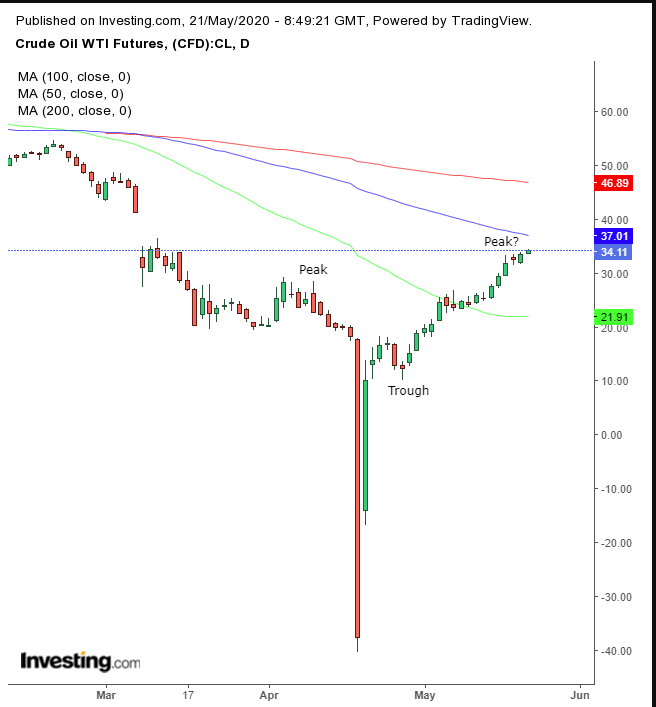 Even as the price crossed above $34, to the highest since March 10, we can't make a bullish call until another dip would demonstrate sufficient demand to establish an uptrend.
As well, some analysts believe the recent price exuberance doesn't accurately reflect the realities of oil supply, demand and sentiment data.
Up Ahead
Investors will be paying attention to today's US release, to see whether the trend continued, after 36 million Americans have already filed, creating the worst jobs market since the Great Depression.
will also be released on Thursday.
Market Moves
Stocks
The Stoxx Europe 600 Index declined 0.9%.
France's fell 1.4%.
Futures on the S&P 500 Index decreased 0.7%.
NASDAQ futures sank 0.6%.
The declined 0.4%.
Currencies
The Dollar Index jumped 0.2%.
The slipped 0.1% to $1.097.
The dipped 0.4% to $1.22.
The weakened 0.3% to 107.81 per dollar.
Bonds
The yield on 10-year Treasuries declined one basis point to 0.67%.
Britain's yield decreased two basis points to 0.207%.
The spread of climbed two basis points to 2.126 percentage points.
Commodities
West Texas Intermediate crude advanced 1.9% to $34.13 a barrel.
Gold weakened 0.6% to $1,737.02 an ounce.

Written By: Investing.com Studios