Germany announces record daily number of coronavirus cases
Disappointing earnings from US banks cause leading indices to slide
US stimulus on the back burner until after November election
Key Events
European shares and US contracts, including for the Dow, S&P, NASDAQ and Russell 2000 tumbled at the start of European trading on Thursday, as news of escalating COVID-19 cases on the Continent have triggered more stringent lockdowns across the EU, denting sentiment. On Wednesday evening France announced a new curfew in Paris and other major cities and speculation is mounting that the U.K. will introduce additional restrictions as well.
Treasuries jumped, reinvigorating the hopes of dollar bulls, though USD strength is pressuring Bitcoin and gold. Bank shares fell along with falling bond yields.
Global Financial Affairs
US futures gave up a slight rebound and fell after disappointing corporate results from Bank of America Corp (NYSE:BAC) and Wells Fargo (NYSE:WFC) on Wednesday, failed to deliver a new headwind to replace fading hopes of a federal stimulus package. Unless earnings from Morgan Stanley (NYSE:MS) and Charles Schwab (NYSE:SCHW), both released today before the US market opens, reinvigorate investor sentiment, US equities are set for the third straight daily decline, the first time in over five weeks.
In Europe, the Stoxx 600 Index opened 0.25% lower. The slump extended from there,and has currently deepened to more than 2%. Should European stocks close at these levels, they will have dropped to a two-week low.
Germany's number of daily coronavirus cases jumped at the fastest rate on record within that country, joining other European peers, such as Italy and the Czech Republic that have already hit their respective fastest pace of rising cases since the pandemic began. In the UK, expectations are that both London and Manchester will face tighter restrictions imminently.
Traders had hoped that positive results at the start of the US earnings season would take stocks higher, since Congressional lawmakers have failed to reach a stimulus deal. Markets are not expecting any fiscal aid package to be finalized until after the Nov. 3 presidential election.
From a technical perspective, the upper bound of the rounding range for the Stoxx 600, discussed yesterday, proved a resistance.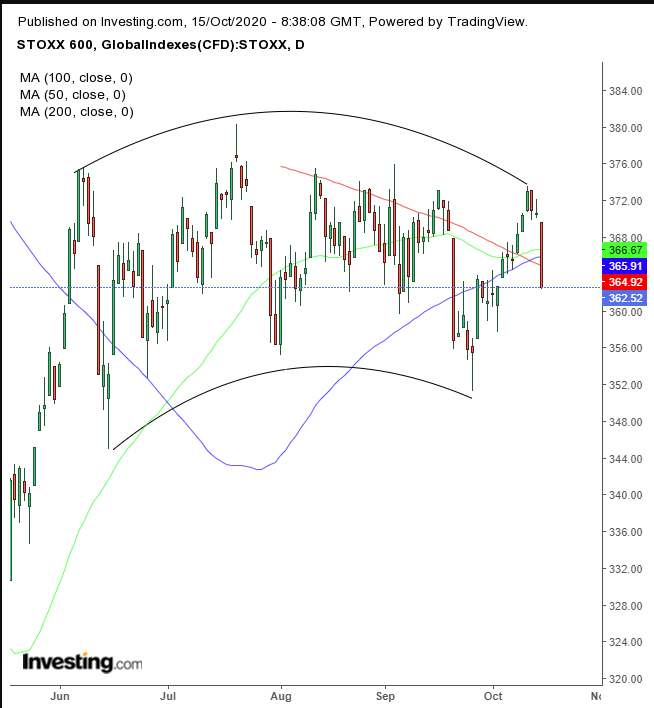 As the pan-European benchmark slices through the major moving averages, it is heading towards the bottom of the range that may prove to be a top.
Asia was almost completely painted red in Thursday's trading. Australia's ASX 200 (+0.50%) was the only index in the green after the country's reserve bank suggested further accommodation to combat the economic damage from COVID-19. Energy and mining shares outperformed after the policy comments.
Hong Kong's Hang Seng (-2.1%) far underperformed regional peers, as the financial hub tries to ease a travel ban by setting up a "travel bubble" with Singapore.
The risk-off sent traders packing, to hide their capital in Treasuries, including the 10-year note, which sent yields lower.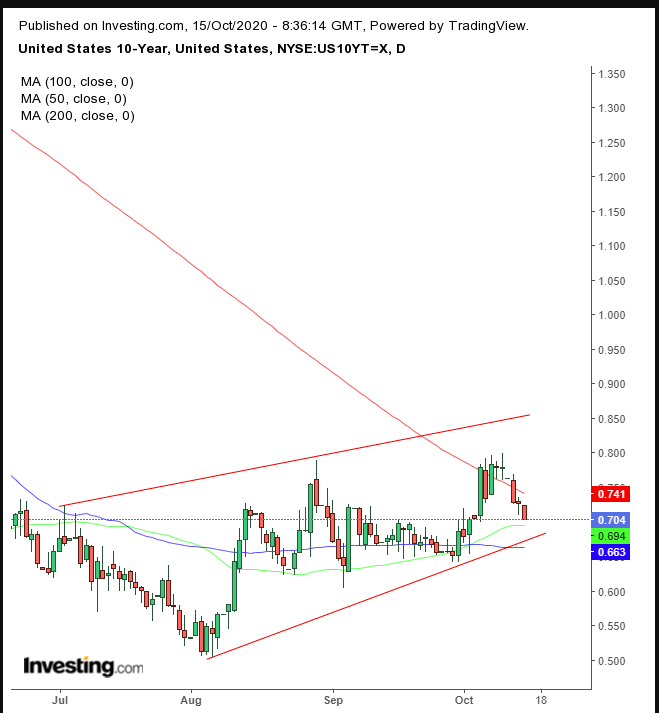 While the 200 DMA proved a station for formidable Treasury demand, rates may find support with the rising 50 DMA, as the 100 rushes to aid the support of the bottom of a newly formed rising channel, since the August bottom.
Revived interest in Treasuries forced foreign investors to buy the dollar, pushing it back above the neckline of a bottom.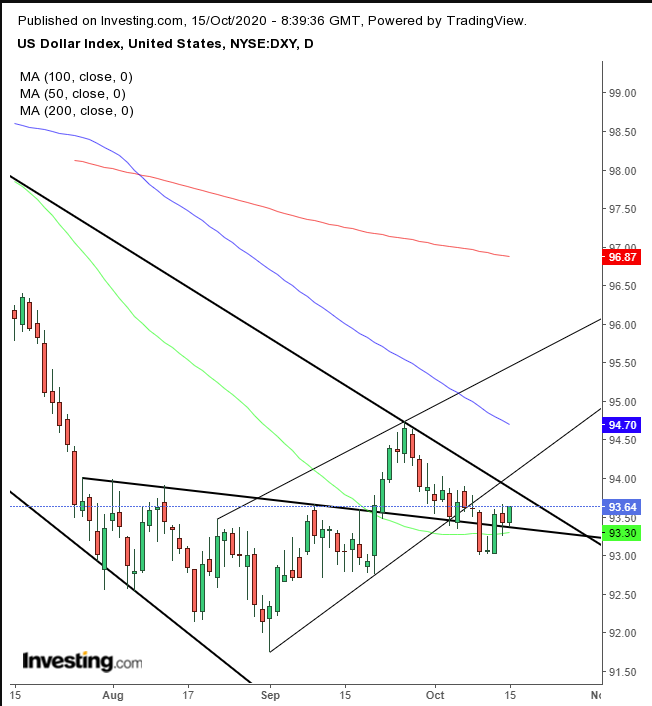 This move may embolden bulls to try once more to force the greenback out of its falling channel since the March high.
When it comes down to it, Treasuries are the ultimate haven asset, since that is what institutions use, while gold is relegated to retail traders. Therefore, despite the risk-off, gold is down due to dollar strength.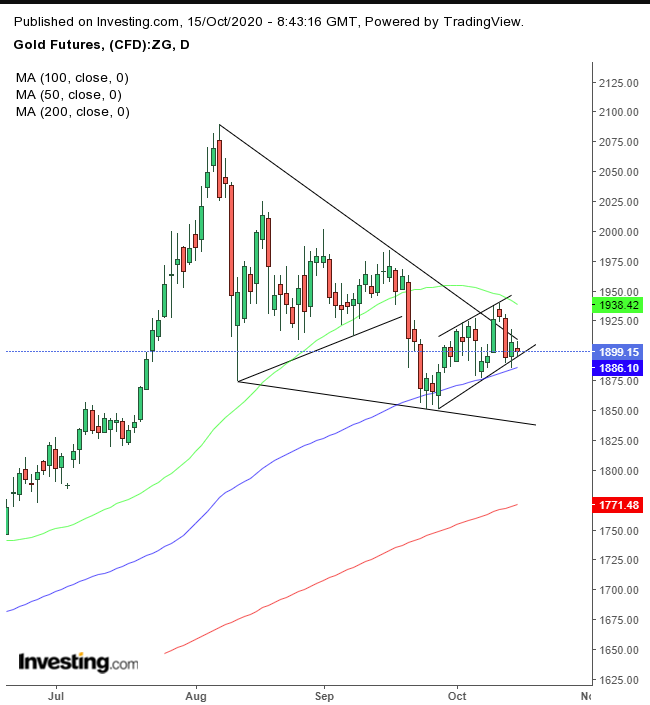 Technically, the yellow metal is retesting the bottom of a rising flag. An outside breakout will complete this pattern, presumed bullish, following the bearish symmetrical triangle that preceded it. However, both bearish patterns are enveloped by a much larger rising wedge. An outside breakout would signal a resumption of the underlying uptrend since the March low and a retest of gold's all-time high.
Bitcoin, like gold, fell despite a certain expectation of its strengthening due to its haven status.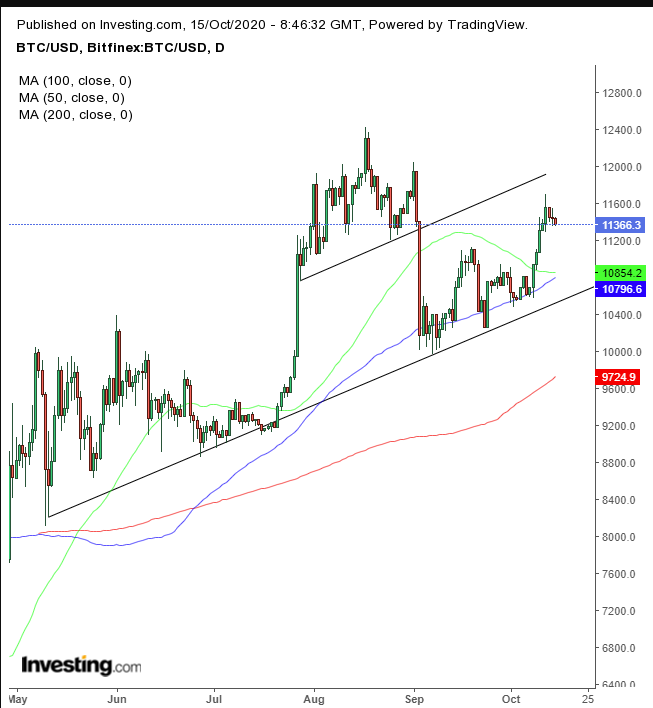 A technical explanation can be a resistance found by traders who remember the plunge that followed a small H&S top developed over August. Nevertheless, a drop should be considered a correction toward its uptrend line.
Oil dropped, even on shrinking stockpiles and Russian oil companies looking to extend production cuts into next year.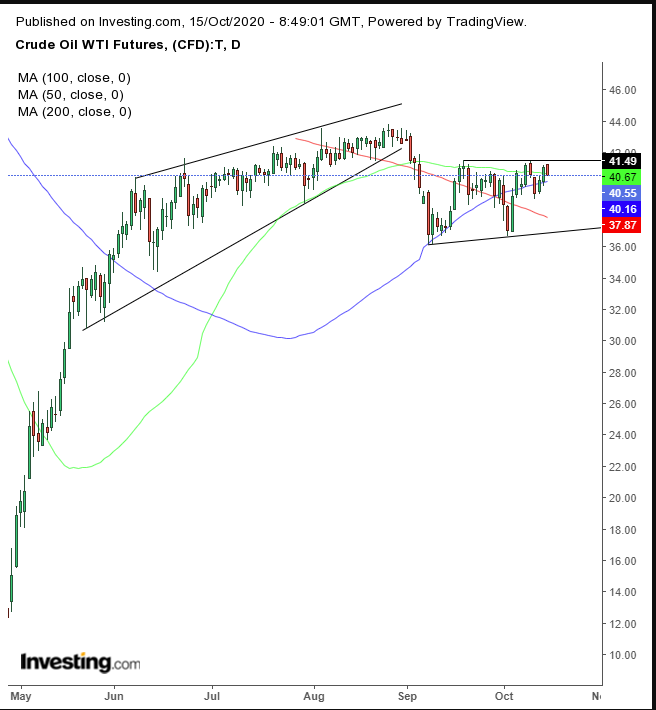 The decline, despite the positive reports, gives meaning to the confirmed resistance of a range which has a greater chance for a downside breakout following a bearish rising wedge.
Up Ahead
as well as EIA crude oil will be closely watched when they are reported today.
European Central Bank President Christine leads off the virtual annual meetings of the International Monetary Fund and the World Bank Group. Through Oct. 18.
Market Moves
Stocks
The Stoxx Europe 600 Index sank 1.8%.
Futures on the S&P 500 Index fell 0.6%.
NASDAQ 100 futures declined 1%.
The Index sank 1%.
Currencies
The Dollar Index increased 0.25% to 93.69.
The decreased 0.1% to $1.2994.
The was little changed at 105.19 per dollar.
The declined 0.9% to $0.71.
Bonds
The yield on 10-year Treasuries dipped two basis points to 0.70%.
Germany's yield fell three basis points to -0.61%.
Britain's yield decreased two basis points to 0.196%.
Italy's yield rose two basis points to 0.674%.
Commodities
West Texas Intermediate crude dipped 0.5% to $40.82 a barrel.
Gold weakened 0.1% to $1,899.95 an ounce.
gained 2.2% to $2.70 per mmbtu.
decreased 0.5% to $114.56 per metric ton.

Written By: Investing.com