Pinchas Cohen/Investing.com | Sep 23, 2019 11:51
China insists Friday's trip cancellation to U.S. farms does not reflect souring talks
Indian shares surged the most in 10 years on surprise tax cut
Oil strangely not buoyed by military threat against Iran
Key Events
As markets work to understand the increasingly convoluted path to a U.S.-China trade resolution, U.S. futures teetered, following European shares lower this morning. Treasurys, gold and the Japanese yen seesawed.
After an initial attempt to break away from sinking European stocks as markets opened earlier today, futures contracts for the S&P 500, Dow and NASDAQ reversed, moving in sync with Friday's U.S. selloff after a Chinese trade delegation cancelled a scheduled visit to U.S. farms in Montana and Nebraska.
Earlier, however, Chinese officials clarified that Friday's cancellation was not indicative of a setback in talks, but rather in response to an American request that they postpone the visit. The reason, right now, isn't entirely clear.
China's Vice Agricultural Minister Han Jun claimed that while the visit was discussed, it was never finalized. Still, the timing was strange, as the cancellation ocurred just an hour after President Donald Trump insisted that he won't accept a partial trade deal. Could it be there's another reason European shares and U.S. futures slipped, or is the market simply not buying the official explanations?
Global Financial Affairs
The Stoxx Europe 600 Index extended a drop from a lower open after the release of disappointing business activity data in France, the bloc's second largest economy.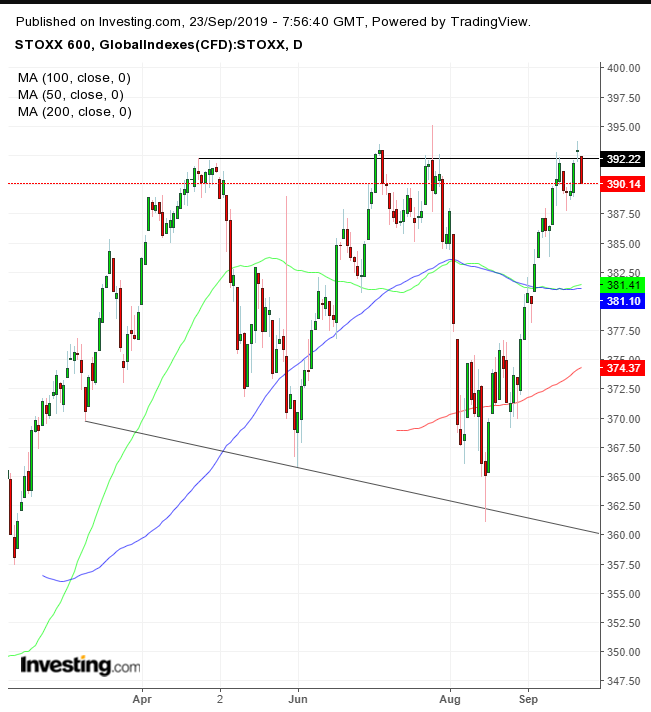 From a technical perspective, the price level, below 395.00, has demonstrated a steady line of supply since April, while buyers since March have been willing to invest at ever lower prices.
During the Asian session, stocks drifted, with the biggest move occurring on China's Shanghai Composite (-0.908%), which also underperformed. Japanese markets were closed today for a holiday.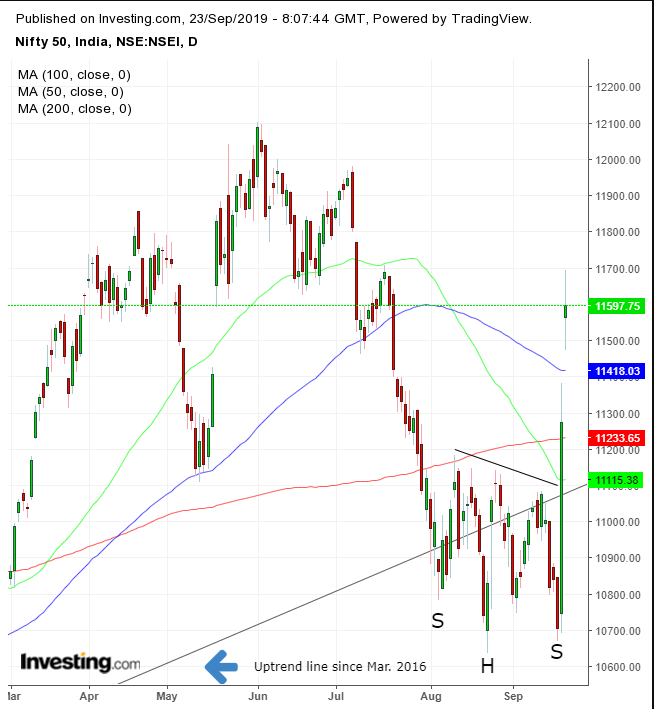 India's Nifty extended a rally. It jumped the most in a decade after an unexpected tax cut. Technically, the index extended an upside breakout to a small H&S bottom, as it slices through the 200 DMA in presumed resumption of the uptrend.
South Korea's KOSPI eked out a 0.01% gain, below the 200 DMA. However, it was enough to extend a rally to the twelfth straight day. As well, the Korean won shook off continually deteriorating export data, after sinking for the second day.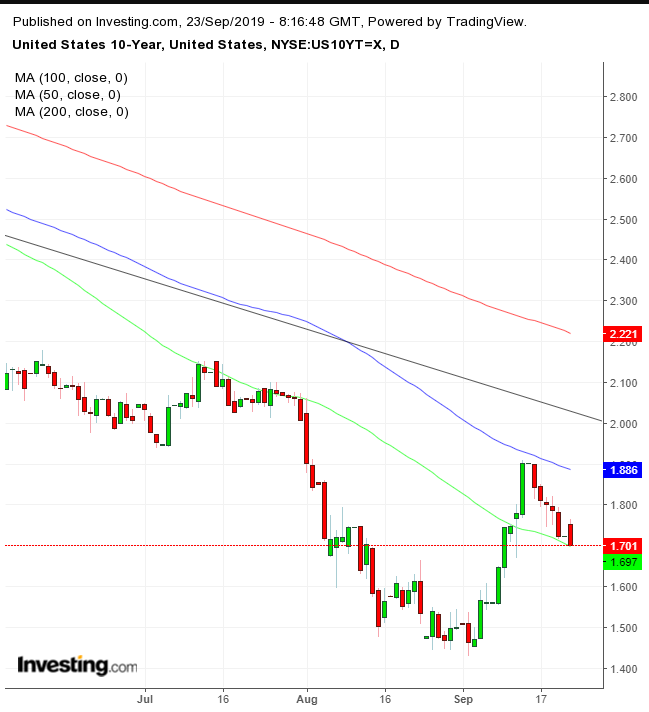 Yields on the U.S. 10-year Treasury note dropped for the 6th day, wiping out a jump that occurred in the first hour of European trade—the same trajectory displayed by U.S. equity futures and the opposite direction of haven assets gold and the yen. Technically, rates found support by the 50 DMA after finding resistance at the 100 DMA. The decline may confirm the downtrend line since November 2018.
The U.S. dollar rose even as the yen gave up a rebound to extend its slump for a third day; gold advanced for the third straight session.
Bitcoin dropped to its lowest point of the month.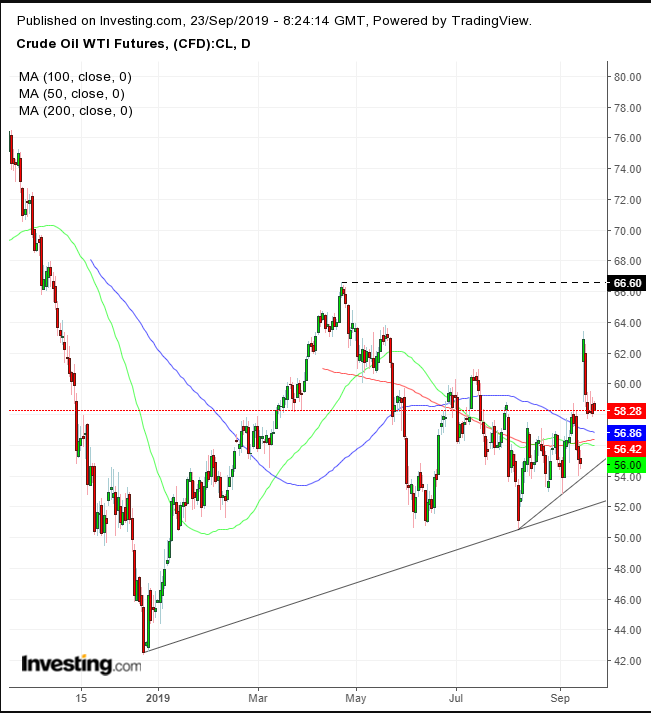 Surprisingly, oil only edged higher after UK Prime Minister Boris Johnson threatened Iran with a joint U.S.-UK military action, blaming Iran for the attack on Saudi Arabia's oil facilities. From a technical perspective, oil is in a short-term uptrend though it's trendless in the medium-term, until the commodity is able to fetch a price higher than the previous peak of $66.60 on Apr. 23.
Up Ahead
New York Fed President at the U.S. Treasury Market Conference hosted at his bank on Monday. San Francisco Fed President delivers remarks in Salem, Oregon.
Monetary policy decisions are due Wednesday from central banks in and . Thursday brings an interest rate decision in the .
—the Fed's preferred inflation measure—is forecast to come in at 1.70%, the strongest reading since January. That's due out Friday.
Market Moves
Stocks
Futures on the jumped 0.4%.
The Stoxx Europe 600 Index fell 0.2%.
The Shanghai Composite Index fell 1%.
The slipped slightly, -0.1%.
Currencies
The Dollar Index rose 0.24% for the second day, for a total gain of 38%.
The dipped 0.1% to $1.1005.
The fell 0.2% to $1.2459.
The sank 0.3% to 7.114 per dollar.
The Japanese yen slipped 0.1% to 107.70 per dollar.
Bonds
The yield on 10-year Treasuries jumped three basis points to 1.76%.
The yield on Treasuries rose two basis points to 1.71%.
Germany's yield decreased less than one basis point to -0.52%.
Britain's yield increased less than one basis point to 0.633%.
Japan's yield gained one basis point to -0.207%.
Commodities
West Texas Intermediate crude rose 1% to $58.65 a barrel.
jumped 2.2% to $90.54 per metric ton.
Gold decreased 0.2% to $1,513.97 an ounce.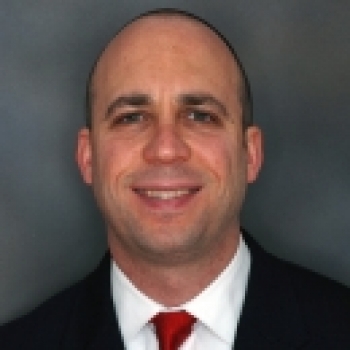 Written By: Pinchas Cohen/Investing.com