If you thought October was a tough month for equities, all you have to do is take a look at the cryptocurrency space. Highlighting just how brutal the action in cryptos was in October, each of the 14 digital currencies with a market cap greater than $1 billion closed the month lower than where they had started on the final trading day of September.
The market cap for all digital currencies fell to $196.3 billion on October 12, not far from its lowest levels of the year, before closing the month at $203.3 billion, still more than $600 billion off its all-time high of $828 billion reached on January 8.

The crypto market's decidedly bearish performance in October was attributed to a range of factors, including rumors that Bitfinex, the third largest cryptocurrency exchange by volume, was going to suspend all deposits from fiat currencies.
Markets were also roiled as Tether, the most popular stablecoin, broke its peg to the buck and traded as low as 88 cents. A stablecoin traditionally trades at or very close to $1 as it is a US. dollar backed coin used by investors to trade between different cryptocurrencies as opposed to going in and out of fiat.
A report by the International Monetary Fund, which said "continued rapid growth of crypto assets could create new vulnerabilities in the international financial system" further added to the gloomy mood.
Indeed, the price of Bitcoin, the world's biggest virtual currency by market cap, fell by 3.8% in October to end the month at around the $6,300-level. Bitcoin is off roughly 54% since the start of the year as regulators spanning the globe stepped up scrutiny of an industry that was initially embraced by those who were distrustful of banks and government control over monetary policy.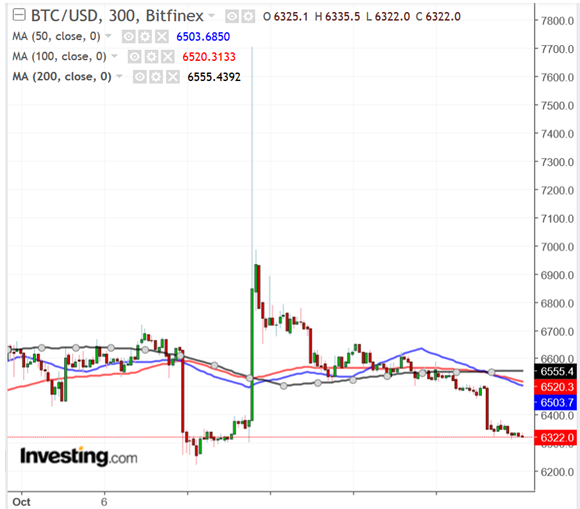 Below, some of the biggest losers among the most valuable cryptocurrencies. Each logged the largest declines over the past month.
[Note: This post should not be considered an endorsement, nor investment advice. It's merely reportage. Do your own due diligence before investing in any particular asset or asset class. Coin statistics were collected on Oct. 31, 2018. Values might differ depending upon when this article is being read.]
October's Three Biggest Cryptocurrency Losers
1. XRP: Down 22.1 %
The price of one XRP (XRP/USD) coin changed hands at $0.58240 on October 1, before sliding to $0.37800 on October 12. It ended the month at $0.45358, representing a monthly loss of 22.1%.
At current prices, XRP ranks as the third biggest cryptocurrency in circulation, following only Bitcoin and Ethereum, with a market cap of roughly $17.7 billion. Year-to-date, XRP is down a whopping 77%, making it the one of the biggest crypto losers of 2018.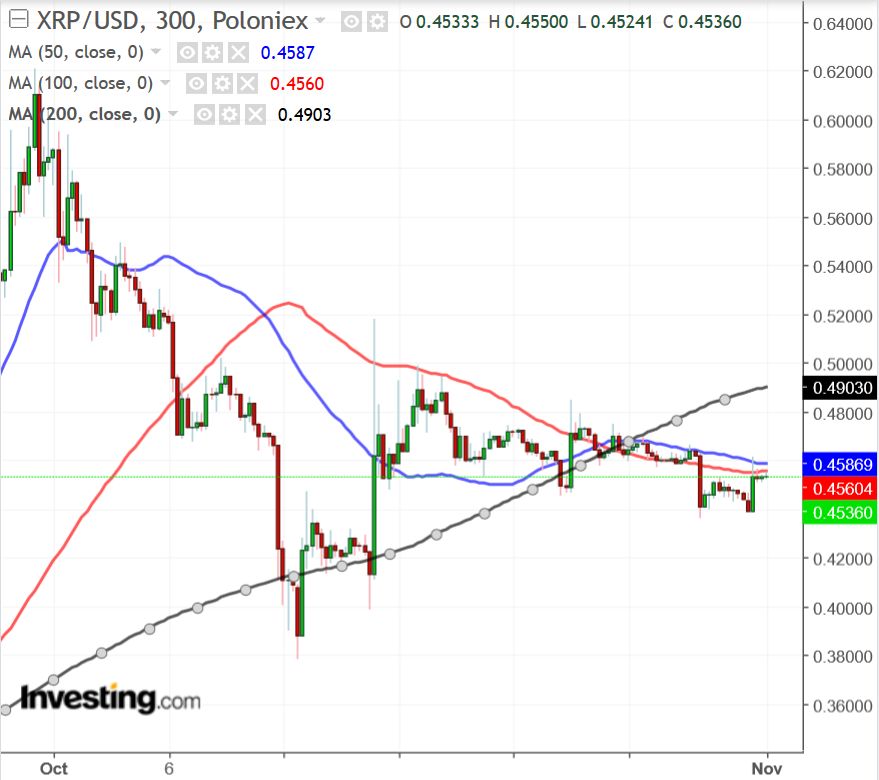 For the most part there has been no particular reason for the recent slide in XRP's price. From a technical standpoint, the XRP chart indicates that sellers are firmly in control as prices have fallen through key support levels in the past month.
2. Bitcoin Cash: Down 19.4%
The price of one Bitcoin Cash (BCH/USD) token was $533.22 on October 1. From there it plunged 19.4%, to finish the month at $426.99.
It is currently the fourth most valuable digital coin in circulation with a market cap of around $7.2 billion. Bitcoin Cash is down 81.9% so far the year, making it, at this point, one of the worst performing cryptocurrencies of 2018.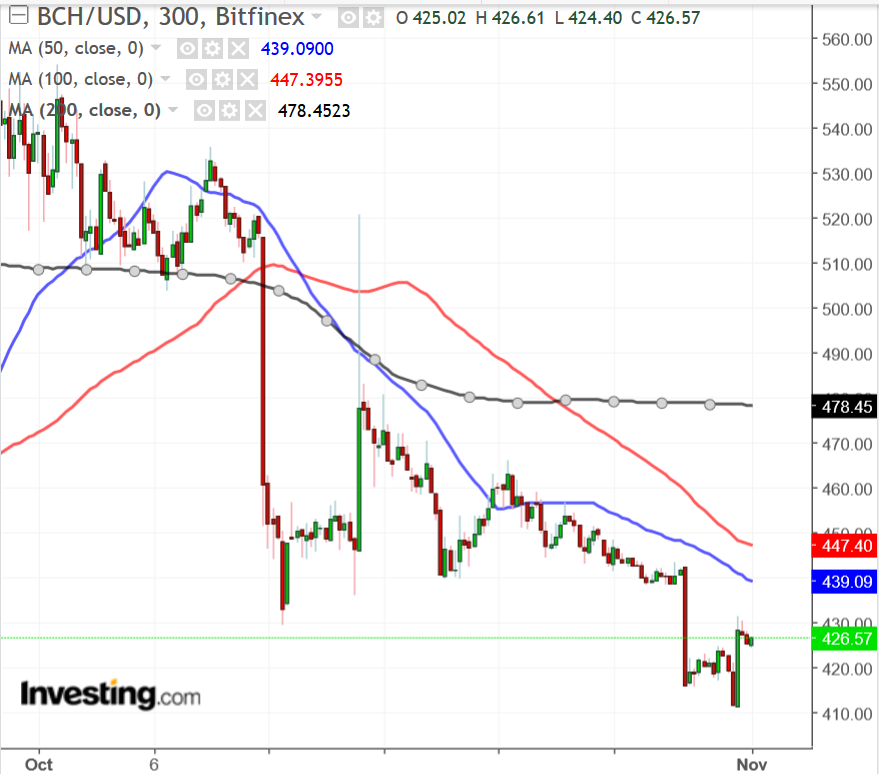 Like the rest of the crypto market, Bitcoin Cash has been on a downward spiral over the past few weeks, with no particular fundamental catalyst behind the sharp downward movement.
3. Iota: Down 17.7%
After starting the month at $0.56143, IOTA (IOT/USD) sank 17.7% in October to end at $0.46849. It is currently the 13th most valuable digital token in circulation with a market cap of around $1.2 billion.
IOTA is down 86.6% so far this year, making it the second worst performing cryptocurrency of 2018 to this point, trailing only Cardano, which has lost 91% this year.
IOTA, like many other alt-coins in the market, has seen its value shredded by the ongoing decline in prices, though there has been no particular reason for the selling.

Written By: Investing.com