The beginning of 2019 has been stellar for Netflix (NASDAQ:NFLX). Despite investor pessimism weighing on the broader markets, shares of the streaming video giant have already surged almost 21% this year, surpassing all other high-growth tech stocks during the period.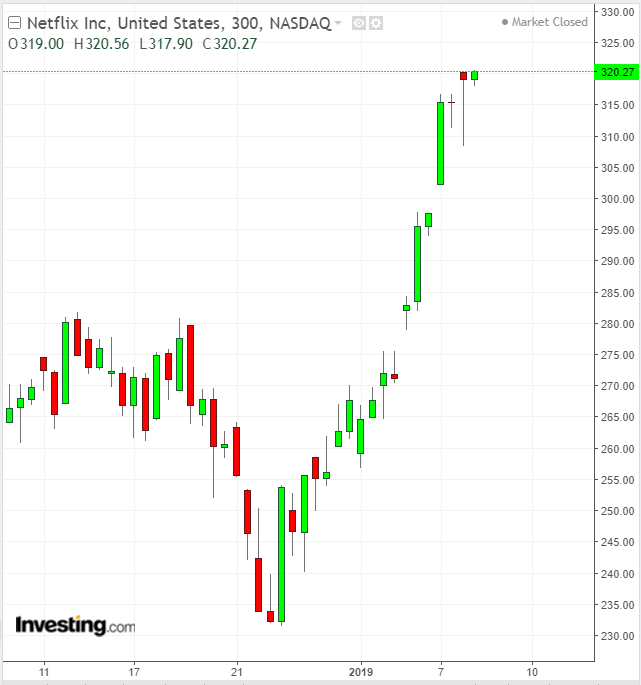 More significantly, the stock has gained 37% since it hit a bottom on December 24, after shedding about 43% of its value in the widespread de-risking that took place during the previous six months, a sweeping selloff that didn't spare any of the marquee FAANGs.
The magnitude of Netfix's rebound suggests investors firmly believe the equity was unfairly punished during this correction and the company's strong fundamentals remain intact.
What makes Netflix different from other entertainment content delivery companies is its low pricing, aggressive content creation, and wide global appeal. These three factors should keep investors comfortable about continuing to bet on this streaming giant, even though the macro environment is no longer favorable for high-growth stocks.
The latest example of this dominance comes from the mid-December release of "Bird Box." The horror movie, starring Sandra Bullock, has become so popular it's now a cultural and social-media phenomenon. Indeed, Netflix rarely releases data on viewership of its content, but in the case of "Bird Box," a tale about a resourceful mother protecting children from a homicidal force, the company said a record-setting 45.3 million of its 137 million accounts watched at least 70% of the movie in the first week of its release.
Another Netflix December release, the Mexican drama "Roma," won two Golden Globes on Sunday, including best foreign-language picture and best director. The victory helped boost shares on Monday. The film is also considered to be a strong contender in the best foreign film Oscar race.
Diminishing Bear Case
In our view, successes like these diminish the bear case against Netflix, a narrative that was based on the company's massive outlay for marketing and content. Netflix bears argue that the company's content spending—which will reach an estimated $12 billion during the past year—simply isn't sustainable. And if the economy turns sour and credit markets tighten, it may become tough for Netflix to finance its ambitious content budget.
But the world's largest online pay-TV network has so far defied these expectations. It continues to add subscribers at a pace that even surprises many of its most bullish fans.
In the the third quarter, Netflix added far more subscribers than analysts expected and issued an upbeat outlook for the three months ended in December. It forecast adding 28.9 million customers in total this year, which would be a record for the 21-year-old company.
In our view, Netflix is among the few tech stocks that can weather a prolonged downturn and emerge stronger. The primary reason for our optimism is the company's success at attracting increasing numbers of subscribers globally, in a variety of regional markets where the company is still in early stages of expansion.
Netflix's strategy for global expansion provides lots of room for growth. In the third quarter, 84% of Netflix's subscriber growth came from areas, such as Brazil, the UK, Canada, and India. Though Netflix is facing cost pressures and some saturation in its US home market, the global opportunity in streaming video is so big, the company has a long runway before they might see peak growth in regions outside the US.
As well, by flooding the market with new titles, Netflix is able to target all age groups, making it hard for viewers to go elsewhere. In Q3 2018 the streaming video provider released a breathtaking 676 hours of original programming. Even better, there's no sign that Netflix has reached a ceiling on that metric.
Trading at $320.27 as of yesterday's close, we see a lot of upside, especially if the company delivers another blow-out quarterly earnings report, scheduled for Thursday January 17, after the close. According to analysts' consensus 12-month price target, the stock still has a 25% upside potential from its current level.
Bottom Line
Due to its low cost—the standard monthly subscription runs from $10.99 per month—superior technology and the depth of its content offering, there is no competitor that can pose a serious challenge to Netflix anytime soon. That makes the stock a superb pick for anyone looking to add a quality technology growth stock to their portfolio while also taking advantage of the recent slump.

Written By: Investing.com