The fourth quarter is finally here and with it, the true start of the cold season. The question is how long will it be before gas burns for power truly take off?
As the market awaits another weekly update on U.S. natural gas stockpiles, the trade is betting that utilities injected some 79 billion cubic feet from last week's production after what was burnt for power generation, into underground caverns. That injection would be higher than the 66 bcf storage build in the previous week.
Dan Myers, analyst at Houston-based gas risk consultancy Gelber & Associates, said in an email to the firm's clients:
"Subsequent injections may fluctuate on both sides of average but should remain relatively strong, given weather expectations through the first half of October."

"Healthy injections may put additional downward pressure on winter prices in coming days, until demand can stage a stronger comeback as next month goes on."
Harrison, New York-based Bespoke Weather Services concurred with Myers. In a forecast quoted by naturalgasintel.com he said:
"High storage, weak cash and weakening weather demand could make it difficult to stage a rally for a while, unless LNG is able to pick up the slack more over the next couple of weeks."
Bespoke added that the weather "right now is solidly on the bearish side of the ledger and may remain that way into late October and even into November."
Will Power Burns Pick Up?
Dominick Chirichella, director of risk and trading at the Energy Management Institute in New York, agreed that higher production—and correspondingly larger weekly injections to storage—would be the near term order.
But Chirichella also thinks power burns will pick up if lower temperatures start landing briskly on gas-fired heating regions in the U.S. East Coast and elsewhere by mid-October, as some forecasts suggest. 
That would signal there might not be too much to worry about on the impact total gas inventories would have on pricing.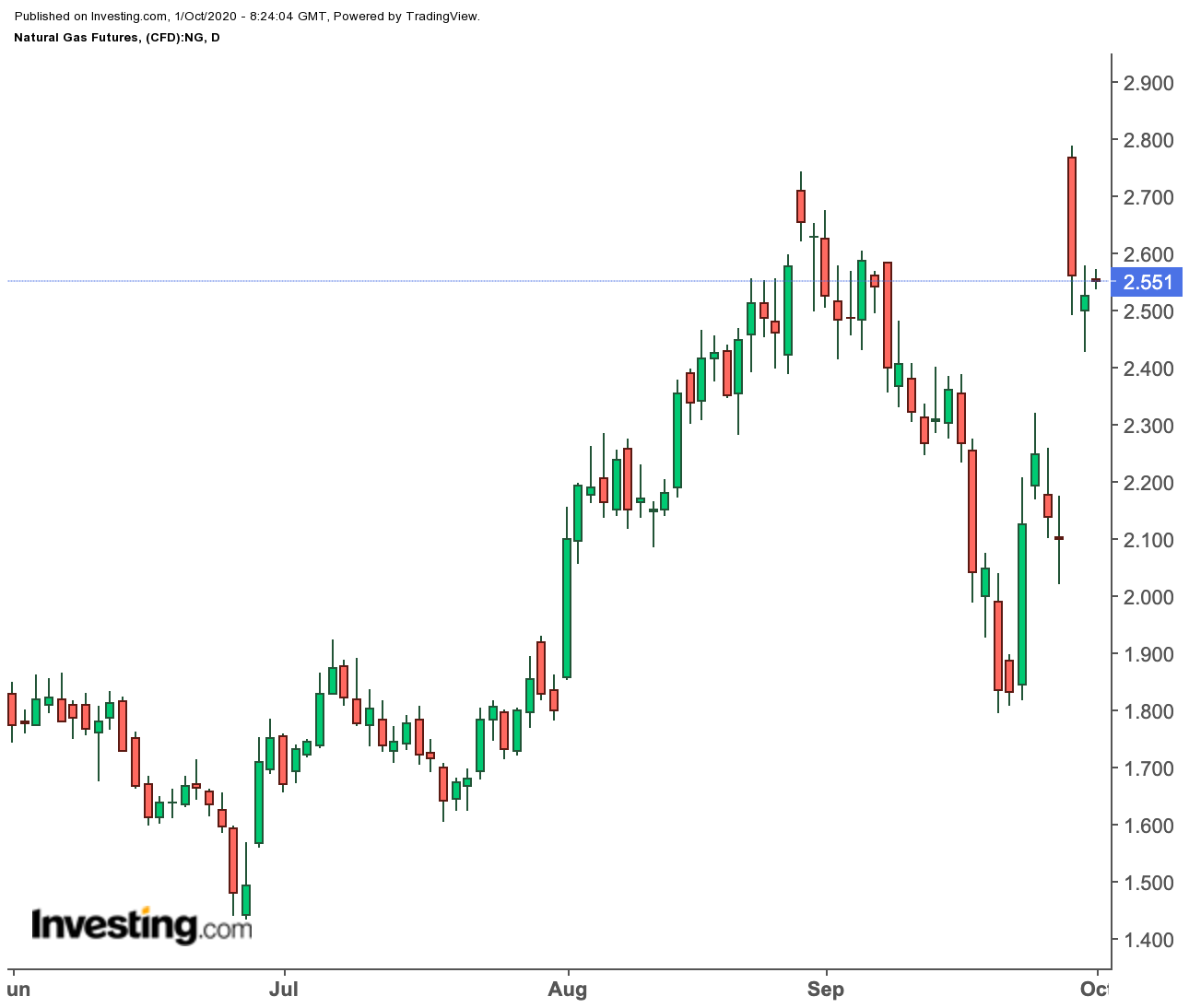 In Wednesday's trade, the front-month gas contract on New York Mercantile Exchange's Henry Hub settled down 3.4 cents, or 1.3%, at $2.53 per million metric British thermal units. 
For all of September, the front-month contract was down 4%, while for the third quarter, it jumped a phenomenal 44.6%.
In Thursday's pre-New York session, front-month gas was slightly higher at $2.57 per mmBtu.
Debate On Whether Storage Will Be An Issue This Winter
In a daily advisory issued to clients of New York-based EMI, Chirichella said: 
"All signs continue to suggest that total stocks will end the injection season on the northside of 4 trillion cubic feet," 

"With a normal-to-below normal winter currently projected, it is unlikely that supply will be an issue this winter."
Bespoke said forecasts continued to point to a "low demand regime" after the current week, with warm temperatures moving into the Midwest and expected to expand eastward, leaving comfortable temperatures across much of the Lower 48 and minimizing both heating and cooling demand.
Chirichella said EMI's weather models showed cooler-than-normal temperatures in the central and eastern U.S. were likely to linger for a couple days more at the start of the 6-10 day period. 
He adds:
"Downstream of the big western U.S. ridge, a deep upper trough has taken hold of the central and eastern U.S." 

"Below- and much-below-normal temperatures are forecast to be widespread from the Plains eastward through the weekend, and well-below-normal temperatures are possible on the coolest days in portions of the Plains and Midwest."
Last week, the weather was a little cooler than normal, with 33 cooling degree days, compared with the 30-year average of 39 CDDs for the period.
CDDs, used to estimate demand to cool homes and businesses, measure the number of degrees a day's average temperature is above 65 degrees Fahrenheit (18 degrees Celsius).
With summer heat fading and winter chills unlikely to settle in for several weeks, markets were also looking for LNG volumes to ramp up and ease containment worries, natgasintel.com said in a blog.
U.S. LNG exports to fuel heating needs in Asia and Europe would help soak up excess supply and address imbalance worries.
But with the COVID-19 continuing to interrupt global economic activity, it means export demand is in part dependent on continued recovery from the pandemic. 
LNG feed gas for Wednesday hovered around 6 Bcf, as it had on Tuesday, well below September highs of about 8 Bcf. Volumes failed to find new momentum with the Cove Point terminal in Maryland under maintenance and the Cameron export facility in Louisiana only beginning to ramp back up after Hurricane Laura forced it offline in late August.NatGasWeather said Wednesday:
"Once they do return to service, we must expect some sort of bullish reaction on the news."

"When that occurs is difficult to know."
Disclaimer: Barani Krishnan does not have a position in the commodities or securities he writes about.

Written By: Investing.com